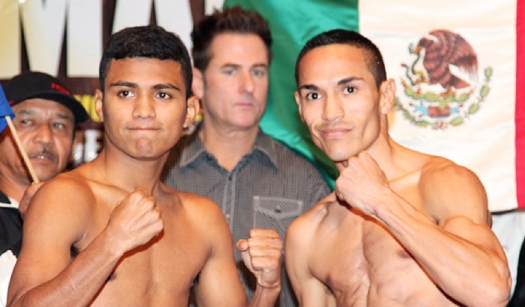 There are few fights out there in boxing right now that could rival a rematch between Roman Gonzalez and Juan Francisco Estrada. These two flyweights have to get on their tiptoes merely to stand adjacent to their heavier peers in gaining even a shred of the mainstream recognition their careers and skills deserve. We so often hear cries of neglected superfights, but now boxing has a real chance of one happening in the not so distant future. So here is what you should know about Roman Gonzalez vs Juan Francisco Estrada II, if and when we are so lucky as for it to occur.
Gonzalez vs. Estrada I
Gonzalez and Estrada fought before back in 2012 in a fight that was, at the time, surprisingly competitive. Estrada was widely unheard of when he first fought Gonzalez, who was by that time already a two weight titleholder. The Mexican nonetheless put on a strong showing to take Gonzalez the distance, albeit in defeat. Gonzalez retained his belt by way of unanimous decision, but people were awoken to Estrada's potential.
Gonzalez is an all time great
As aforementioned, Gonzalez has held a title or two in his time, and he is regarded by ProBoxing-Fans as the number 4 pound for pound fighter in the world. He also holds the lineal flyweight title, having beaten former incumbent, the tough Japanese Akira Yaegashi, last week. All of this means that, in spite of a career path that has been stalled for reasons only his promoter can explain, Gonzalez has a superb resume that includes wins over Yutaka Niida, Katsunari Takayama, Francisco Rodriguez Jr, Estrada and Yaegashi, amongst others. With 40 wins, 33 by knockout and no blemishes thus far, Gonzalez is already bound for the Hall of Fame.
Estrada is in the ascent
Gonzalez is the favorite, the more experienced and the victor in their first meeting, but it is Estrada who has shown improvement of late. His class shone in defeat to his Nicaraguan foe, but since then he soundly out-boxed Brian Viloria and beat down Giovani Segura, as well as gaining respectable wins over Milan Melindo and Richie Mepranum. Even putting aside the names, Estrada is stunning to watch from an aesthetic point of view, and has clearly filled out at flyweight, something he showed in the calm attitude with which he dealt with Segura's heavy artillery.
The winner takes it all
It's a bit of a pop song cliché, but the winner of Gonzalez and Estrada's rematch truly does take it all. Viloria, Yaegashi and Segura have been brushed aside with such ease that there is simply no other man who could question the supremacy of the duo. Gonzalez holds the the first win, but Estrada is right on his heels and is gunning for revenge as well as flyweight domination.
What's standing in their way?
Such a momentous fight deserves the appropriate recognition, and in essence that means a sound payday for both fighters. Whispers have suggested that Gonzalez may fight free-swinging Panamanian Luis Concepcion later this year, but make no bones about it, both he and Estrada want to fight each other dearly. Should one of the big US television networks put in a decent offer, the fight would happen without any of the slick backstage talk the likes of Floyd Mayweather and Manny Pacquiao have pulled in the past. This is a megafight between small men with giant ambition, and it could be happening very soon indeed. Time to start pinching ourselves.