For a period of just over ten years, Florida's Roy Jones Junior was just as his rap single suggested: He couldn't be touched.
Here, in a two-part series, we look at what made a champion that could have truly been one of the very best ever, to a career that simply went on for way too long, with the man with some of the fastest hands in boxing reduced to a mere shell of his former untouchable self.
In part one, I look at the good days, and by good, they bordered on phenomenal. Eventually it would lead from a Middleweight title holder, all the way to the biggest prize in the sport, the Heavyweight Championship of the world.
Jones was a stellar amateur and was only robbed of certain Olympic Gold by some unbelievable acts of judging, having to settle for silver in Seoul in 1988, with home fighter, Park Si-Hun being awarded a barely believable decision win.
Jones would be awarded the prestigious Val Barker Trophy for best boxer, only the third time that the award had been given to a boxer not to win Gold.
The natural progression was for Roy to turn professional.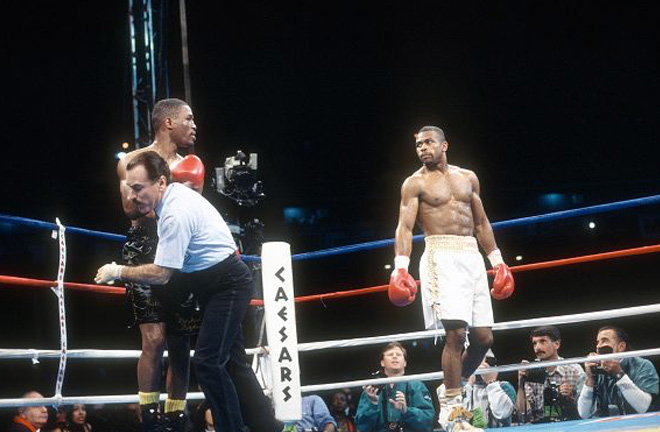 In The Beginning
At 20-years-old, Jones made his professional debut, in May 1989 nearly nine months after the debacle of Seoul. It was to be a scheduled eight rounder at the Civic Centre in his home town, but Ricky Randall would last less than two rounds.
The New Orleans native was knocked down twice in the first and once in the second in a solid start to life in the pro ranks for Jones, who earned $50,000 for his efforts.
The usual diet of limited fighters followed for Jones as he continued his education in the paid ranks. After 15 straight wins, Jones was pitched in with former WBC Welterweight champion, Jorge Vaca.
Vaca had won the belt from Lloyd Honeygan nearly four years earlier on an eighth round technical decision. Vaca gave the belt back in a rematch, where 'The Raggamuffin Man' knocked the Mexican out in three rounds.
Vaca would then immediately go into an IBF title shot, but found the Jamaican Simon Brown too hot to handle, knocked down six times in a third round stoppage loss. 
By the time Vaca faced Jones at the Paramount Theatre in New York, he was on a six-fight winning streak and had just stopped former WBA champion Mark Breland in six rounds.
Jones came in two pounds over the agreed limit, and Vaca refused to go ahead with the proposed bout before being convinced to fight by the legendary Lou Duva.
The fight was on, but lasted just 105 seconds as Jones deployed a massive counter left hook to put Vaca out for the count.
Three wins on the bounce meant a first belt attempt for Roy, with the vacant WBC Continental Americas Super-Middleweight title on offer against Maryland's Percy Harris. Harris was no match though, and was stopped in four rounds in Atlantic City.
A one-round blow out of Glenn Wolfe in February of 1993 was all the warm up Jones needed for a shot at the World title.
May of the same year would see the vacant IBF Middleweight belt on the line following James Toney's move up to Super-Middle, and Jones would contest the belt against Bernard Hopkins.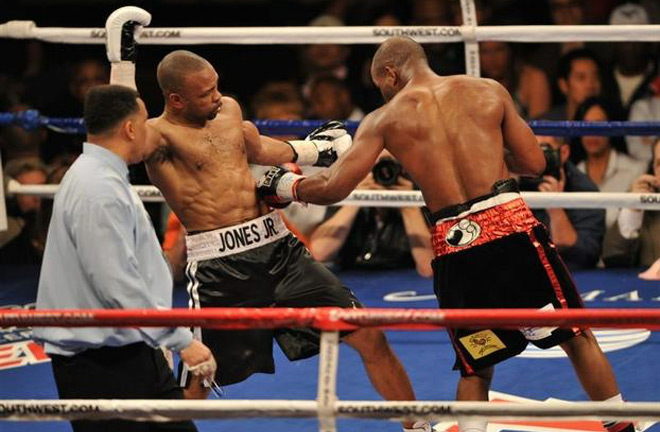 Middleweight Champion
Jones v Hopkins took place in Washington, and both would go on to become greats. Jones would claim that he broke his right hand in the build up to the fight, but was still too slick and fast for Hopkins in a comfortable points win to become World champion.
1993 was rounded off with non title wins over Sugar Boy Malinga and Fermin Chirino, and 1994 began with another non title affair, a sixth round knockout of Danny Garcia.
Jones' one and only defence of the World title at Middleweight came in May '94, when it took him just thirty seconds of the second round to despatch Thomas Tate with a left hook. Next was a move to Super-Middleweight, where James 'Lights Out' Toney awaited him.
Super-Middle Supremacy
The MGM Grand in Las Vegas was the scene for the November 1994 collision between the consensus number two and three pound for pound fighter in James Toney, the IBF champion, and Jones Junior.
Toney opened as the bookmakers favourite, but Jones made a mockery of this suggestion when putting Toney down in the third with a left hook on the way to a wide points win.
Jones would be far more active in World title defences at 168 pounds, making five notches on the belt in just over eighteen months with a series of sensational displays. 
1995 began with a one round hammering of number one contender Antoine Byrd, and two more defences followed in the same year with a sixth round stoppage of Vinny Pazienza and a third session halting of Tony Thornton to round off the year. 
In 1996 Roy opened with a non-title second round stoppage of Merqui Sosa, and in June, Eric Lucas was forced to retire after 11 one sided rounds. October saw a final assignment at Super-Middle, flooring number one contender Bryant Brannon three times in a second round win.
The Light-Heavyweight division was calling, and it would be a World title shot in his first fight in the new weight class.
Light-Heavyweight Invincibility 
Jones' first foray into the 175lbs division would be for the Interim WBC title, with his opponent in Tampa being Mike McCallum, who was a three-weight World champion in his own right.
The Jamaica born 'Bodysnatcher' would be no match for a ruthless Jones, who scored a tenth round knockdown on the way to a 120-107 thrashing on all three scorecards. 
Jones would be upgraded to full champion status when the champion, Fabrice Tiozzo, decided to move up to Cruiserweight.
Next up though, would come the unthinkable. Chicago's Montell Griffin would be the first challenger for Jones' newly acquired belt, and he was fresh of a December 1996 clear points win over James Toney for the WBU crown. 
Still, Griffin wasn't expected to cause Jones problems, but performed above expectations to be in the fight coming into the ninth round, even though he had been knocked down in the seventh. 
Griffin was up on one card, but, after taking a hard right hand from Jones, decided to take a knee, and it was there that Jones hit his opponent twice, causing all sorts of confusion. 
The verdict was eventually a disqualification win for Griffin, in a result that shocked the boxing world. The rematch had to happen, and it came five months later in Connecticut.
This time Roy left nothing to chance, and gained the ultimate revenge, taking just over two and a half minutes of the first round to regain his belt.
1998 would see Jones take a glimpse into his future. He decided to challenge James 'Buster' Douglas for the lightly regarded IBA Heavyweight title, but, on advice from his father, decided his immediate future was at Light-Heavy. 
Jones did relinquish his WBC belt, but was allowed to be a 'champion in recess' and he returned in April '98 to knock out Virgil Hill in four in a non title affair. 
The goal now was supremely at his current weight class, and he added the WBA title to his WBC one with a wide points win over Lou Del Valle. 
A tenth round stoppage of Otis Grant rounded off the year, and 1999 began with a second round stoppage of Richard Frazier, with fans being unimpressed with the choice of opponent being offered, with Frazier way out of his depth.
Lou DiBella, who was working with HBO at the time said: "It was disgraceful. I'm sorry I had to put it on. It was a mandatory. I can't tell Roy to give up his title. But the idea that Rick Frazier was #1 in the WBC and #3 in the WBA is ludicrous." WBC President, Sulaiman later said, "I am embarrassed. I take full responsibility."
"It wasn't very satisfying," Jones said of his win over Frazier. "I don't pick these guys. He was the number one contender. It's not my job to tell these people [sanctioning bodies] what to do."
Still, Jones was keen to add to his collection, and the IBF title was next as Reggie Johnson was knocked down twice in rounds one and three to concede a 120-106 defeat across the board. 
The only title not in the cabinet was the WBO belt, and Jones would be criticised for never taking on Darius Michalczewski, instead opting to continue to defend his three crowns. 
2000 saw three soft defences beginning with a points win over David Telesco and then followed stoppage wins against Richard Hall and Eric Harding, where the IBO belt was added.
2001 garnered two Jones appearances; a tenth round retirement win against Derrick Harmon, and a wide points win over Julio Cesar Gonzalez.
Being an undisputed champion comes with soft mandatories with several Governing Bodies, and February 2002 saw Australia's Glen Kelly get his shot at the gold. He was way out of his depth, and Jones landed an infamous knockout in the seventh with a hook thrown with both hands behind his back. 
It was clear Jones needed new challenges, with his days at Light-Heavy numbered. His last fight at the weight for the time being would be a routine defence against Sheffield's Clinton Woods in Portland, Oregon. Woods' corner had seen enough halfway through the sixth and the towel was thrown in.
Next would come a true leap of faith not seen since the early 1900's, as Jones prepared to jump two weight divisions in search of greatness.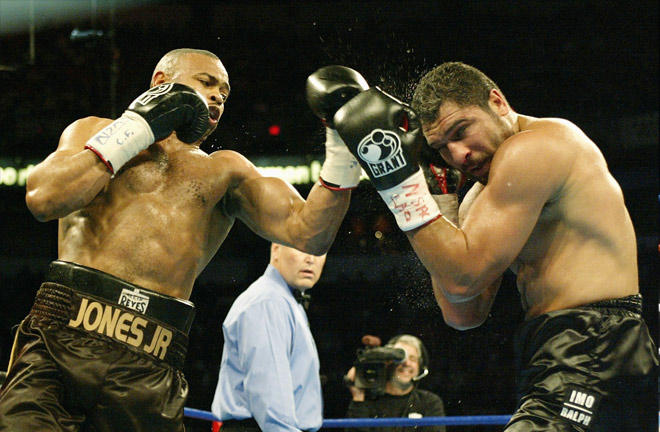 Heavyweight Champion
Jones' move to the land of the giants was confirmed, and set for March 2003 at the Thomas & Mack Centre in Las Vegas. It was to be a shot at the WBA Heavyweight title against established champion, John Ruiz. 
Come fight night, Jones was outweighed by some 33 pounds, but boxed superbly to repel Ruiz and take a clear points win. His feat had seen him become the first Middleweight to become Heavyweight World champion since the great Bob Fitzsimmons in the late 1800's.
Jones would elect to move back down to Light-Heavyweight. He would need to ship over 20 pounds, and the move would see him never be the same again, as we will see in part two.