RJJ Heads to Moscow, Russia on May 22, 2011 to Take on Top Cruiserweight Lebedev:
Just when you thought it was time for a legend to hang up the gloves (or well past that time…) and stand on the sidelines to let the new generation take over, here Roy comes yet again. This time he will be facing off against a determined, tough, and dangerous cruiserweight in Denis Lebedev on May 22, in a fight that has left many fans scratching their heads. This fight will taking place at the Megasport Arena in Moscow, Russia, and one can only hope that this will not be a fight that leaves a great legend like Jones, Jr. going to the hospital in a foreign land.
Tale of the Tape
"RJ" Roy Jones, Jr. is 42 years old, with a record of 54 wins and 7 losses.  He stands at 5 feet 11 inches tall, with a 74 inch reach, fighting out of the orthodox stance.
Denis Lebedev is 31 years old, with an impressive record of 21 wins, with only 1 loss.  He also stands at 5 feet 11 inches tall, and fights out of the southpaw stance.
Roy Jones, Jr. vs. Denis Lebedev Preview
The great Roy Jones!  What else can you say; from the compelling body shot knockout of Vigil hill, to the practically no hands chicken wing knockout of Glen Kelly, he is one of the best fighters of his era, though he has not been the same since he got clipped on the chin by Antonio Tarver in their rematch back in May of 2004.  Known for his unbelievable handspeed, elusiveness, quickness, and stunning hooks, Jones was rated pound for pound the number one fighter in the world for years, and won numerous titles in the middleweight, super middleweight, light heavyweight, and heavyweight divisions en route to being voted the 1990s "Fighter of the Decade" by the Boxing Writers Association of America.
Roy has beaten great fighters including Bernard Hopkins, James Toney, Vinny Pazienza, Mike McCallum, Virgil Hill, Eric Harding, Antonio Tarver, and Felix Trinidad.  One of the best highlights of Jones' career was when he moved up to the Heavyweight division and beat John Ruiz to capture the WBA heavyweight crowd, thus, becoming the first former middleweight champion to move up to heavyweight and win the heavyweight title in 106 years. If he had retired then, he would go does as one of the best fighters in boxing history, and not the sideshow he has become in the past five years.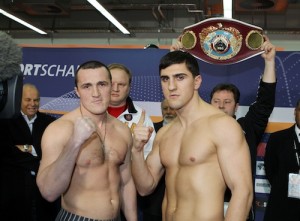 Denis Lebedev is one of the best fighters in the cruiserweight division today. He started his professional boxing career in 2001, and since then, he has taken the cruiserweight division by storm, owning quality victories over good fighters such as Michael Moore, Enzo Maccarinelli, and Alexander Alexeev.
In his last fight, Lebedev tested the waters by putting his unblemished boxing record on the line, as he challenged one of the top fighters in the division, German superstar Marco Huck for Huck's WBO cruiserweight title.
Lebedev brought the fight to Huck the whole night, while Huck was content to control the fight by simply moving and boxing.  Lebedev had some moments late in the fight especially, as Huck wore down, but Huck's experience took over as he intelligently held on to Lebedev in the late rounds to avoid getting hit with anything big.  The fight ended up going to the judges' scorecards, and Huck was awarded the twelve round split decision victory, despite many at ringside who felt that it was Lebedev that should have gotten the nod.
Jones vs. Lebedev Prediction
I truly love Roy Jones, Jr., I do, but I feel that this could be a very dangerous fight for him especially if he gets hit flush on the chin.  Roy will have problems dealing with Lebedev's power, southpaw style and pressure, especially if he leans on those ropes like he loves to do.
The question in this fight will be whether or not Roy has enough left to rely on his reflexes and speed to box circles around Lebedev, or whether that's just a pipe dream. Roy could also use Levedev's aggressive boxing style to his advantage by effectively counterpunching Lebedev when he comes inside.
Roy Jones hasn't been the all-time great fighter that we all used to see for quite some time, but still, he could have a chance in the fight.  Actually, I would love to see Roy win this fight, and I will be rooting for him come May 22, but I just feel that Roy will not last the distance.  Lebedev is too tough, too determined, too strong, and just too powerful for Roy at this way-too-late stage in his great career.
Prediction:  Lebedev by eighth round knockout