On Saturday afternoon, March 5th, undefeated Lucas "Big Daddy" Browne (23-0-0) will battle Ruslan Chagaev (34-2-1) for his belt. The bout will be broadcast live in the United States on AWE – A Wealth of Entertainment.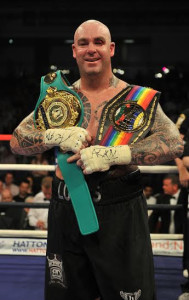 Undefeated Lucas "Big Daddy" Browne, a former bouncer and MMA fighter, is known for knocking out his opponents. Browne, from Australia, has a perfect 34-0-0 record and a staggering near 90% knockout percent.
"Browne is arguably the top one-punch heavyweight in the world since Mike Tyson. Lucas has a perfect record and the power to end a fight at any time. It will make for an explosive day of world-championship boxing," states AWE president, Charles Herring.
Legendary world champ Ricky Hatton, is the promoter of Lucas Browne. Hatton's strategy for Browne is clear – a knockout finish. According to Ricky, "We don't want the fight to go to the judges. Not that I'm saying they'll be anything wrong with the judges the WBA chooses, it's just that when you're away from home you have the crowd against you and they cheer everything the fighter does, which can sway things." Hatton added, "(Lucas needs to go) for what he does best, which is go for the knockout."
A victory by Browne or Chagaev puts either man in a good position to challenge America's WBC World Heavyweight Champ Deontay Wilder or Tyson Fury, who's coming off a major upset over long-time reigning heavyweight champ Wladimir Klitschko.
"The heavyweight division is incredibly exciting once again. There're a number of world-class heavyweights with undefeated records, including Deontay Wilder, Tyson Fury, Anthony Joshua and Lucas Browne. They're on a collision course," stated boxing insider Marc Abrams.
Chagaev of Andijan, Uzbekistan was a former world amateur champion, who turned professional in 1997. The 37 year-old won his first twenty-five contests which was highlighted by a WBA Heavyweight title with a 12-round majority decision over previously undefeated champion Nikolay Valuev (46-0). He made two defenses of his title with wins over Matt Skelton (21-1) and Carl Davis Drummond (26-0) before being stopped by Wladimir Klitschko.