Savannah Marshall is arguably the best sportsperson to ever come out of Hartlepool after her accolades as an amateur boxer put her amongst the best. With almost every medal and trophy in her cabinet, Marshall also recorded the only win over self-proclaimed, greatest woman [boxer] of all time, Claressa Shields.
Hartlepool is a town built on history. From William the Conqueror ordering the construction of Durham castle to being heavily targeted by the Germans in World War I. Now there's a new sheriff in town and Savannah is looking to marshal Hartlepool to success.
"I grew up in Hartlepool, I just had a normal childhood. I was always into sport, a bit of football and a bit of netball. When I was eleven one of the boys from my estate, one of my friends, started boxing. I always remember he would show my all the trophies and medals he had won and I got jealous. I wanted to win a trophy, that's the reason why I started [boxing], all because of a little plastic trophy."
To somebody on the outside, this moulded piece of plastic is worthless junk. However, to a competitor that piece of junk is the holy grail, the be-all and end-all. It is a matter of life and death to win.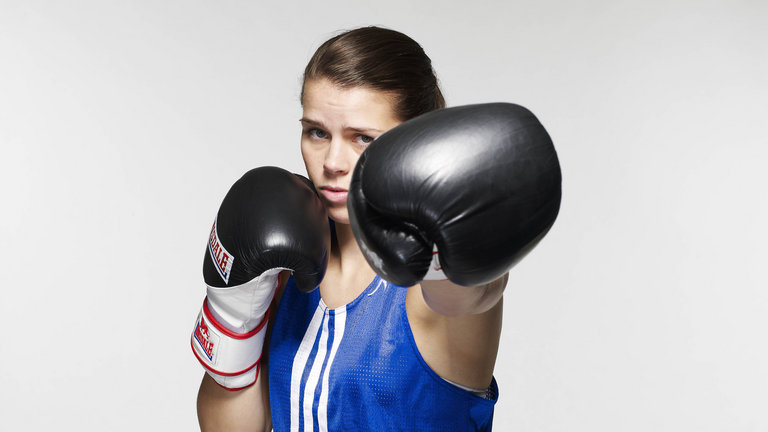 "I started when I was eleven, before I knew it I was sixteen, seventeen and I was boxing for England, winning European titles, I was winning world titles and I think I enjoyed it so much I never really sat and thought 'I'm actually good at this' sort of thing I just enjoyed it so much it became a part of my life so quick.
"When I was seventeen I became the first female to win European gold for Great Britain when I was twenty-one I was the first female to win gold at the world championships but I think my biggest highlight was when I was eighteen, it was my first senior tournament and I went all the way and got a silver in the world championships. It was probably that point when I actually did think 'I am pretty good at this.'"
After learning the art of pugilism and plying her trade for over a decade reigning in successes, Savannah never wanted to further her career over to the professional ranks. It was the amateur game she fell in love with and it was always the plan to get out as an amateur. That was until the lure of a new haven was on the table. Marshall was on cloud nine.
"I was never interested in the pros, I never used to watch pro boxing. After 2016 I was hoping to retire, I had won every medal apart from the Olympics so after London, I stayed another four years to give it another crack at Rio when I got knocked out in the quarter [final]'s I thought 'I've had enough of this sport.' I was ready to retire, then, Mayweather Promotions got in touch with me asking if I'd be interested in turning professional with them, they offered me a contract. I thought I may as well, I had nothing else to do.
"It was an opportunity in America. A part of the contract was to move out there that was a crack at a whole new life so that's what drew me in even more." Savannah soon came back down to earth with a bang. "I soon discovered that pro boxing is filled with broken promises. Even now two years in it is still the same really. There's a lot of people who promise you the world but I loved being out there and living out there [in America]. I had a coach named Fareed Samad, who is now Danny Jacobs' head coach, Fareed really looked after me, I learned a lot in a short space of time with him. I was gutted to come back.
"I was only there for about four, five months before I came home. I was at a family wedding and I decided I wouldn't go back over [to the States]. Previously to my debut, I trained in the UK, Peter Fury trained me so I had a bond and a friendship with Peter and I knew I could trust him. As soon as I was back I went straight to Peter and asked him to train me, really I've been with Peter since I turned pro."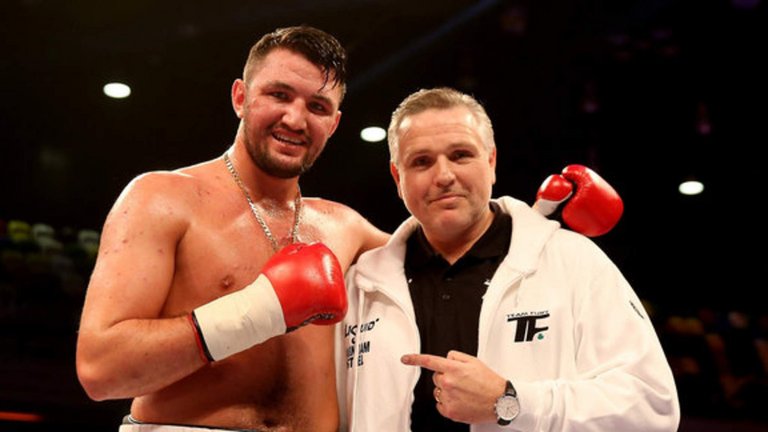 The mastermind behind that wonderful night in Dusseldorf where Tyson Fury dethroned the long-reigning king, Wladimir Klitschko. Peter Fury was about to embark on a new quest, the quest of taking over women's boxing with his new queen and the backing of Eddie Hearn's Matchroom Boxing.
"He [Peter Fury] is a very, very smart man. He doesn't sugarcoat anything, he tells you how it is. He can be quite brutal at times. But, at least I know I'm not with someone who's blowing smoke up my arse. I trust Peter. It's a good thing and it's what I need.
"It's going really well, I signed with Matchroom and in the space of six weeks, I had two fights so it's been brilliant. The only thing I can complain about in my pro career is that I haven't been busy because I've had the bumps in the road and I've not been happy with certain things so it set me back quite a bit. It was nice to join Matchroom and they gave me two fights straight away."
Looking to build on the momentum gathered since August, Marshall is looking forward to a busy, title-laden 2020 before another early retirement is planned.
"Looking at next year there will be five or six [fights]. I train full time, constantly, I don't do anything else. I'm twenty-eight now and ideally, I don't want to be in the sport for more than the next forty-eight months, maximum, I want to get as much out of it as possible really.
"I've boxed since I was eleven years old, I've boxed full time since I was seventeen and although I am injury free I have had some bad injuries and I'm at the point now where my elbows are knackered, I've had scans on my elbows and at the age of twenty-eight, they are knackered. I want more from life than just living in the gym."
Marshall acknowledges the lack of depth in the women's side of the sport has left her considering competing at various weight classes to reap the rewards and it is an issue which needs addressing in each division from top to bottom.
"To be honest at super-middle[weight] I am ready for a world title shot at the start of next year, there's not many women kicking about at the heavier weights. I believe that I'm good enough to box for a world title now!
"It's not just higher weights, Katie Taylor boxed for a world title in her fifth fight so its the same at all weights really. Women train just as hard as men. I train alongside Hughie [Fury] and I train just as hard as him so why can't I get given the same opportunities as Hughie gets given?"
As always with Savannah Marshall when her name is mentioned it is coupled with that of Claressa Shields. Marshall knows her American adversary has helped build her profile in the pro ranks but she is also ready to walk the walk by defeating her once more.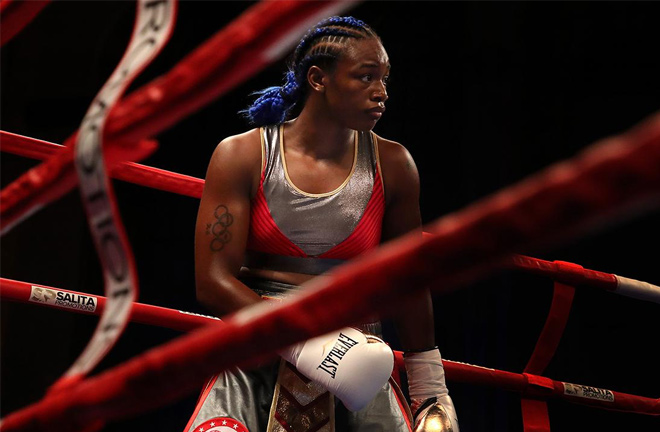 "It is just someone that I beat. I'm not going to lie it has helped in my pro career, I didn't get an Olympic medal, it's got me a bit of publicity which I am not naive about. I am confident in my ability and I'm confident I'll beat Claressa again. She is a brilliant athlete and she's done loads for women boxing but I genuinely believe I beat Claressa, again.
"I'm happy whoever [Eddie Hearn] puts in front of me but it's a fight that I won't like I said there are not many women out there, I'm not naive and I'm not daft there is only so far you can go which is why I want to get out by the age of thirty. I don't want to hang about for years waiting to see what comes through. I know where I want to be and if it was up to me I'd box every month and just go through the lot of them."