News broke on Friday afternoon that Andre Berto failed a drug test recently in preparation for his upcoming rematch against Victor Ortiz. Like in the Lamont Peterson-Amir Khan situation, the fighters had signed up for VADA testing, a strict, random pre-fight testing program. Also like that case, it was Berto – like it was Peterson – who requested the testing.
At first it was unclear if the fight would go on or be delayed or who knows what, but now it's official that the Ortiz vs. Berto II fight has been cancelled. However, the rest of the fight card will still take place, and a replacement opponent will be found for Ortiz to fight as planned.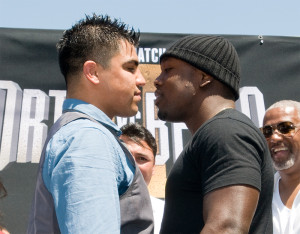 Having the Ortiz-Berto rematch cancelled is a harsh blow to fans. The highly anticipated rematch was supposed to take place already, but injury delayed it. Now we'll likely never see it, and the sport gets tainted with another public humiliation of sorts with a top fighter testing positive for steroids in pre-fight, voluntary testing procedures.
At least the entire card will still go off as planned, and Ortiz will be in action. Ortiz vs. Khan, anybody? Khan was planning to move up to welterweight anyway. Just saying.
Below, find the original statement that Berto released, and our follow-up and commentary at that time.
Andre Berto was recently advised that he has tested positive for low levels of 19-norandrosterone, a metabolite of nandrolone or nandrolone precursors. So far, neither Andre Berto nor his lawyer have been provided with any laboratory documentation other than a 1-page, summary report of the laboratory's findings. Mr. Berto's lawyer has requested the complete laboratory documentation package, including all chain of custody documentation and scientific data supporting the laboratory's summary report.

Mr. Berto issued this statement:

"At the present time, I cannot explain the positive drug test, which was provided as part of a voluntary anti-doping program in which I agreed to participate. I know that I have never used any steroids or other banned substances, and I am investigating all possible causes of the positive test with my attorney Howard Jacobs. I have never cheated, and all of my success has come from hard work and dedication."
—-
I'm going to hold off on any further comment until more information comes in. Of course, Peterson-Khan II was cancelled, and with this positive steroid test hanging in the air, the highly anticipated Ortiz-Berto II test may now be off the table as well, which would be another terrible blow for the sport.
We'll keep you posted with more news as it comes in, and whether or not Berto vs. Ortiz II will be taking place as planned, and whether there's any further information from VADA, the commissions or the promoters about Berto's positive steroids drug test.