On the big Macau card featuring Zou Shiming and two world title bouts, 23-year old Andy Ruiz Jr. moved to 20-0 (14 KOs) with a 4th-round knockout over previously unbeaten Joe "The Future" Hanks, now 21-1. It was a weird place to have a showdown between two heavyweights based in the U.S., but Ruiz, Jr. showed he is ready to take the next step up the heavyweight ladder.
Looking at Ruiz, Jr. and Hanks standing next to each other, it looked like a heavyweight (Hanks) and a furniture-mover (Ruiz, Jr.), but it was the corpulent and jiggly Ruiz, Jr. who was able to get it done. For those of us who are growing more rotund in our old age, it's nice to see a "skilled fat man" doing well in a sport dominated by those with ripped physiques. Ruiz, Jr. again proved that boxing is in no way a pose-down. It's about skills.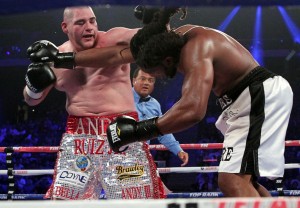 Still, many of us picked Hanks and a lot of it had to come down to the fact that he looked like he was cut from granite, while Ruiz, Jr. is the kind of guy who would refuse to take his shirt off if he was on the "skins" team at the basketball court. It reminds of a few things. One is that being a fit boxer doesn't always equate to a ripped physique. Ruiz, Jr. shouldn't be expected to spend all his time on his abs. It's obvious he's working on things that can actually help him in the ring.
In the 4th round of an entertaining fight, a Ruiz, Jr. right hand/left hook combo knocked "The Future" into next week. He got up, then a 4-punch combo deposited him on the canvas emphatically, bringing an end to the fight and making Ruiz, Jr. a fighter worth watching. It was hard to see coming. Ruiz had shown promise, but he had beaten such stiffs that it was hard to get a good read on him. Hanks looked jittery and nervous, over-reacting to shots. Ruiz, Jr. didn't look as physically-prepared as Hanks, but he had the head-game won.
Ruiz, Jr, is fast, has a big right hand, and a really good peppy jab. He also took a few good ones and his chin held up well. Ruiz, Jr. has a nice two fisted attack and a mean streak and fighting spirit that should serve him well. He fights hard, changes gears well, and had far too many dimensions for Hanks.
It's good to see a fat guy with skills–a diminishing list outside of baseball and on the line of scrimmage in a football game. Not that every heavyweight of worth in the last 20 years has been an Adonis, but the chubby guys haven't really made an impact. And Ruiz, Jr. is legitimately chubby, not a body-beautiful who has let his body fall into disrepair. He turned pro at nearly 50 pounds heavier than he is now. He's the real deal.
He's only 23 so maybe some of that baby fat will fade. Even if he were somehow able to get thin, he would never look like a guy who was always thin, but rather like a reformed fat guy who will always look fat. Some guys look better fat, like Andy Reid. No one wants a thin Rush Limbaugh. It looks ridiculous. Some guys are made to be fat.
The Mexican-born Ruiz should have no trouble securing the affection of the huge Mexican and Mexican-American following that is starving for a good heavyweight, especially now that Chris Arreola looks to be fading. Ruiz, Jr. needs to work on his stamina, but at times, he looks like a smaller fighter in a jumbo-sized body. He fights like a big welterweight–depending on combinations with good form and style.
How far he goes remains to be seen. He would probably be beaten by the Klitschko brothers and other fighters just underneath them. But he is a young 23 and if he's developed thoughtfully–he should eventually graduate to the status of top contender and give hope to all guys whose midsections jiggle.