Recapping the week that was in boxing….
Another weekend is in the books. No big shockers. Friday got off to an early start on the other side of the pond, as Matthew Hatton scored a decent win over former world title challenger Yuriy Nuzhnenko in defense of his European Welterweight Title. Never thought the day would come when Matthew would stand a good chance against his older brother, but that day might have arrived. Matthew deserves credit for shedding the tag of simply being Ricky's younger pug brother.
I wasn't particularly thrilled with the Showtime New Generation card, as Mike Dallas, Jr., Shawn Porter, and Fernando Guerrero all extended their unbeaten records. They were all taking steps up in class, so let's not be so hard on them. At the same time, none of them got the blood curdling. Out of the trio, I'll say Dallas, Jr. is the best prospect. He's a swift and solid boxer with good speed and movement. I thought he was sharp in defeating previously undefeated prospect Lanard Lane.
Shawn Porter has looked better, but managed a decent win over Ray Robinson (pains me to even say that). In the main event, Ishe Smith extended Fernando Guerrero over ten rounds. Guerrero won a decision, but lacked his former sizzle, as seen on several TV appearances. I sense that, as he rises in class, the stuff that worked against journeymen will not surface against sharper fighters. Guerrero will become a contender, but I don't necessarily see world titles in his future.
On ESPN2, Zab Judah looked good in knocking out Jose Armando Santa Cruz in the 3rd round. A left uppercut lashed into Santa Cruz's face, putting him down hard. A follow-up assault caused the ref to call a halt. With his career having stalled out lately, a highlight-reel KO is just what the doctor ordered. At 140, he could very well make some noise. His offensive ability alone makes him a threat against any of the top guys.
Saturday…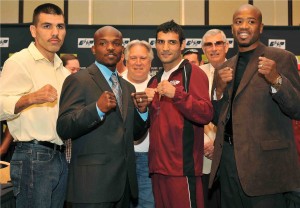 As illustrated by Zab Judah looking so much better at junior welterweight, moving up 7 pounds to welterweight isn't as easy as it sounds. Timothy Bradley, though dominant in beating Luis Carlos Abregu over 12 rounds, showed his immediate future is not at 147 lbs.
Bradley was in command against a good undefeated fighter, but seemed troubled by the bigger Abregu. It wasn't difficult to imagine a sharper welterweight giving him big problems. Bradley is small for 140, but another jump puts him at a distinct disadvantage. While strong and heavily muscled, he isn't the hardest hitter, stripping him of the equalizer he might need against the bigger guys.
Maybe his welterweight cameo was simply to justify himself as a possible opponent for Floyd Mayweather. In that case, it was a wise move. As for the fight, it was somewhat monotonous. Bradley is versatile, fast, well schooled, and dogged in the ring. He's just not that exciting all the time. He seems to fight an entire bout at the same pitch. To his credit, it is effective and he is one of the better young champions in the game. Amir Khan, anyone?
Fernando Montiel continued his dominant ways with an emphatic blast-out of outgunned Rafael Concepcion. After winning a ten-round decision in his re-entry to the bantamweight division, none of Montiel's last 5 fights have gone past 4 rounds. His recent power surge is responsible for him becoming the recognized champion in a revitalized bantamweight division. Montiel has a number of interesting options at his choosing, including fights with Vic Darchinyan, Yonnhy Perez, Abner Mares, or maybe a rematch with Hasegawa down the line.
Some heavyweight boxing enthusiasts were surely disappointed as gigantic favorite David Tua was held to a majority 12-round draw against Monte Barrett, even getting dropped for the first time in his career in the final round. This is further affirmation that we must look into the future, and not the past, for a viable threat to the Klitschko heavyweight supremacy. Tua seemed resurgent after a recent run of wins, but in struggling so mightily with Barrett, that was probably a bit of a mirage.
Barrett, having dropped 3 straight and a winner in only 3 of his last 9, appeared to be in it just for the money recently. Hats off to a good pro for managing to summon the pride to make a good showing on Saturday.
Looking Ahead to Next Week…
A little dry on the fight front next weekend. On ESPN2, we get to see WBA Light Heavyweight Champion Beibut Shumenov, scandalously given the title against Gabriel Campillo in his last fight, takes on undefeated Vyacheslav Uzelkov. Despite his dubious world championship credentials, Shumenov is an exciting up-and-comer. Check out sizzling California 115 lb. prospect Rico Ramos on the undercard.