Scott's On the Spot Weekly Boxing Report: Pacquiao vs. Margarito Results & Much More:
The boxing season is in full swing now! Fans have eagerly waited for the final few months of this year to dig in and see any number of great matchups. Action got underway on Friday, with former Contender star Peter Manfredo, 35-6, now campaigning at 160, defeating 15-7 journeyman Jhon Berrio.
Hard-bitten middleweight Ossie Duran, 25-8-2, who has been consistently losing to up-and-comers, scored a bit of an upset in a shutout decision over Matt Vanda, 43-11.
Detroit's Daryl Cunningham, 21-2, a decent prospect at 175 pounds, stayed busy with a decision over Rubin Williams. Poor Rubin was once 29-2. He's now 29-13. Do the math. He might be overdue to be put out to pasture.
Tough 140-pound fringe contender Josesito Lopez, 28-3, made another appearance at the Doubletree in Ontario (great club shows there) and defeated 25-5-2 Sergio Rivera.
Saturday…
Fans in Manchester were probably a bit disappointed in David Haye's defense of his WBA Heavyweight Title. Audley Harrison hasn't given us much reason to expect anything great from him, but his performance was pitiful—even by those low standards. Maybe I've watched movies like Rocky and Cinderella Man too many times, but I expected the long-maligned fighter to give a better effort. In getting stopped in 3 rounds, Harrison showed zero drive.
Harrison, despite a weight advantage of over 40 pounds, was even more timid than usual. Haye took his time, before unloading power shots that took Harrison out of the fight. But let's face it: Haye didn't look that good either. While his skills were more in play against fellow cruiserweights, the size difference of heavyweights has taken away some of his good points. At this new weight, he doesn't work very well. He just lays on the outside of his opponent's reach, hands down, waiting for a chance to smash in his power shots. Effective? So far. Entertaining? Potentially. But against the Klitschko brothers, he might need to exhibit more skill.
Note to David Haye: Don't involve yourself in the wagering concerns of buddies. Haye later came out and said he could have taken Harrison out earlier, but carried him to the 3rd because his friends had bet on a 3rd round KO. Certainly, those making prop bets on this fight are upset that they did not have the inside scoop. It's not fair to bettors who are assuming a fight will play out to its natural conclusion. Not that Haye gunning for a 3rd-round stoppage guarantees anything, but it's just a no-no. At the same time, those giving Haye an exceptionally hard time about this are really missing the boat. This was in no way any kind of a "fix," but it would be better if "Hayemaker" focused solely on fighting in the future and leave the betting to degenerates like us.
Pacquiao vs. Margarito Results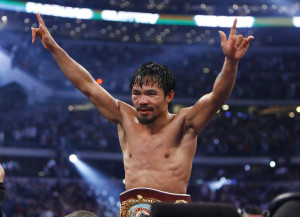 As we all know now, Manny Pacquiao decisioned Antonio Margarito in clear fashion on Saturday night. Were there any surprises? Perhaps not, but Pacquiao showed he is always exciting—even if the result is predictable. Unlike some fighters, even his one-sided clinics are compelling. Give Margarito credit, however, for keeping the fight tense, although not always terribly competitive. He was probably Pacman's toughest fight since the Filipino dynamo defeated Juan Manuel Marquez in their second fight almost 3 years ago.
I felt the fight could have been stopped sometime around the 10th round. But what often happens in such a scenario is that the end of the fight starts getting closer, giving those in control a reason to let it keep going. The mentality is "it's not much worse than a few rounds ago and the fight is almost over." Still, the state of Margarito's eye and his sagging spirit over the final few sessions were a bit uncomfortable to watch.
My one concern about Pacquiao is possible ringwear. While his recent outings have not been particularly demanding, they might register in a cumulatively more taxing way as we move into the future. It takes a leap of faith to maintain that one 12-round fight after the next against considerably bigger men will have no affect on Pacman's prime. Now holding a belt at light middleweight, Pacquiao has somewhat backed himself into a corner where he has to continue fighting bigger men while waiting for Floyd.
—-> Read the full Pacquiao vs. Margarito PPV round by round here
He might be well-advised to not burn himself out in these type of fights, while his chief rival Mayweather is resting on the sidelines. With wins over Cotto, Clottey, and now Margarito, Manny has made his point. He can beat the bigger fighters with ease. Why not take on one of the tough 140-pounders out there now? There might not be much more to gain by fighting "the best of the rest" at 147-154. In addition, Pacquiao can spare himself the wear and tear that goes along with constantly fighting much bigger men. Against a 140-pounder, he can fight a guy his own size and maybe get a short night's work, after seeing the 12th round in his last 3 outings.
Margarito earned some respect last night. Say what you will about the loaded gloves scandal, but he did show himself in a good light. If allowed to pursue his career freely in the upcoming months, Margarito could still make noise, particularly at 154 pounds. He already holds two wins over Kermit Cintron—a top guy at 154. Alfredo Angulo vs. Margarito would have some appeal.
The undercard had some good moments. Guillermo Rigondeaux-Ricardo Cordoba was not one of them. While it's difficult to be too hard on a 6-fight pro facing a former world champion with only 2 losses in 41 fights, Rigondeaux did not excite. He has obvious talent, but lacks the professional polish you'd like to see from a world-class fighter. He never looked like the gigantic favorite that the oddsmakers made him out to be. A win is a win, but he'd be well-advised to take better advantage of these high-profile slots in the future.
Mike Jones, 22-0, had a tough night, winning a majority nod over dogged Jesus Soto-Karass, 24-4-3. If you still consider Jones to be a work-in-progress, the outing wasn't the worst disappointment. Often times when a young fighter is making his way up the ranks, he encounters a less-talented, but perhaps more gritty toughie like Soto-Karass. Jones showed a lot of moxie by hanging in there, despite what appeared to be an acute momentum swing after he punched himself out in the early rounds. Would it have been more impressive if Jones just went out there and dusted off Soto-Karass in a couple rounds? Sure, but these are the type of educational outings that will actually be more beneficial in the long-run.
Looking Ahead…
The action continues next week. On Wednesday (apparently fight-night in Australia), Danny Green takes on American contender BJ Flores.
On Friday in Germany, former titlists Karoly Balzsay and Ruslan Chagaev will stay busy in tune-up bouts. Chagaev takes on hard-hitting, but brittle-chinned Travis Walker. Good-looking heavyweight prospect Denis Boytsov also appears on the card.
On Saturday, also in Germany, WBO 168-pound titlist Robert Stieglitz takes on challenger Enrique Ornelas. Enrique's brother, Librado Andrade, stopped Stieglitz in 8 rounds in 2008. Stieglitz is a titlist, but until he does something compelling, will remain an afterthought in the deep 168-pound class.
From Mohegan Sun, former champion Paul Spadafora, 44-0-1, continues his on-again/off-again comeback against 19-5-3 Diego Ponce. Undefeated Matt Remillard, 22-0, will fight on the undercard.
And Finally…
In a eagerly-awaited rematch from one of 2009's best fights, Middleweight Champion of the World Sergio Martinez takes on Paul Williams. Fans should expect a corker between these two excellent and unique boxers.
The Pacquiao vs. Margarito results were exciting, if predictable, and it was a loaded weekend of boxing news and action to get his pumped for this end of 2010 push in the sport.