Recapping the Week in Boxing New: Results, Thoughts & More: Johnson KOs Green, Super Middle Prospects… & More
The final surge of 2010 is now in full swing—starting with this weekend's explosion of boxing action. On Friday, a pair of hot super middleweight prospects, Edwin Rodriguez and Marcus Johnson, each scored stoppages on the Shobox card.
Rodriguez, 16-0 (12) scored a ninth-round TKO over James McGirt, Jr. Johnson, 19-0 (14) was destructive in a three-round wipeout of overmatched Kevin Engel. Both 168-pounders are worth keeping an eye on in the future. On the same card, the sons of Howard Davis, Jr. and Aaron Pryor tangled, in a sort of grudge match from when Davis, Jr. beat Pryor to see who would go on to the 1976 Olympics. Pryor, Jr., 14-2 (11) was able to exact revenge on Howard's son Dyah, 18-1 (9), via 8-round decision—also in the super middleweight division.
In the Philippines, former 108-pound titlists Brian Viloria and Rodel Mayol each scored 7th-round stoppages. Both are looking for title shots, with Viloria vying for a go against WBO flyweight ruler Julio Cesar Miranda.
But let's not kid ourselves. The real action was on Saturday, with a group of important bouts pitting good fighters against each other.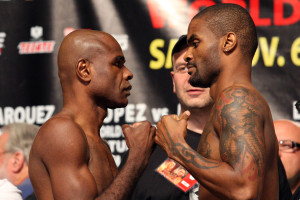 Green vs. Johnson Results: At the MGM in Las Vegas, Glen Johnson took on Allan Green on the Juanma-Marquez undercard. This was actually a part of the dilapidated Super Six Classic. In his first bout at 168 pounds in over a decade, Johnson scored an 8th-round knockout over Allan Green. With 3 points for the stoppage, Johnson amazingly moves into the Super Six semis with only one fight under his belt.
Against the high-pressure style of Johnson, Green elected to employ movement and a jab, while occasionally standing his ground and digging in. None of it really worked. At 168, Johnson appeared smaller, but more effervescent and slippery. He used deft and subtle movement to forge his way inside—where his bodyshots and straight right hands found their target with increasing regularity.
Whenever Green appeared to gain foothold, Johnson would slam home some shots that made him seem like the boss in the fight. When the "Road Warrior" went downstairs on Green, he visibly bothered him. Green had a pretty good 4th and 5th rounds, running off series of combinations on Johnson, without having a discernible affect on the veteran. Johnson started to look downright fast and slick, as he inventively worked around Green's offerings.
In the 8th round, Green leaned forward and Johnson fired a right hand that struck Green on the side of the head. Green complained of getting hit by a rabbit punch and referee Robert Byrd kept right on counting. While seeming to rise before the count of ten, Green's gloves were still touching the canvas and Byrd tolled the ten count. Green claimed he had risen and had no idea why the referee stopped the fight. There was no controversy, however. Green appeared spent and there was no way he was going to survive 4 more rounds with Johnson.
For Johnson, this win breathes new life into his career. The 3 points he picks up puts him in position to get some big fights at 168, where he looked really good—almost reborn. It was a stirring performance for the 41-year old. For Green, the career tailspin continues. He has looked flat in his pair of Super Six performances. He did a little better tonight, but never seemed to me like he was going to win the fight, even though he was surprisingly ahead on two cards. He was never able to take the big step up in his career and the road back to contention looks hard and arduous.
In a captivating match in the main event, Juan Manuel Lopez scored an 8th-round TKO over Rafael Marquez, when the latter retired on his stool with a shoulder injury.
Check out the full report on this fight.
From Newark, Robert Guerrero scored a unanimous 10-round decision over Vicente Escobedo. I turned over to this fight after Juanma-Marquez and only saw the last 2-3 rounds. If that were my only point of reference, I would have thought Escobedo was winning. He was getting to Guerrero pretty well in those last few rounds. I came to found out much of first 7 rounds were dominated by Guerrero and punctuated with a pair of knockdowns.
Good win for Guerrero. He should address the condition he seems to have where he lets fighters he's dominating come back to have success in fights, but Escobedo is a top contender. There is really no disgrace in dropping a few rounds to a fighter of his ilk. I found it puzzling that although I saw Escobedo clearly win 2 rounds with my own eyes as clear as day, Eugenia Williams scored the bout 100-88 for Guerrero.
First of all, why is she still judging fights after scandalously scoring the first Lewis-Holyfield fight 115-113 for Holyfield? It might have been almost a dozen years ago, but I haven't forgotten. Seems like she still doesn't know how to score fights. Get her out of there!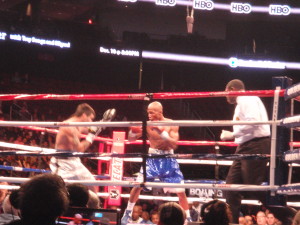 Zab "Super" Judah barely got by Lucas Matthysse by split 12-round decision in the main event. For the first 9 rounds, Judah outpointed Matthysse in tactical fashion. In round 10, Matthysse dropped Judah and it became a race to the bell, as Matthysse punished Judah, who did well to see the final bell. What is it with Judah and one-dimensional brawlers from Argentina? He lost to Baldomir and now barely survives the infinitely less talented Matthysse.
Check out a MASSIVE Judah-Matthysse photo gallery and ringside report here
Matthysse is a difficult assignment and Judah managed the win, but the magic seems to be gone. The offensive explosions that used to come in bunches are now shown only in small bursts. The lackluster nature of this win might actually get him some of those big fights he's looking for at 140. Barring a unforeseen mega-improvement in form, it's difficult to imagine Judah notching a win over anyone in the upper tier of this stacked division.
Rounding out a weekend was a massive upset, as Gilberto Keb-Baas won the WBC Light Flyweight Crown with a majority decision over Omar Nino Romero. A 12-1 favorite, Romero had lost by knockout to Keb-Baas in their first fight, but that was back in 1998. Keb-Baas by now had accrued 20 career defeats and figured to be easy pickings for Romero. No such luck. This creates a good trivia question. Name the last titlist with 20 or more defeats? And I already checked Freddie Pendleton, and he only had 17.