Juanma-Marquez Recap: Mayhem at the MGM
There was a crackle in the air at the MGM in Las Vegas, as Juan Manuel Lopez and Rafael Marquez readied for battle. The fans sensed they were about to witness a can't-miss bout, a surefire barnburner fought in the rich Puerto Rico vs. Mexico tradition. Marquez received the bulk of the support from the Las Vegas throng—longtime frothing backers of the great Mexican warriors of past and present.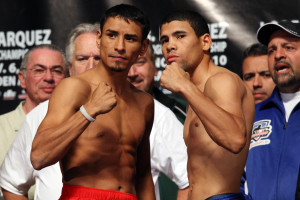 The bout opened tensely, with both fighters showing respect and showing good form. Marquez scored with some sharp rights, with Lopez coming on at the end of the opening round with a nice flurry. In the 2nd round, Marquez seemed a little wooden in the exchanges, as action picked up. He got rattled once or twice and Lopez appeared to be getting his bearings. At the end of the 2nd, Marquez landed a few shots to give Lopez pause for thought.
The 3rd session saw increased action with some heated exchanges where Lopez had an edge, with Marquez always looming dangerously. During this time, there was a collective feeling among the fighters and live and TV audience that a war was imminent. You could just feel it.
The war finally broke out in the 4th. Marquez heroically stood his ground in the midst of the Lopez onslaught and caught him with a left hook that saw Lopez sag dramatically. Marquez moved into close before being struck by a rabbit punch—an infraction Lopez had been warned for before. Referee Tony Weeks deducted a point and then conducted a mini-lecture with the fighters, as if to say, "C'mon guys, let's fight fair."
Weeks is a decent enough referee, but I thought he gaffed in this spot, interjecting himself into the action in a way that altered the normal course of the fight. Lopez was shook. He then fouled Marquez. Why does that entitle him to such a long respite? Weeks was within his rights to deduct a point, but the lollygagging manner in which he conducted this whole episode was infuriating.
He took forever to alert each judge about the deduction and then instead of waving the fighters back together, he unnecessarily gave them a pep talk. All the while, Lopez is recuperating and old Marquez is being deprived of his window to close escrow. Ridiculous. Lopez may have weathered the storm anyway, but Weeks made it a lot easier.
Marquez kept it going in the 5th round, landing more rights and hooks on Lopez, who was still trying to get his legs underneath him. During his 4th-round crisis and this part of the fight, Lopez showed great courage and defiance. Questioned for his chin, he began eating huge shots from Marquez. Rather than buckling, he was now banging his fists together, telling Marquez to bring it on. We knew he had guts, but this show of grit and inner fortitude was truly something.
The fight turned in round 6. Lopez tightened up his defense, streamlined his form and used a triple-digit punch output to begin overwhelming the veteran. Marquez remained dangerous, lashing out with punches that had destructive intentions. The action was heated, but Lopez appeared to be warming to the task, while Marquez took on an uncomfortable countenance. Lopez started to get accustomed to the power shots of Marquez, more or less walking through the Mexican legend. He found a better range to work with and began working Marquez over from that in-between area. Lopez used more prudence in the 7th, boxing neatly, but also digging in punishing shots.
In the 8th round, Lopez started beating up Marquez, raking him with rights and lefts. The Marquez counters, once a source of impending doom, came less frequently and with compromised steam behind them. Everything was going downhill for Marquez and his best shots stopped hurting Lopez. After the round, Marquez said he couldn't move his shoulder and retired on his stool.
While his shoulder would have surely felt better if not for the futility of the assignment before him, it was the best move. For the last 3 rounds, Marquez' cause had been growing increasingly hopeless and the last 4 rounds were going to be punishing to say the least. All in all, it was a very good fight. Not an all-time great classic, but pretty darned good.
Lopez was really impressive in his resolve. He might not have the longest career, but his entertainment value is off the charts, as is his excellence. He will always be a potential knockout victim in the first 4 rounds, but as he warms to the task, he really becomes a terror. His pride is unwavering, which allows him to soldier through tremendous punches to eventually prevail.
The final 3 rounds of the Marquez fight showed a level of fighter that is truly exceptional: hungry, durable, technical, and very hard-hitting. Outside of Yuriorkis Gamboa, there might not be another featherweight capable of beating Lopez in terms of firepower.