-Scott's On the Spot Weekly Boxing Report: James Toney (Shock) Flops in UFC Debut; Calderon Knocked Out and Suffers First Loss-
A lot went down this week in the ring, and even in the octagon in another surprising week in boxing. Let's get the Randy Couture-James Toney fight out of the way first, like how I'd begin eating dinner as a kid by polishing off the vegetables so that I could focus solely on the good stuff. It really seemed that Dana White, a smart guy, scripted the whole thing. In order to make a cheap point, he dug up a washed-up boxer in James Toney, whose trash talk and resume would figure to command attention and interest.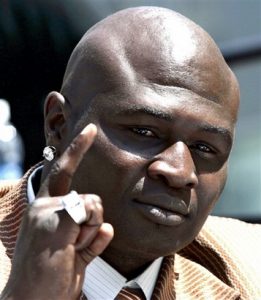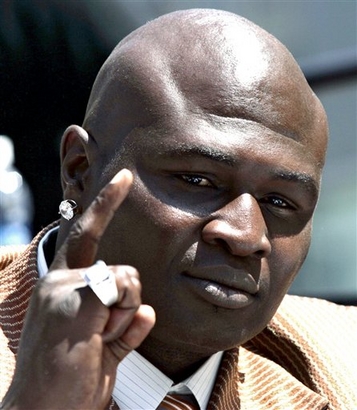 To preemptively silence critics pointing out Toney's age, White served up the even-older Couture—a freak of nature and a far more serviceable MMA fighter than Toney is a boxer at this point. Then comes the ridiculously difficult style matchup for a first time MMA fighter. It's not enough that Toney has to fight an ex-champ in his debut, but to be paired with a fighter who is all about wrestling was too much to overcome. Wouldn't it have been more interesting to see Toney fight more of a striker-type guy?
Either way, it's time to put this MMA vs. boxing business to bed. While a natural rivalry on many levels, it basically only serves as fodder for juvenile Internet battling. MMA and boxing should work together in the spirit of further popularizing all forms of combat sports, not bickering about which one is better.
Coming from a boxing guy's point of view, it seems like everyone in MMA from the cognoscenti to the casual fan has used the rise of their sport as an opportunity to put their foot to the throat of boxing. I'd like to think that MMA owes a debt of gratitude to boxing—the forerunners in legitimizing fighting sports. Had boxing not been around for centuries anesthetizing people to the inherent graphicness of fighting, it's doubtful MMA would have been embraced.
Hopefully, Couture-Toney doesn't ignite this ridiculous argument, but helps put it in the rearview mirror.
Now on to some boxing—
Ivan Calderon's' stranglehold on the junior flyweight division ended, as Giovanni Segura won their unification bout by 8th round knockout in a great fight. Calderon was boxing well early, but at age 35, was unable to hold Segura off for 12 rounds. Segura really began making strides in round 5, connecting on Calderon with hard shots and bloodying him.
Calderon got a measure of momentum back in a productive 7th round. But Segura showed true championship mettle in snatching back the upper hand in the 8th. A murderous hook to the body incapacitated Calderon, who was unable to rise before the count of ten. For Calderon, it was his first loss, bringing his record to 34-1-1 (6 KOs). The 28-year old Segura, 25-1 (21 KOs), is now the real champion at 108 pounds.
Beating an undefeated and long-reigning champion in his hometown represents a gigantic triumph for Segura. In beating Calderon, Segura scored the biggest win at 108 since Michael Carbajal beat Chiquita Gonzalez in their 1994 blockbuster slugfest. In 2008, in his first chance at world title honors, Segura lost a decision to Cesar Canchila. In the rematch, he looked much improved—savaging Canchila with a 4th-round TKO. Since then, he has been in top form, making quick work of all his opponents, culminating with the glorious win over Calderon.
For Calderon, it will be problematic for him to win a rematch with the peaking Segura; leaving his future is in doubt. Even if he never wins another big fight, he had a heck of a run. His resume puts him on the cusp for Hall of Fame consideration. Unfortunately for "Iron Boy," the Segura fight might have been the difference maker.
140-pound player Marcos Maidana gutted his way to a 12-round nod over 36-year old ex-titlist DeMarcus Corley. While not known as much of a defensive master, the Victor Ortiz-conqueror was painfully easy to hit, even getting rattled by Corley from time to time. Corley, who started his career 27-1-1, is now 37-14-1 but fought a really good fight. He's becoming quite the hardcore veteran. Maidana is slated to face Amir Khan in December.
Next Week…
Felix Sturm, who first made his bones against Oscar De La Hoya in 2004, defends his WBA title against tough and improving challenger Giovanni Lorenzo in Cologne, Germany. Let's see if non-Italians named Giovanni can win titles in consecutive weeks against favored champions in their hometowns.
I noticed former lightweight titlist Antonio Pitalua is fighting a 12-rounder with old-timer Joe Rivera. How old school is Rivera? He turned pro in 1980! He fought a draw with junior lightweight champion and Hall of Famer Brian Mitchell in 1987. This will be the 47-year old Rivera's first fight in 13 years.
Darkhorse welterweight titlist, Slovenian Jan Zaveck, 29-1, defends against tough Rafal Jackiewicz in a rematch from a split-decision win for Jackiewicz in 2008. Zaveck, with a valuable belt in his possession, looks to get in the mix with some of the big names at 147.
Another little-known champion in Roman Martinez, the WBO 130-pound champion and a frontrunner to be the top guy in that division, faces tough Ricky Burns in his native Scotland. Let's see if the young champion is the goods.