The Light-Heavyweight Division is undergoing a reshaping at the top as young fighters are about to make their mark on the division, while some of the old stars of the weight class are starting to fade. The 175lb division is an intriguing weight class at the moment. It doesn't have the depth like 140 or the elite fighters at the top like 147, but it does feature a changing of the guard at the top as young, strong fighters lead the division into the next era, while old stars begin to fade away.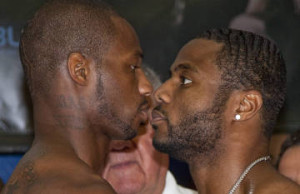 Jean Pascal is the champ at 175. He defeated Chad Dawson by decision in a fight that had to be stopped due to a bad cut on Dawson's eyelid caused by an accidental clash of heads. Nonetheless, Pascal is now the champ, and while he is flashy and has star potential, you had to feel watching the fight that if Dawson wouldn't have gotten cut, he had a very good chance to knock Pascal out in the final round.
It seemed to me like Pascal was tired from the 6th round on. He stole rounds with brief flashes of excitement and appeared to have Dawson hurt a few times, but couldn't seize the moment. Pascal has nice hand speed and some power, but I'm not exactly convinced that he will enjoy a long reign at the top. Dawson wants a rematch, even though I'm not sure we will see it right away. Pascal was asked about fighting Lucian Bute next in the Super Bowl of Canadian Boxing, and seemed reluctant. Pascal mentioned Bernard Hopkins and Joe Calzaghe, one guy retired, and the other is pretty close to retirement. Very interesting choices by Pascal.
Going back to Dawson, I was very disappointed by his performance. I thought he was going to be determined to prove he belongs in the discussion for best in the world along with Pacquiao, Mayweather, Williams, Martinez, and Marquez. Instead, Dawson went through the motions, not throwing punches, content to let Pascal be the aggressor. When you could clearly see Pascal was done, I just wanted to scream at the TV: "What are you waiting for!" Dawson seemed to pick up the pace late in the fight, but the cut above his eyelid was really just bad luck that it happened when and where it did. I also have to say, Dawson showed, in my opinion, poor sportsmanship in his post-fight interview. It was just a bad night all the way around.
The week before the Dawson-Pascal fight, there was a fight between Tavoris Cloud and Glen Johnson for the IBF Title. The fight seemed very close, but the decision went to Cloud, the younger and stronger fighter. Personally, I think the fight was a draw. Cloud obviously wants Pascal or Dawson next, which makes sense, but I think he would lose both of those fights. To me, Cloud just seems one dimensional. He goes in looking for the knockout and if you hold up against the pressure, he doesn't have a plan B. It's fun to watch, but Cloud just reminds me a little of Jeff Lacy. I wonder what Lacy is doing now ?  Johnson, the old warrior, probably was a victim of bad luck and circumstance. He should know by this point in his career to always look for the knockout, because if it goes to the scorecards, you're probably going to lose. I still consider Johnson the 3rd best fighter at 175.
I don't know whether Joe Calzaghe is going to come back or not, but I would give him a chance against Pascal. At the same time though, Calzaghe would be putting his undefeated record in a lot of danger, so my best guess is he stays retired, unless Ricky Hatton wants to fight him at 175. Bernard Hopkins says he wants to be the man at 175 again, even though I'm not sure what that will do for his career considering he's already done that. Well, to do that he'll have to beat Pascal. I know Hopkins wants David Haye, but Haye isn't interested in taking risks. I'm still angry Hopkins-Adamek fell through at Cruiserweight.
WBA champ Beibut Shumenov is an intriguing fighter because after 11 fights, he is already a world champion, even though I don't think he's one of the best in the division. He has the talent, even though he got dropped in the first round of his last fight. He won every round after that. In another year or two, he may be at the top of the division or he may not even have his title unless he gets protected.
After the Super Six tourney, your probably going to see at least a few of those 168lb guys move up. Lucian Bute isn't in the Super Six, but is clearly one of the best at 168. He has a fight in October, but then expect him to leave 168, and hopefully we see him fight Pascal. Andre Ward is the favorite to win the Super Six, and I think he could be good at 175 too, his chin is holding up better and he's the most talented of the Super Middleweights. The top Europeans at 168, Mikkel Kessler and Arthur Abraham, can both be top guys at 175. Kessler has a severe eye injury that has caused him to pull out of the Super Six. Hopefully it's not career threatening, and he can come back strong. Abraham projects as the best of the guys moving up because of his power, but lost a lost of respect with his performance against Andre Dirrell.
I should also mention Zsolt Erdei, who was a dominant champion at 175 while not exactly fighting top guys, is coming back to 175 after going up to Cruiserweight and winning a title. I expect him to pick up right where he left off, but hopefully he fights some of the other top fighters at 175.