Looking Back at the Week in Boxing; Marquez vs. Diaz Rematch Results & Much More
First thing's first: the big PPV card in Vegas. There were not too many surprises except maybe one. It was gratifying to see Robert Guerrero get a nice win over ex-champ Joel Casamayor. With his wife Casey looking on, Guerrero was very professional in outworking Casamayor. Despite a last-round knockdown, Guerrero had things his own way.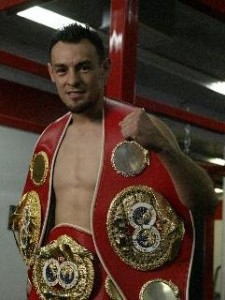 It will later be seen if this appearance at 140 means Guerrero will be competing at 140 for good. A match with Juan Manuel Marquez would be interesting at 135, but Guerrero could very well be competitive with some of the top 140-pounders, as well. Either way, it's nice to see that his wife has turned the corner in her battle with leukemia. Guerrero is now positioned to take his career to the next level.
Those who had high hopes for Jorge Linares perhaps had an order of that restored as he returned to his fast and slick-boxing ways in outpointing perennial contender Rocky Juarez. Maybe the shocking 1st-round knockout loss to Juan Carlos Salgado was a case of a fighter getting caught cold. In a strange kind of way, a first-round knockout loss early in a fighter's career could be less revealing than, say, a comprehensive decision loss.
Linares has good promise and if his chin holds up, he could make some noise at 130 or 135. Juarez, on the other hand, seems to have hit a wall. A loser of 3 straight, he has had ample opportunities to get over the hump. If it were meant to be, it would have happened already.
Sakio Bika would have probably beaten undefeated Jean Paul Mendy, but a crushing uppercut landed with Mendy on a knee after a first-round knockdown brought on the dreaded DQ. Not a smart move by Bika, but who knows what he saw or had going through his mind at the time. Nevertheless, I want to give him a pass. Bika is consistently one of the more exciting performers at 168 and a definite division darkhorse.
Those who have seen Dmitry Pirog in action before might not have found his 5th round KO of Daniel Jacobs surprising, but it still registers as an upset. Pirog had quietly compiled an undefeated record, while Jacobs was one of boxing's more visible prospects. It shows the power of hype in this business. Jacobs, while exciting and talented, had shown some flaws in his game. Offensively gifted, he also seemed a little lost on defense in a few of his fights. Whereas Jacobs seemed to wing it on defense, Pirog has shown some slickness in his career.
The 5th-round one-punch knockout sets Jacobs back quite a bit. You have to feel for the kid, who has experienced a hellish week—losing his grandmother with whom he was very close. It would be nice to see him bounce back. For Pirog, this win makes him an X-factor in the middleweight division.
Juan Manuel Marquez isn't getting any younger, but he had more than enough for the fast-fading Juan Diaz. The fight was serviceable, but failed to provide much of any drama, especially when juxtaposed against their pulsating 2009 encounter. Almost 37, "JMM" looked pretty good. He still has the skills. It seems like they're trying to angle for a match with Amir Khan. Some might feel that is a bad matchup for Marquez. Maybe so, but something tells me everyone is getting bowled over by Khan's more visually appealing skills, while sleeping a bit on the technical mastery of the legendary Mexican warrior.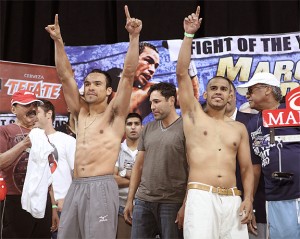 With Marquez being the only fighter to recently trouble Pacquiao, there will always talk of another match with him, though it would likely be at welterweight—where JMM has shown himself to be a bit sterile. He only weighed 133.5 for this fight and maybe he should stay at lightweight where he could thrive for a few more years. It would be understandable if he took a big-money fight at 140 or 147, but his career would probably end sooner as a result.
As for Diaz, I'd like to see him call it a day. While maybe still better than some, he isn't what he what once by any measure. Most fighters who more or less shot before 30 usually have a painful final lap if they choose to continue. Diaz has options. He had a nice career. But now, it's all gone and it isn't coming back.
Also…
In Nayarit, Mexico, the still-popular Jorge Arce scored a 1st-round bodyshot KO of former super-flyweight titlist Martin Castillo. Arce has seemed to be on the downslide lately, especially after a punishing 11-round beating at the hands of Vic Darchinyan. Those who saw Castillo become the best fighter at 115 about 5 years ago surely continue to be taken aback at how precipitously he has fallen.
In the main event, Nayarit-native Juan Alberto Rosas scored an upset with a punishing 6th-round knockout over defending IBF Super Flyweight Champion and Jorge Arce-conqueror Simphiwe Nongqayi. Rosas, who holds a 2004 KO win over current 108-pound titlist Omar Nino Romero, has had a strange career. After going 25-0, he dropped 3 straight fights. After a few tune-up wins, he lost two consecutive bouts—to AJ Banal and bantamweight kingpin Fernando Montiel. For him to upset a classy and undefeated champ like Nongqayi in the town of his birth was quite a nice moment.
Looking Ahead…
On Friday, undefeated bantamweight prospects Chris Avalos and Christopher "The Sand Diego Kid" Martin battle on Shobox. Avalos is the better-known prospect, but should be tested by the slick-boxing Martin in what figures to be an excellent main event.
On HBO, fast-rising junior welterweight titlist Devon Alexander takes on tough Andriy Kotelnik. Alexander, coming off a pair of 8-round stoppages of former champs Junior Witter and Juan Urango, looks to keep the momentum going against the determined and capable Ukrainian.
An interesting bout takes place as Tavoris Cloud takes on Glen Johnson for the IBF Light Heavyweight belt. This comes down to two things: Is Tavoris Cloud the real deal and how much does Johnson have left? Something tells me the old guy just might be too slick for the powerful but raw Cloud.