The undercard of the Zab Judah vs. Vernon Paris fight, scheduled for March 24 in Brooklyn, might prove more interesting than the main event, as heavyweights Sergei Liakhovich and Bryant Jennings duke it out. Whereas the main event is seen as something of a tune-up and comeback platform for Judah (who is coming back for the umpteenth time), the outcome of a clash between Liakhovich and Jennings is far from clear, and both big men have a lot riding on the outcome.
This fight has a tinge of fate surrounding it, since it almost happened back in January. Liakhovich was scheduled to fight Philly slickster Eddie Chambers, but the fast man broke his ribs in sparring and had to pull out. Jennings eagerly stepped in as a late sub, but ultimately everyone concerned decided he was too inexperienced. Instead of Liakhovich, Jennings fought fellow prospect Maurice Byram, and scored a convincing win over him. Now it seems that Jennings isn't viewed as so much of a novice anymore, and three months later he is headed for a date with the Belarussian.
Bryant Jennings (12-0, 5 KOs)
6'2″ tall; 84″ reach; five-fight weight average: 221 lbs; 27 years old
American
Pennsylvania State Heavyweight Champion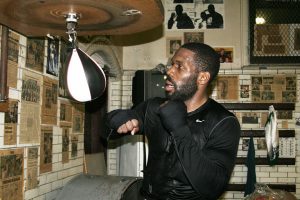 Jennings is probably the best heavyweight to emerge from the American amateur ranks that you've never heard of. The guy got into the finals of the 2009 PAL Nationals and Golden Gloves Nationals, only to be defeated both times by Lenroy Thompson. Given that Thompson is a long-term amateur with six years of experience under his belt and a strong shot at being America's super heavyweight at the London Olympics this summer, that is no mean statement of "B.Y.'s" gifts.
Jennings is a fast, mobile and agile boxer, He is also from that rugged, hard working, blue collar school of boxing so familiar to Philadelphia fighters, in that he continues to hold down a full-time day job even while pursuing a burgeoning boxing career.
Sergei Liakhovich (25-4, 16 KOs)
6'4″; 74 1/2″ reach, five-fight weight average: 238 lbs; 35 years old
Belarussian
Former WBO Heavyweight Champion
Liakhovich is a fringe contender from a former Soviet state, a fact readily revealed by his record. Despite a veteran amateur's record of 145-15, Liakhovich's amateur career is almost as devoid of laurels as that of Jennings (who has an amateur record of just 13-4). He won his world title only because he was lucky against Lamon Brewster, who suffered a detached retina at the very beginning of the fight and soldiered on without depth perception or full peripheral vision. He lost it in his very first defense to Shannon Briggs.
Add in losses to Nikolai Vaulev and Robert Helenius, and you have a fighter that has never won a convincing victory over a "name" opponent. Worse, Brewster knocked Liakhovich down, while Briggs and Helenius scored late stoppages over him. He was also kayoed by Maurice Harris way back in 2002.
Liakhovich's problems stem from the mismatch between his style and his physical ability. The Belarussian is a skilled infighter and swarmer, but he has merely average power and an average chin.
Liakhovich vs. Jennings Preview & Analysis
The best bet for Jennings is to stick and move from the outside. While Liakhovich is the taller, bigger man in this fight, it is Jennings whose main strength will be sharpshooting from the outside. Not only is Liakhovich not an outside boxer, but he has unusually stubby arms for his height, and it is therefore the shorter Jennings who has the reach advantage. Add to that Jennings' superior hand speed, mobility and agility, and the place for him to be is playing matador to Liakhovich's bull.
Liakhovich needs to come forward, get in close and make the fight a brawl, because a guy like Liakhovich needs a real mix-up in order to land enough leather to win rounds. Up close, his infighting skills will shine, and if a shorter man like Jennings tries to tie him up, he'll simply lean on the American, make him carry the "White Wolf" around, and wear him out.
The way to read this fight is by what range it is taking place at. If Jennings is able to fire from the outside, Liakhovich is being stymied, can't find his man, and can't score. If the Belarussian gets up close and stays there, he has a good chance of overwhelming his less experienced opponent.
Liakhovich vs. Jennings Prediction
Liakhovich is playing the role of gatekeeper in this fight, and a loss here means losing even fringe contender status and being confirmed as a stepping stone fighter. For Jennings, this fight is his first big opportunity against a name guy and former champion (however slight Liakhovich's claim to that standing is). A win here truly establishes the Philadelphian as a man to watch, while a loss means a year or two of obscure toiling before earning another shot at proving himself. Both men have reasons to show up fit, prepared and motivated.
Even so, the White Wolf is something of a whipped dog. He has lost 4 of 5 major fights, and 3 of those 4 by KO or TKO. He is also 35, showing his age and in possession of only an average chin, all bad attributes for a fighter with a style that demands he take hard knocks.
However, Jennings is inexperienced, and I see a rugged veteran like Liakhovich managing to bull his way in during the early or middle rounds, before Jennings has established his rhythm and capitalized on it. That said, Liakhovich is no great puncher, and failing to hurt Jennings and get him out of there, he won't be able to sustain the momentum. Jennings ought to take the fight back and keep it. The only reason I don't see a late round stoppage is because Jennings isn't a big puncher either, and Liakhovich's chin is average, not weak.
Prediction: Bryant Jennings UD10 Sergei Liakhovich