How would Sergio Martinez deal with the best middleweights in boxing history?
World Middleweight Champion Sergio Martinez has not cracked anyone's all-time great middleweight lists. What can you expect with only 5 fights at the weight? Nevertheless, he has established himself as the best middleweight in the world and the top guy at the weight since the glory days of Bernard Hopkins. The combined records of the men Martinez has faced at middleweight is 172-3.
After crashing onto the scene as a junior middleweight, Martinez lost a disputed decision to Paul Williams at middleweight poundage. While not the best entrance into middleweight waters, Martinez handled himself well against what was at the time a high-flying commodity in Williams.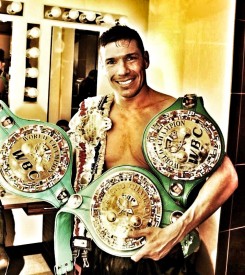 Since then, he beat linear Middleweight Champion Kelly Pavlik in a big win. Then he threw the first Williams result into a new light with a memorable 2nd-round flattening over PW. With the talent pool at 160 in the States rather dry, Martinez set his sights on European standouts, stopping Sergei Dzinziruk and Darren Barker. A few weeks after this writing, he will defend against another capable European in Matthew Macklin.
While it is premature to even mention Martinez with the upper pantheon of 160-pound standouts, it is nonetheless interesting to imagine how he would fare with the legends at middleweight. Here's how I see Martinez faring against the greatest middleweights who ever lived.
Harry Greb: The first thing people will jump on is the gap in eras. Greb fought in the 20's. But I feel the disparity in fighting style and ability from then until now has been generally overstated. If you want to talk about how 19th century boxers were crude and unsophisticated, that's one thing. But by the 20's, boxers were using all the same punches fighters use today. Things were immensely different–make no mistake. But I'm not one who automatically thinks more modern fighters beat guys from the 20's based on this image of fighters from then fighting 50 round bore-fests with their palms facing skyward making little circles with their fists. That's just not how it was. That being said, Greb kicks the crap about of Martinez. Too dirty. Too tough. Too passionate. He'd heave himself into Martinez without pause and his stamina and durability would get him through any rough moments and allow him to outwork Sergio over the distance. Harry Greb UD 15 Sergio Martinez.
Sugar Ray Robinson: The idea of matching Sergio Martinez with the immortal Sugar Ray on the surface seems outrageous. But remember this is not the unbeatable Robinson who terrorized welterweights. Sure, he won the Middleweight Title 5 times, but also lost it 4 times. The guys who beat him were Randy Turpin, Gene Fullmer, Carmen Basilio, and Paul Pender–a diverse group where Martinez fits in pretty well. But even within Robinson's middleweight years is a lot of variance. Martinez probably splits a pair of bouts with 1957 Robinson. But 1951-52 Robinson is still too good of a fighter. Sugar Ray Robinson UD 15 Sergio Martinez.
Marvin Hagler: The thing about Hagler is that he was already past his best by the time everyone realized how great he was. Toward the end, he was more of a muscling banger, but 1980-1981 Hagler might have been the fiercest-ever force at 160 pounds. He could flash speed and box or close escrow quickly with the efficiency and precision of a surgeon. Martinez would represent his stiffest test from, say, 1984 or prior, but would still be no match for Hagler's overall game. Martinez would be forced to trade at some point and that would be his doom against the hard-hitting and seemingly invulnerable chin of Marvelous Marvin. Marvin Hagler KO 11 Sergio Martinez.
Carlos Monzon: Surely, even the humble Martinez would concede he has a ways to go before matching the feats of his fellow countryman. Monzon was as solid as they come–a steely boxer of considerable resource and grit. Longer than Martinez, he would be able to operate from the outside–where Monzon was deadly. But even though Monzon has wins over stalwarts like Nino Benvenuti and Emile Griffith, among others, I'm not sure he ever faced anyone on the level that Martinez is right now. Or at least, he'd be as tough on Monzon as any of his challengers were. I see the guile and ointment of Martinez giving Monzon a lot of problems. He may just have possessed more dimensions than "Escopeta." Close, but no cigar. Carlos Monzon MD15 Sergio Martinez.
Bernard Hopkins: Since we're giving Martinez the luxury of fighting these legends in his prime, we should give the same allowance to his adversaries. Then again, it's not easy pinpointing Hopkins' prime. At any rate, Martinez is a cerebral fighter–capitalizing off his opponents' mistakes and weaknesses. Against Hopkins, he's playing chess with the ultimate ring chest-master. He'd be trying to neutralize the ultimate neutralizer. And while an edge in athleticism and punch-activity would allow him to look good in spots and take some rounds, I see Hopkins out-thinking and out-maneuvering Martinez for a win in a competitive fight. Bernard Hopkins UD12 Sergio Martinez.
Bob Fitzsimmons: OK, now I'll concede that we're dealing with another kind of boxing here. Fitzsimmons is one of the greats–an all-time knockout king and a hallmark figure in boxing history. But the sport is really different now, and not to Fitzsimmons' benefit. "Ruby" Bob hit so hard that he would eventually become Heavyweight Champion and he'd be one swat away to the belly or head from laying out Martinez. But Martinez has so many different ways that he can win that it makes Fitzsimmons' puncher's chance seem like a longshot. Sergio Martinez KO13 Bob Fitzsimmons.
Stanley Ketchell: A lot of the Fitzsimmons argument applies here, but I think Ketchell would be more dangerous. A fearsome puncher, Ketchell was wild, but really went after it. But while his raw savagery was enough to dominate his era of middleweights, I don't think it translates well to the modern era. A few layers of sophistication have been added to the sport since Ketchell's heyday that he never saw the likes of. And Sergio Martinez would be over his head. Sergio Martinez KO 12 Stanley Ketchell.
Jake LaMotta: This is a fight that begs for a trilogy. After all, that's how fighters operated back in LaMotta's time–an era where losses were more forgivable and the scheduling far more demanding. LaMotta is known for his strength and bulldozing style, in addition to otherworldly durability. But there was finesse in his game, including underrated boxing skills and all the little tricks learned over a long and hard career. I see Martinez as the flashier and more athletically-gifted fighter, but LaMotta as a far more advanced study in the art of pugilism. And I think that would make the difference in a tight match-up. In a 3-fight series, I'd say LaMotta wins 2 of 3. Jake LaMotta SD15 Sergio Martinez.
Freddie Steele: While unsung, Steele just might mix up with Martinez to make the most exciting fight of the lot. In some ways, Steele was similar–in stature and spirit. Steele was a tough nut to crack, as his record will attest–with only a pair of early decisions staining his mark over his first 130+ fights. But while I give Steele the edge in physical strength and boxing education, Martinez would be unlike anyone Steele ever faced and Freddie would come up a bit short, despite a late rally with Martinez not used to the distance. Sergio Martinez SD15 Freddie Steele.
Marcel Cerdan: Cerdan wasn't a big middleweight, but Martinez is pretty much the same size. But could Martinez do what zero out of Cerdan's first 109 opponents failed to do, which is outfight Cerdan? On one hand, it's easy to picture Martinez' combination of speed, smarts, and slickness giving Cerdan a nightmarish evening. But that gives way to recalling how robust the Cerdan attack truly was–he was just so strong and skillful, with his craft honed to a fine edge after a long career. Cerdan's skills were just too deep and there was a little more velocity and clout to his attack. And I'm not going to reward Martinez for something he hasn't shown the ability to do, which is go 15 rounds at this level against guys who aren't going anywhere. Marcel Cerdan UD15 Sergio Martinez.
Sergio Martinez vs. The Top 10 Greatest Middleweights of All-Time:
3 wins (2 by stoppage, 1 decision); 7 losses (1 by stoppage, 6 decisions)