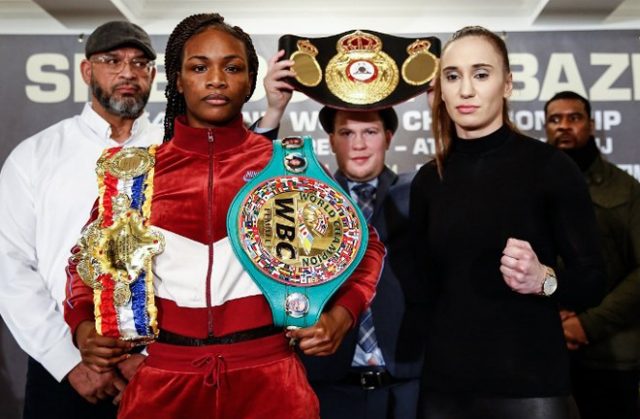 Reigning undisputed middleweight world champion Claressa Shields will finally battle former champion and challenger Ivana Habazin this Friday, January 10 live on SHOWTIME at Ocean Casino Resort in Atlantic City, N.J. 
Shields and Habazin will headline the network's first boxing event of 2020 as they battle for the vacant WBC/WBO Women's Junior Middleweight title. 
The Backstory
Perhaps no one is more eager to see this clash take place than the fighters themselves given their long-standing rivalry. Their meeting has been in the works since August of last year. 
A knee injury to Shields derailed the initial date and then the re-scheduled contest was called off after Habazin's trainer, Bashir Ali, was punched in the face during an altercation at the second pre-fight weigh-in in October. 
Fortunately, the remainder of the fight card for that last cancelled event went on as scheduled but Shields' long-awaited return to her hometown in Flint, Michigan would have to wait.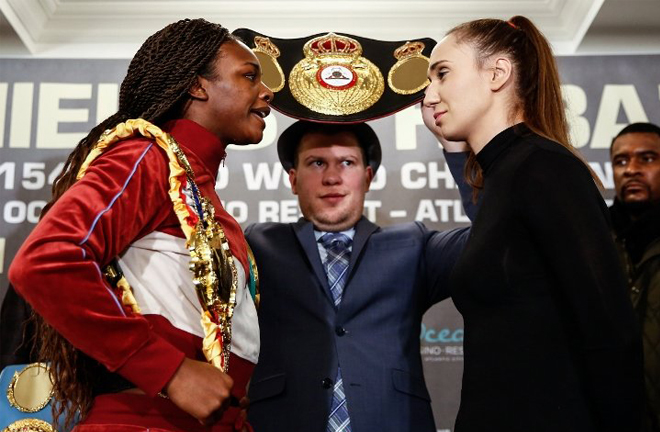 Rumours ignited by Habazin suggested that Shields was having trouble making weight, which she denied. Of course these early accusations irked the champion and led to an intense war-of-words between the fighters over the ensuing months. 
This fight has certainly turned personal and Shields has vowed to put an emphatic end to their feud. 
"No matter what she says, this beat down was coming in October," says Shields.
"All I'm doing is bringing it to Atlantic City. I'm going to knock her out. I'm going to put a whole different beat down on her because of the level of disrespect she has shown me."
Y'all shouldn't be bashing @Claressashields she didn't throw the punch. It's a shame the fight isn't happening. Such a bad look for everyone involved. pic.twitter.com/wfWXRsSV1o

— Ishé Oluwa Kamau Ali Smith (@IsheSugarShay) October 4, 2019
Tale of the Tape
Shields (9-0, 2 KOs) hasn't fought since dominating Christina Hammer on April 13 in a dominant unanimous decision victory to become undisputed champion of the division.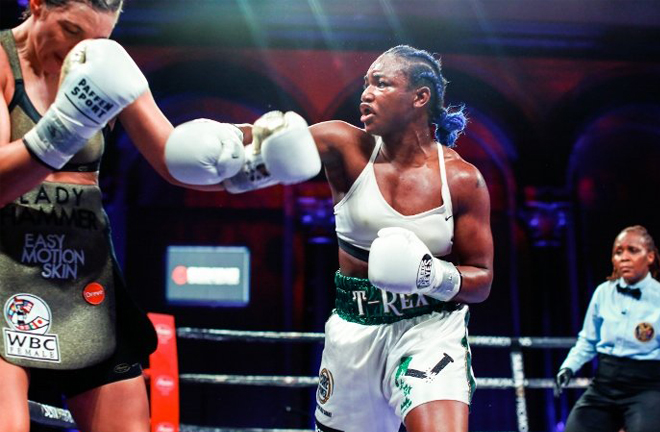 The two-time Olympic gold medalist has a rare opportunity to become the fastest fighter (male or female), to win world titles in three divisions with only ten wins if she beats Habazin. Such a feat would enable her to surpass Vasiliy Lomachenko and Kosei Tanaka, who won a third title in 2018 after just twelve wins. 
Habazin (20-3, 7 KOs) is a former IBF welterweight champion who lost her title in a unification bout against undisputed welterweight champion Cecilia Braekhus. 
The Croatian fighter has also dropped decisions to Eva Bajic in 2013 and Mikaela Lauren in 2016. The 30-year-old is a natural welterweight and has gone 4-0 since moving the junior middleweight although her competition has been questionable at best. 
Prediction
My take on this fight has not shifted since covering their cancelled October matchup. Shields is simply too big, too strong, too fast and too skilled for the naturally smaller Habazin.
The enduring elements of intrigue have been their social media fights and Shields' lone pursuit of history. Claressa has a knack for channeling her anger and natural aggression in fights so Habazin's tactics are probably a losing strategy.
Class will be in session this Friday night and I suspect that it will be a very brutal lesson in pain. 
Verdict: T-Rex will win this one and it won't be close. I think it's highly probable that Shields gets a knockout, which would mark her first stoppage since 2017, when she knocked out Nikki Adler in five rounds.
Comments
comments