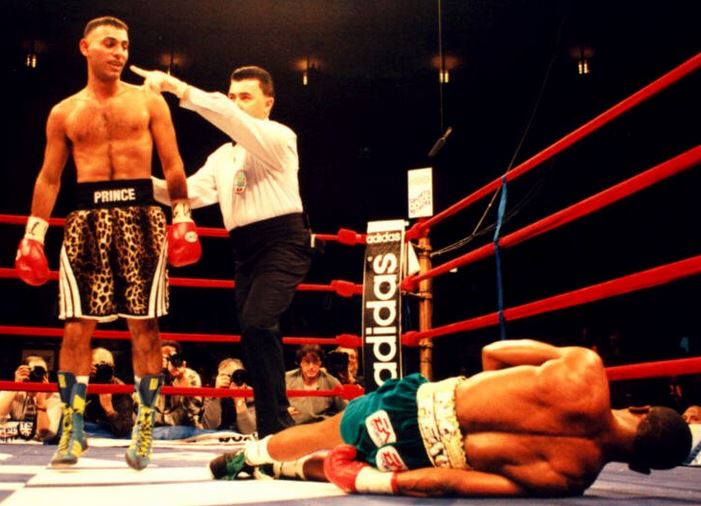 Evaluating Hamed's Hall of Fame Credentials:
The name "Naseem Hamed" and "Hall of Fame" don't seem to belong together at first thought. As time has passed and Hamed's legacy has been given time to come into clearer perspective, it's hard to not notice his low standing in the collective boxing consciousness. Upon more reflection, the big picture isn't as bad as it's been made out to be. Hamed, 36-1 (31 KOs), had a remarkable career with a lot more highs than lows.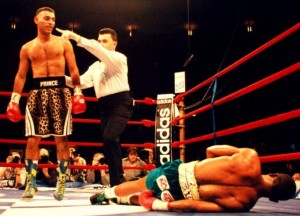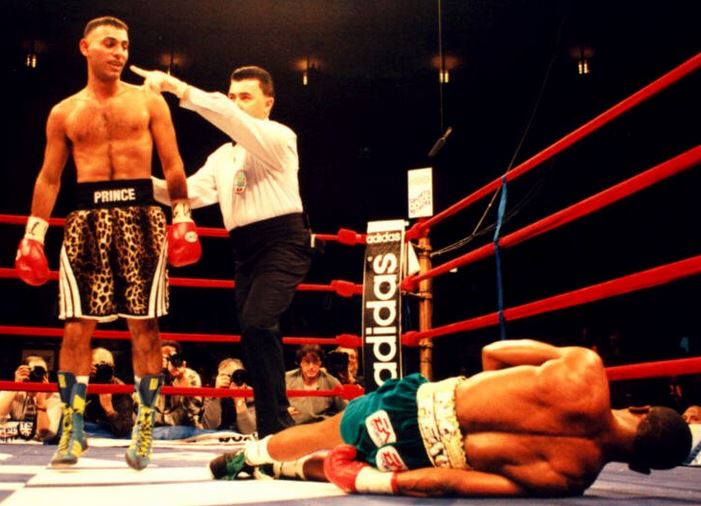 Hamed built his name up to superstar status, earning big paychecks and headlining on HBO. He cast himself as a villain, with an over-the-top repertoire of stunts and tactics, the likes of which had never been seen in a prize ring. His style was a freelancing version all his own. His interviews were off-the-charts celebrations of his own power, always delivered with runaway hyperbole. So when a total pro like Marco Antonio Barrera manhandled him, it was validation for those who either felt his status was a mirage or that he was just a mouthy punk.
There is some credence to the naysayers' complaints. A lot of his opponents were over-the-hill. He was dropped by guys whom superstar fighters should dominate, even if he did end up scoring easy wins in some of those fights. It's also not very redeeming that he was unable to bounce back from the loss at age 27, having one more fight a year later before hanging them up for good. It all adds up to a legacy that has a lot of negativity attached to it.
Reputations alone are not necessarily equivalent to merit. Let's do a clinical appraisal of his resume.
Prince Naseem Hamed Career Highlights & Notable Fights
Build Up: A quickly moved prospect, Hamed notched useful wins over longtime European Bantamweight Champion Vincenzo Belcastro in his 12th fight and veteran Freddie Cruz in his 14th fight, before scorching ex-titlist Juan Polo Perez in two rounds. Then he stepped up the competition.
Steve Robinson: At 21-9-1, Robinson was a ton better than his record, holding a WBO strap and boasting an 8-fight winning streak. The skilled Robinson gave it a good go before crumbling in the 8th round in this 1995 fight.
Daniel Alicea: Budding prospect was 15-0, but annihilated in two rounds by a rampaging Hamed in a sizzling 1996 performance.
Manuel Medina: A veteran and capable craftsman, Medina gave Hamed a good fight, before retiring in the 11th round. Medina would go on to claim 3 more alphabet belts at featherweight.
Tom Johnson: 1997 Unification win for Hamed against a classy Johnson, who entered the fight unbeaten in 6 years with a 44-2-2 record. Johnson was a little ripe after 11 title defenses, but it still counts as a nice win over an under-appreciated technician. Hamed stopped him in 8 rounds.
Billy Hardy: On a long winning streak, the next-best English featherweight was smoked in 1:33.
Kevin Kelley: One of Hamed's top wins. Kelley was a tick past his best, but still a 47-1-2 puncher who gave Hamed all kinds of trouble. Hamed rose from the mat to beat Kelley in an unforgettable 4-round slugfest.
Wilfredo Vazquez: Hamed's only win over a Hall of Famer. By 1998, Vazquez was getting up there and made to look so bad by Hamed that not many count this as a key win. Stopped in the 7th round, Vazquez may have been 37, but was on one of the best runs of the best success he had seen in his whole career, having won 15 of his last 16 title fights with only one loss in 8 years.
Wayne McCullough: Almost unwatchable fight where Hamed took few risks against a still-tough McCullough who would give an unbeaten Morales a good fight just a year later.
Paul Ingle: Unbeaten British contender Ingle would fall in 11 rounds to Hamed in 1999 and bounce back to beat Manuel Medina and Junior Jones in his next two fights.
Cesar Soto: While no great fighter, Soto was at his peak and did have a knockout over a young Jose Luis Castillo and a win over Luisito Espinoza on his ledger. Not one of the better showings for "The Prince."
Vuyani Bungu: A man who could be in the Hall of Fame. Bungu had made 13 defenses of a 122-pound belt, having not tasted defeat since losing 8 years before. Moving up in weight after a year layoff, the 33-year old Bungu was a little past his best by 2000, but Hamed was dominant en route to a 4th round TKO, the only time Bungu would be stopped in his career.
Augie Sanchez: The 26-1 Las Vegas contender was coming off 9 straight knockout wins and put Hamed down, before suffering a 4th round shellacking. Unbeknownst to everyone, this 2000 bout would prove to be Hamed's last shining moment in the ring.
Prince Naseem Hamed's Resume Summary
A lot of his resume rests on the wins over Johnson, Kelley, Vazquez, and Bungu. All four came into the ring with good recent histories, but it looks better on paper than it really is. Johnson wasn't really the same guy. Kelley seemed to have a little bit of his spirit beaten out of him by Alejandro Gonzalez in his only loss. Vazquez was on a long winning-streak, but on the tail end of a late-career renaissance at age 38.
On one hand, he deserves full credit for beating this quartet of fighters. It's not like they came into the Hamed fights on a string of losses. But the opponent selections were calculating, catching guys on the downswing, but before they had officially bottomed out.
His second-tier results are more impressive–a slew of knockouts over good fighters. Not that wins over Augie Sanchez, Cesar Soto, Manuel Medina, Paul Ingle and the like command a ton of respect, but collectively, they add up to something. He regularly handled legitimate ranking contenders with ease, while illustrating a wide separation between himself and his foes.
Prince Naseem Hamed's Influence
Hamed was a gigantic draw. His bouts could be feast-or-famine events, where the fights were either great or unwatchable. Either way, he pulled fans into the sport and re-fixed existing fan attention back to the lower-weight classes. It was Hamed who ushered in the big-time in the featherweight division and therefore, anybody who was anybody from 122-130 pounds benefited. Hamed's status lent more credence to the Morales-Barrera trilogy, which in turn, paved the way for Manny Pacquiao to lay the groundwork for his mega-star status. In essence, "The Prince" made Barrera, who made Morales, who then made Pacquiao. Take Hamed out of the equation and that chain of power wouldn't resonate quite as strongly.
[Also See: Pacquiao vs. Hamed Fantasy Fight]
Hamed's influence stretches beyond flashy ring entrances and unabashed hotdog tactics. While that was part of the package, Hamed delivered as a fighter right up until the end. He made it so it wasn't an aberration when you would see an HBO main event featuring a fight in a lower weight class.
Uniqueness
It's not easy to crack pound-for-pound lists and become the top fighter in your division with a style that is almost totally self-created. Hamed's style seemed to organically come from the inside, with very few elements you would ever find in a boxing book. Sure, he picked up little elements here and there from different fighters, but his style was very inventive and effective. He was one of those fighters you could spot from a mile away.
The Unfair Result of the Barrera Loss
Due to the fact that he was a brash and big-mouthed fighter, a lot of people wanted to see him get his butt handed to him. When it happened, the backlash went too far. You would think losing to a future Hall of Famer like Barrera was a capital case. Barrera, in turn, didn't even catch as much flack when he lost twice to Junior Jones. Hamed losing in such decisive fashion gave ammo to his detractors who felt he was a coddled product of hype. It's difficult to remember a single loss that was as damaging to a reputation as Hamed's loss to Barrera.
I'm not even saying Hamed should be in the Hall, but he has a case that is a lot stronger than some fighters who have been inducted. There is a sour vibe to his career, but his underrated body of work, overall influence, and fact that he only lost once and to a great fighter suggest a better legacy than what the collective belief seems to suggest. At the very least, maybe it's time history looks upon him a little more kindly. After all, would it be so bad to have someone like him around today?