Hot Topic: Ricky Hatton's boxing comeback
When a well-known boxer makes public his plan to return to the prize ring from the wilderness of retirement, people pay attention. Following weeks of steadily increasing speculative whispers, former British two-weight world titlist Ricky Hatton looks set to announce his comeback this Friday. That word – "comeback", stirs up Rocky-esque connotations, the idea of a once-great fighter getting off the sofa and going for a morning run, pounding the heavy-bag  with renewed enthusiasm, and generally making himself believe the game isn't over yet, even if no-one else will.
In this article I will discuss the key aspects of Hatton's likely un-retirement and assess if such a decision is a step forward or backward for the man known simply as "The Hitman". After evaluating all of the potential reasons to do so, and the pros and cons of such a decision, I'll present my verdict, and I also encourage the fans to do the same and chime in with their own thoughts in the comments below.
Why would Ricky Hatton return to boxing?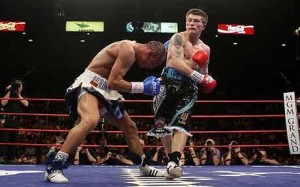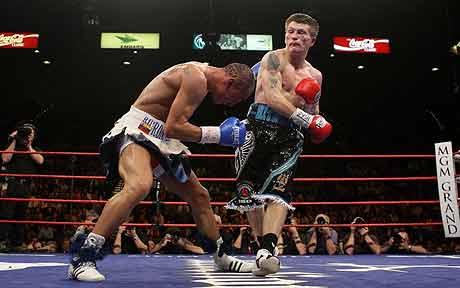 There are several reasons as to why a boxer usually decides to comeback and resume his career after a period on the sidelines, some of which I list below …
1 – They need the money
Quite often, simple economics dictates that a fighter feels he must don his gloves once again. Like in all sports, professional boxers do not stay at the peak of their powers forever. As a result, there is only so long they can obtain rewards that adequately match their needs and expectations. Upon retirement, a boxer may feel as if they have no other choice but to get back in the ring in order to maintain their chosen lifestyle.
2 – The "I could beat him" complex
Probably not a reason most fighters on the comeback trail would like to admit to, but it remains an obvious issue. Every retired sportsman likes to look at the new generation and imagine pitting their wits against them, if only they themselves were in their prime. Some fighters go beyond just thinking about it and actively pursue this goal.
3 – Missing the roar of the crowd
It's not hard to imagine that some of the rich and famous enjoy the bright lights and camera flickers. For a top-level boxer, the roar of the crowd as they make their way to the ring with a stomach full of butterflies and an arena full of noise is hard not to miss.
So, why would Ricky Hatton choose to come back? He certainly doesn't seem to have any financial worries, especially considering the jackpot paydays he earned for respective superfights with Floyd Mayweather and Manny Pacquiao. It is also equally unlikely Hatton truly believes he now has the beating of either of his conquerors, who have remained at the top of the sport in the years since his retirement.
Perhaps then, this has to do more with simply missing the feel of the canvas beneath his feet. After all, Hatton attracted a massive following; his fight with Juan Lazcano in 2008 attracted a crowd of 55,000 to the City of Manchester stadium. Wherever he went, there was often the buzz of a passionate fan base and I'm sure Hatton loves the idea of experiencing that sensation one more time.
The pros and cons of Ricky Hatton's return from retirement
There are different ways to look at this potential announcement. Some of it may depend on your natural preferences as an optimist or as a pessimist, some of it may also depend on your personal feelings for Hatton himself. Either way, it is important to remain objective when looking at the pros and cons should Hatton decide to return to the squared circle.
Pros:
As it stands, Ricky Hatton retired on the back of a brutal two round demolition defeat at the hands of the whirling dervish that is Manny Pacquiao. Although losing to Pacquiao in itself is no disgrace, the manner of defeat would have been humiliating for a proud warrior such as Hatton. One last swansong could give him the chance to exorcise the demons of that defeat, as well as those highly publicized controversies away from the ring which seem to have lurked within Hatton since that loss.
When a fighter comes out of retirement and performs well, it often adds extra gloss to their career, almost as if making the statement that even if they are physically not what they used to be, their innate fighting instinct is just as sharp. A good recent example of this is Erik Morales. He has lost decisions to Marcos Maidana and Danny Garcia since his return, but his warrior mentality meant his fans had two more fights to remember him for.
The comeback would be the perfect re-launch for Hatton's promotional company. Since Sky decided to discontinue their deal with Hatton promotions, the business has been without a television platform. Hatton's comeback would not only spark the interest of corporate Britain, but would also offer his own stable of fighters to appear on the undercard in front of packed crowds and a national audience.
Cons
There is never a more sad sight than when a fighter's comeback does not go according to plan. Immediate defeat would not only likely signal the end of any hopes of further glory, but could also add to the mental woes that befell the fighter upon his initial retirement.
Ricky Hatton had an excellent career. His imprint was felt on British boxing with his defining win over Kostya Tsyzu and gallant challenges to two of the greatest pound for pound fighters ever to have graced the ring, not to mention his charm and down to earth attitude outside of the ring. There is a serious question as to exactly how much a comeback could genuinely add to Hatton's legacy.
Hatton tended to balloon in weight between fights. His poor dietary habits were well known, even embraced by Hatton himself as part of his "everyday guy" image. Even when in shape, Hatton had trouble above 140 lbs and it is unlikely he can make that weight now given his advanced age and inactivity. This, combined with Hatton's aggressive fighting style could make for some uncomfortable viewing.
My Verdict
Some may see this as a dangerous move by Hatton when considering his well-being, but to me, this makes sense. Hatton could not only iron out the troubles that have conflicted with him since his demoralizing last loss to Pacquiao, but he could also use this as a springboard for his own promotional firm, filled with promising young talent.
A Hatton comeback would make for some raucous nights of boxing and would give Hatton the deserved chance to leave his true passion behind with a bang, not a whimper. Hence, if Ricky Hatton publicly announces his un-retirement this Friday, I for one will be in full support.