The Bantamweight Tournament should be exciting, but it does it really sort out the division? No because there is no Montiel or Donaire. Showtime's Bantamweight Tournament should be great. All four fighters will come to fight and there's going to be great action. I also think it's great that there really is no clear cut favorite in the tournament, and each fighter has something to prove.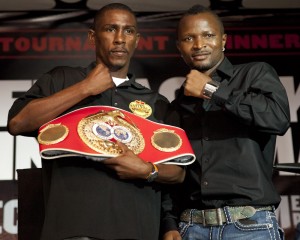 For Agbeko, how much did the loss to Perez take out of him? Most people believe Perez was lucky to escape with his title in his fight against Abner Mares. He still needs to prove that he should be champ. Mares should be the most confident of the four heading into the tournament because he came back strong in the later rounds of the Perez fight, and he will no doubt have home field advantage with the opening fights taking place in Mexico.
For Vic Darchinyan, is he still the Raging Bull at 118? I don't know because he didn't look good in his fight with Agbeko, even though the rough, physical style of that fight had something to do with that. I think it's obvious though, that Darchinyan isn't going to be smashing guys like he did at Junior Bantamweight. On December 11, when the tournament starts with the rematch of Perez vs Agbeko and Mares vs Darchinyan, I'll be watching.
The problem with this tournament, just like the Super Six, is that it doesn't determine who the real champion is. While the Super Six is falling apart now, it was great when it started, but was never rated as high as it could have been because Lucian Bute wasn't in it. This Bantamweight tournament is lacking even worse however, because it's missing arguably the best two fighters in the division in Fernando Montiel and Nonito Donaire.
I know most people think Bob Arum had his own selfish reasons for leaving out those two fighters, and to a certain point I agree. I also heard that Bob Arum was adamant about not wanting to do the group stages, which after seeing how the Super Six has collapsed, I don't blame him. So while the Showtime Bantamweight tourney takes place, Arum has a deal in place for Montiel and Donaire to fight early next year on HBO, provided they can both get through some opposition.
Montiel's opposition comes against poor judgment. Montiel hurt his right leg when a dirt bike he was riding on as a passenger crashed. Now I know he wasn't steering the bike, and he deserves to have some fun, but he should always think about his career, especially knowing that his next fight is very dangerous. Donaire fights a week before the Bantamweight Tournament starts against former champ Wladimir Sidorenko, a guy with something left, even though Donaire should win handily. Hopefully Donaire doesn't play around and start switching styles every round. Sidorenko lost his title to current WBA champ Anselmo Moreno, another elite bantamweight. At this point, however, it appears that the smooth southpaw is on the outside looking in.
I also want to mention Hozumi Hasegawa, who ruled the bantamweight division for 5 years before Fernando Montiel knocked him out. Hasegawa started the fight off great, and it seemed like he was on his way to victory until Montiel clipped him. Hasegawa though has jumped up two weight divisions and now is fighting at featherweight. The Bantamweights will soon have a new king, and hopefully the winner of Showtime's tournament meets the winner of Donaire-Montiel. Right now I think that will be Perez vs. Donaire, but everything is subject to change.