On Saturday night in Germany, Steve Cunningham met challenger Yoan Pablo Hernandez as he set out to make the second defense of his IBF cruiserweight championship, in his second reign as titleholder. Viewed near-unanimously as the best fighter in the cruiserweight class, Cunningham has been on the wrong end of some controversial rulings before, and when he lost on Saturday, it was yet another bad ending which ruins a solid effort put forth from USS Cunningham.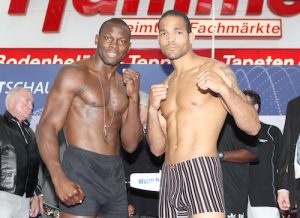 The fight began with Hernandez seizing the early momentum and nearly closing the show in just 1 round. He badly hurt Cunningham with a left hand and poured on some pressure, but couldn't get the champion out of there.
Cunningham recovered mostly by round 2, and then by the third round had gained control of the encounter. Hernandez suffered a cut in the stanza stemming from an accidental clash of heads.
Cunningham continued to use his superior speed and technical boxing skills to win the next three rounds as well, likely putting him ahead 4-2 on most neutral cards, although he had also lost an extra point for the knockdown. After Hernandez suffered another cut from a clash of heads in the sixth, the referee waved off the encounter after that round.
With the cuts having been caused by accidental head butts, the fight went to the scorecards. There, the judges rendered a Split Decision victory for their adopted Cuban son, Hernandez. The scores were 57-56 Cunningham, 58-55 and 59-54 Hernandez.
ProBoxing-Fans.com had the fight scored 57-56 for Cunningham.
The ruling to stop the bout after the sixth was controversial, as Hernandez's cuts looked manageable. Moreover, with Cunningham turning up the heat and seemingly controlling the encounter – although two judges saw it separately – it was a convenient opportunity to let Hernandez see the scorecards before another six rounds of action had passed.
Cunningham was previously on the wrong end of a downright awful decision in his first title bid against Krzysztof Wlodarczyk. The second loss of his career came against Tomasz Adamek in a thrilling encounter that saw Cunningham control the majority of the rounds but suffer a few knockdowns. The fight could have gone either way, and Adamek's win wasn't questioned, however, Cunningham never got a rematch he was clamoring for.
Unfortunately for Cunningham, he's been toiling away in Europe, and he fights in a division dominated by European fighters. That means despite the fact that he's been a top guy in the sport for nearly five years, he has received little exposure stateside, and there won't be much outrage over this ruling.
After all – nobody saw it on television in the USA either. Especially ironic and sad not only for a quality craftsman like Cunningham and a top level fighter, but particularly so for a guy who carries the nickname "USS" from his time served in the Navy.
In earlier results…
Sebastian Sylvester only lasted three rounds against undefeated Grzegorz Proksa. The former middleweight titleholder should look to hang up the gloves after that kind of outing and a string of losses and/or controversial wins preceding it.
Karo Murat and Gabriel Campillo fought to a draw in an exciting back and forth tussle. Campillo previously lost to Murat via a majority decision, which he disputed, and he wasn't quite able to close out the show against Murat here.