Sergio Martinez vs. Darren Barker & Andy Lee vs. Bryan Vera II from Atlantic City
Tonight in Atlantic City, middleweight champion Sergio Martinez squared off against undefeated challenger Darren Barker. At Noche de Maravilla, it was another opportunity for Martinez to prove how marvelous he really is, while biding his time for another marquee type match. Broadcast live by HBO, the telecast began with a rematch between Andy Lee and Bryan Vera. Take a look at our coverage and full Martinez vs. Barker results from AC.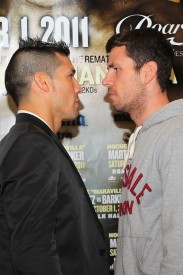 Martinez vs. Barker Results
The Sergio Martinez vs. Darren Barker fight started off a bit unusual in a number of ways. A professional male boxer, Barker, coming out to hip hop artist Nicki Minaj for his ringwalk. Ring announcer Michael Buffer announcing Barker as "Darren Baker". Barker being one of the biggest underdogs for a HBO main event title fight in quite some time. And all of this after the Martinez-Barker fight basically got put together through Twitter.
Martinez also began the fight with about as unusual a stance as you can. Facing the much taller Barker, Martinez let both hands hang straight to his sides, he hunched forward and continually took small steps backward, waiting for Barker to come in so he could jump forward and unleash a big left hand counter. A very Roy Jones-esque style to open things up.
In the fourth, Martinez began bleeding profusely from his nose. Martinez began holding his hands up closer to his face much more frequently, although he'd still bait Barker into coming forward by leaving his hands at his sides. At one point Barker landed a good straight right, and then Martinez answered with about a dozen punches in return.
The fifth saw some good exchanges from both guys. When Barker's activity rate would drop, and he would go into more of a high shell style guard, then Martinez would open up more and look controlling, piling up points in the process. It was much of the same in the sixth, although Maravilla also appeared to begin to tire. With the possibly broken nose, he was forced to breathe through his mouth. Martinez stepped on the gas at the end of the round and landed some very effective, flush shots.
Martinez controlled the 7th round as well, although Barker was able to have his moments, while also picking off some of Martinez's flashier shots. In the 8th, Martinez stumbled to the canvas but no punch landed and it was correctly not ruled a knockdown. Barker may have been enlivened from it nonetheless, and he landed a few straight rights and a left hook afterward. He had a strong showing in that round and may have won it on the cards.
A headbutt in the 9th round bothered Martinez, but he was afforded no break in the action. When the fighters touched gloves on their own merit and paid respects to one another, it was in sharp contrast to the Mayweather-Ortiz fiasco of two weeks prior. A strong final 30 seconds in the round moves it clearly to Martinez.
Martinez landed a big lead right jab in the 10th that had Barker wobbling. Martinez would go on a nonstop rally for half a minute with Barker covering up and getting tagged. He stayed on his feet and landed a good right hand of his own, but the attack from Maravilla there was his most impressive moment in the fight thus far.
Then in the 11th, Barker landed a right hand, and it apparently made Martinez realize that enough was enough. He responded with a huge burst of aggression, and he put Barker on the seat of his pants with a right hook that was as much from total accumulation as it was from one shot. Barker didn't make it up at the count of 10, and Martinez won the fight via 11th round knockout.
Martinez KO11 Barker
Lee vs. Vera II Results
The difference in class between Andy Lee and Bryan Vera was much more readily apparent from the beginning of their rematch than it was in their first encounter several years ago. In that bout, an undefeated Lee hurt Vera early, but couldn't finish him off or stave off his attack, and he ended up battered in a losing effort.
This time, Lee was steadfast in his game plan of working behind his jab, mixing in his quick right hook and sturdy left hand, and using his superior speed, footwork, fluidity and reach to control the bout.
At the end of the second stanza, Lee sent Vera to the canvas, although Vera complained it was because his foot was stepped on. Lee stayed measured though, stuck to the plan and controlled distance and tempo.
Vera was cut over his left eye from a head butt in the fourth, and had moments throughout the bout where he applied effective pressure and found a home for his winging shots. After the cut, he made an effort to make things more physical in the fifth and sixth. Lee couldn't miss with some of his power shots, and a right hook nearly sent Vera through the ropes and could have been called a knockdown because it appeared that Vera's glove touched the canvas.
Some of Vera's best moments came from the 7th on, and he likely won at least one or two of those sessions. But Lee had enough left in the tank, and still couldn't miss. He was reluctant to open up and go for the knockout though.
Official scorecards: 98-91, 99-90, 99-90 for Andy Lee
—-
Thanks for tuning in with ProBoxing-Fans.com for full coverage of the Sergio Martinez vs. Darren Barker and Andy Lee vs. Bryan Vera rematch card on HBO. Keep on checking back for more of the latest boxing news updates and coverage.