On Saturday night, Scotsman Josh Taylor added to his Commonwealth title by defeating Ohara Davies in the 7th round via stoppage and claimed the WBC Silver Super – Lightweight title at the Braehead Arena in Glasgow.
Taylor, trained by Shane McGuigan, was sharp and focused throughout showing his patience whilst landing jabs and blows to Davies. Only on a few occasions was Taylor troubled, showing signs of over confidence allowing Davies to connect with the occasional jabs.
Davies looked very out of sought. His plan seemed to be to hit the 'money shot' at every chance, leaning in with his left shoulder and then swinging into Taylor with his right, looking for the uppercut, with no precision. Taylor stayed patient, awaiting the openings and scoring with jabs and body blows, using his quick hands and feet to keep Davies at bay. Davies had his few shots but nothing that troubled Taylor and in the first two rounds, Taylor was the better boxer, converting more of his shots as he connected with two right hooks.
In the last minute of the third round, Davies was caught by the right hand of Taylor and brought Davies down to a knee. Davies got up and was definitely surprised but was able to continue as the round came to an end.
Admittedly, Davies stepped up his attack on Taylor and looked as though he would turn the tables but he did not take advantage of his dominance. This allowed Taylor to re group and both fighters had their fair share of swings at each other.
In the fifth round, Davies kept up his attack and for the first time, looked the better of the fighters with an uppercut connecting to Taylor which had the Scotsman defending himself at the end of the round.
Coming into the seventh, Davies looked as though he would take advantage but again, failed to land anything significant as he kept swinging for the knockout. And due to this, his defence was left vulnerable and Taylor landed a right cross to knock  Davies down. Davies was clearly dazed and attempted to fight on but as Taylor connected with another right hand, backing Davies into the ropes.
Davies then did something no boxer should do, he turned his back and Taylor pounced with a flurry of shots to Davies who was saved by the referee, Howard Foster, who stepped in and called the fight over. An elated Barry and Shane McGuigan entered the ring and held up the new champions hands as Josh Taylor showed his heart and fight in a good match up.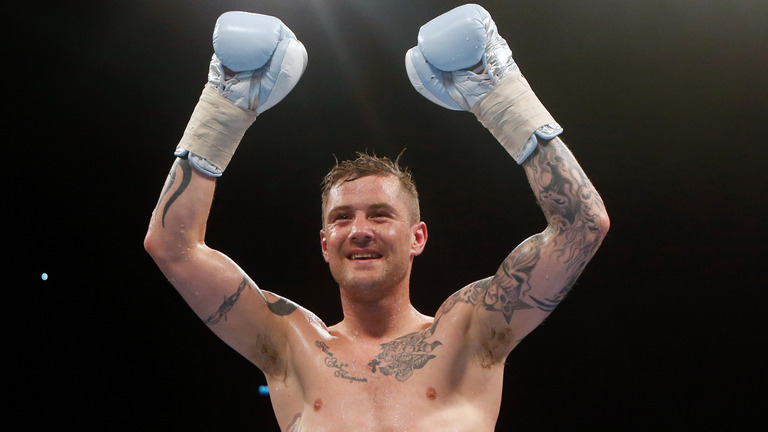 Josh Taylor undoubtedly deserved the win and the title, and with Ricky Burns in the commentary box, Taylor pointed towards his compatriot for his next clash, one Scotland would erupt for.
Whilst speaking to Channel 5, broadcasters of the fight, Taylor said, "I would want it. It would be a great fight for Scottish boxing and Scottish fans. I think it would sell out any arena. It would be a massive fight."
Taylor wants a world title fight and believes a bout with Ricky Burns could propel him to that status.
"Ricky is still at the top of the game and a very tough fighter. He's got all the experience. It would be a very testing fight for me. If I could get through that, I'd be ready to go for world titles. I'd love to fight at Edinburgh Castle. It's a dream of mine. I think it would be iconic."
Burns was quick to address Taylor, by stating,  "There's been a lot of talk about my next fight but nothing is set in stone. I know Barry has been calling me out. I'm sure if you put a serious offer out…".
Will Ricky Burns and Josh Taylor clash? What are your thoughts?