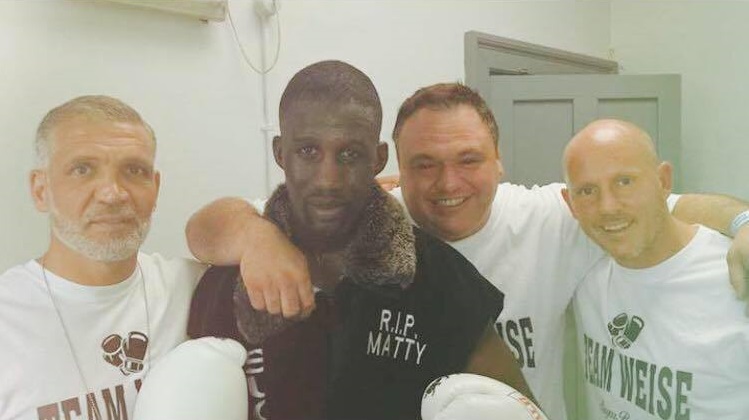 After 14-months out of the ring, Thamesmead's Nathan 'Sugar Boy' Weise (12-5-2) returned with a shutout points win over Barcelona's Geiboord Omier (3-19-1) on July 9th on a Goodwin Promotions event at the York Hall in Bethnal Green.
The South Londoner beat the Nicaraguan-turned-Spaniard on the packed 'Epsilon' show that also saw headliner Wadi Camacho (17-7) concede his English cruiserweight title to unbeaten Arfan Iqbal (12-0) in the fourth round.
It ended up as a double celebration for Weise who turned 33-years-old two days before his ring return.
His 19th professional fight was just his first bout of the year, having last fought in May 2016, and resulted in his 12th win in the paid ranks.
Weise eased past the 28-year-old Central American taking all four rounds in the process.
He said of his performance post-fight, "He was a tough guy and very game. I couldn't land clean on him, I was trying to land the right hand clean but couldn't, but I won every round 40-36, I just gave him a little boxing lesson."
Weise opened the Goodwin Promotions show early in the afternoon on the 27th weekend of the year.
"I was on first and it was packed already, the crowd got there early because it was a Sunday show. I came out and, to be fair I was pretty nervous, all my corner wanted me to do was to box, stay sharp, and win the rounds.
"Me, personally, I give myself a 7/10 score and the reason why is because I wasn't using my jab enough, I haven't boxed for 14-months so I was a bit rusty and it was really hot in there as well."
The Thamesmead puncher has only managed to fight seven times in the past five years but plans to use his latest victory as a means to being more active.
He commented, "I want to try and be back out in September because I don't want to leave it for too long, as I want to get into a flow with my career now.
"I would like a six-rounder but would also like to fight Freddy Kiwitt who beat Erick Ochieng on the same show as me to win the Southern Area welterweight title."
Liberian Kiwitt (12-1) scored a seventh-round KO over Kenyan Ochieng (16-8-1) to lift the vacant 140lbs Area title.
Weise has challenged for the Southern Area title on three occasions before – losses to Steve O'Meara, Ryan Toms and Johnny Garton – and is determined to get his hands on the oldest prize in British boxing.
"I think both our styles would gel nicely but I really think I can beat him and I really want that belt," he added.
"I'll be back in the gym on Wednesday and will talk to Steve [Goodwin] and take it from there."
Weise concluded with praise for his team, "I would like to thank, first of all, my team – Harry Andrews, Barry Smith and Paul Kavanagh, he's my strength and conditioning coach and helps with all my fitness, he helped a lot in this camp. We've got a great team and I would also like to thank Larry Ekundayo, he was my main sparring partner, and also Pauly Upton, Robert Asagba and John Wayne Hibbert."