The IBHOF in Canastota, New York just inducted 3 modern fighters–Arturo Gatti, Virgil Hill, and Myung-Woo Yuh. This is sure to create some heated debate. Gatti and Hill, specifically, provide the perfect microcosm for debating legacies. Analyzing their careers encompasses much of what we split hairs about when evaluate the careers of any boxer, and it certainly opens the door up for debate on each side.
First off, kudos for the overdue induction of Myung-Woo Yuh, the standout Korean 108-pound champion. It seems that until recently, the Hall had neglected the fine pugilists of Asia to a large degree. Recent additions like Jung-Koo Chang and now Yuh hopefully signal an increased acknowledgement of the greats from that part of the world. Yuh was an amazing talent in the 80's and early-90's–one of the fastest fighters you could hope to see.
Now, let's move on to Gatti and Hill. These two aren't nearly as easy.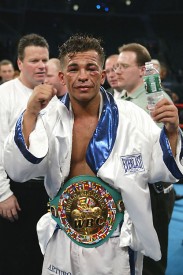 I've lightened up on Gatti over the last few years. Really, I don't have much of a problem with his induction. It is, after all, called the Hall of Fame–not the Hall of Merit. He was the signature blood-and-guts warrior of our time. A large handful of his fights can be put in the time capsule. He was probably the biggest draw on the east coast for an extended period.
This doesn't mean every beloved club-fighter who thrilled fans should get to the Hall. But Gatti was not a pug–he was a champion.
Sure, we can name all the guys who beat him and it doesn't speak well of him. Losing twice in your relative prime to Ivan Robinson doesn't look good. He lost to just about every big-name fighter he fought. Understood. But to say he got in on the basis of being a fan-friendly brawler or because he suffered an untimely demise doesn't do justice to his legacy.
You can't judge somebody like Gatti solely on merit. Does he fulfill anyone's expectations or requirements for ring greatness? Probably not. That's looking at it the wrong way, though.
There are many paths to "greatness." This sport doesn't run on guys sitting back reviewing resumes on Boxrec. Great fights are what keeps this sport alive. Who made for more great fights than Gatti? For me, great fights fulfill at least some component of "greatness," doesn't it?
Gatti had a lot of wins over some really good fighters, though I wouldn't engage anyone along the lines of whether his resume alone should get him into the Hall. For those who object to Gatti's induction, you undoubtedly have ammo. I would just suggest looking at it slightly differently.
First of all, with guys in there (with all due respect) like Barry McGuigan and Brian Mitchell, I reject that Gatti's resume is nowhere in the ballpark. While iffy by Hall standards, Gatti's body of work does help his blood-and-guts style ring truer.
People act like Gatti being inducted is now going to give way to a bunch of undeserving fighters getting inducted–exciting fighters whose fame outweighs their true value as fighters. Gatti was a special case, a one of a kind. I can't think of any other fighters off-hand who now suddenly have an argument to get in the Hall based on Gatti getting the nod. He's a special case and I applaud his induction.
Virgil Hill is at the other end of the spectrum–a guy whose career looks great on paper, though no one really gave a crap outside of Bismarck, North Dakota. You see a guy with a world title run that spans from 1987 to 2006. You see 24 world title victories. It seems like a no-brainer. Personally, I never thought I was witnessing greatness when Virgil Hill was fighting.
He was indeed very good. Hill's resume is actually underrated in many respects. While there aren't any names on his resume that jump out and dazzle the eye, there are a large handful of very respectable opponents, most of whom he defeated. Unlike with Gatti, Hill forces you to look at his pedigree because what happened in the ring was largely forgettable.
What I haven't forgotten, however, is how the 3-1 favorite Hill got schooled by a post-peak Thomas Hearns in 1991. That's when a Hall of Fame-caliber fighter is supposed to answer the call for greatness and Hill fell dramatically short. He can beat Frank Tate and Joe Lasisi all day long, but he never really atoned for the Hearns fight in any kind of meaningful way.
Maybe I'm being too tough on old Quicksilver. So he wasn't perfect and didn't beat everybody. Who from his time did? My feeling was that he was blessed with a thoroughbred set of legs and great athleticism and parlayed it to run circles around guys. There didn't seem to be any rhyme or reason to his attack–just move and jab. And a lot of his challengers were decidedly second-rate and had no business going 12 rounds with a big strapping guy like Hill.
Hill's later work was lower-profile, but probably gives his case enough weight to make his induction somewhat palatable. Beating 30-0 Henry Maske in Germany showed his class, as did a 2000 first-round KO of a good cruiserweight champ in Fabrice Tiozzo, whom he had previously beaten by split decision at 175 pounds.
It's just shows that looking at a guy's resume is a potentially deceiving form of analysis. Reviewing Hill's record, it's easy to picture him as something bigger. His record makes him look better than he really was.
Looking at Gatti's ledger, however, has the opposite affect. It doesn't even begin to tell the story. It makes you wonder how many old-time fighters get judged incorrectly with the lack of anecdotal evidence present. At the end of the day, Hill's on-paper achievements were too much for the voters to ignore, while for Gatti, it was better to just ignore what was on paper and rely more on memories.