Some of them most noteworthy victories in boxing's storied history were truly hard-won. In this case I do not refer to those instances where a losing fighter pulled out a win on the basis of a lucky knockout. Instead, I refer to men who prevailed in a grim war of attrition, fighters whose victories entailed long struggles against brutal punishment, boxers who won as much because they had the stronger will to win than as for their prowess. Fights like those see the winner absorb as much punishment as the loser, sometimes more, and usually both the winner and loser emerge changed by the experience. Among fights like that, five brutal, bruising encounters stand out as producing the five toughest wins in boxing history.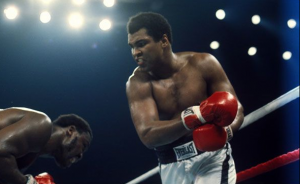 Top 5 List of the Toughest Boxing Wins of All Time
Muhammad Ali vs. Joe Frazier III: The legendary "Thrilla in Manila" was truly the toughest win of Muhammad Ali's storied career. Even though the fight started at 10:45 am local time, the ring was already steaming hot due to the Manila's tropical climate. The fight is a classic and needs no re-telling here, except to say that when Frazier's corner threw in the towel for the 15th Round, Ali virtually collapsed in exhaustion (and, presumably, relief). He famously declared later that his rubber match with Frazier was the closest he ever came to dying.
Tony Zale vs. Rocky Graziano I: When Tony Zale meet Rocky Graziano for the first time in September 1946, he was 32 years old and shaking off the rust from having spent three years serving his country during World War Two. Graziano, on the other hand, was young and sharp from having continued his career through the war years. Zale won this fight through sheer, dogged toughness, truly earning his moniker "The Man of Steel." Graziano gave Zale one of the worst beatings ever delivered in a boxing ring, but after five rounds Zale was still standing (barely) and Graziano was punched out. Zale kayoed Graziano in the 6th.
Aaron Pryor vs. Alexis Arguello: Labeled the "Battle of Champions," this fight saw the naturally larger Pryor play busy, relentless and almost reckless aggression against the pinpoint, hard counter-punches of Arguello. The Nicaraguan described his strategy before the fight as  by saying "I don't have to hit him many times in each round, but I do have to make sure that every time I hit him it hurts." Arguello went out and did exactly that, making Pryor pay in pain for every single one of his many mistakes. Still, Pryor doggedly plowed forward and pitched his punches in bunches, producing a fight of such intensity that even Sugar Ray Leonard thought it couldn't go on for many rounds. It went into Round 14, when Arguello finally succumbed. Controversy has surrounded the water bottle of Pryor's trainer, the infamous Panama Lewis, ever since, but the record indicates a win for Pryor and no one denies what a hard win it was.
Nigel Benn vs. Gerald McClellan: In this fight Nigel Benn, the "Dark Destroyer," finally met a man who hit unquestionably harder than he did in Gerald "The G-Man" McClellan. It began with Benn being punched out of the ring and ended with McClellan being knocked out and suffering a terrible brain injury. To achieve that knockout, Benn had to struggle back through a ferocious, explosive assault and absorb so much damage that he was a half-spent force afterward.
Evander Holyfield vs. Dwight Muhammad Qawi: One of the last great 15 Round fights, Holyfield vs. Qawi I saw a young 11-0 Holyfield make his first world title challenge against a veteran of the light heavyweight wars of the 1980s. The result was what remains in my mind the most brutal slugfest "The Warrior" ever had to endure, as he was forced to out-work "The Camden Buzzsaw." Holyfield prevailed in a narrow Split Decision, and was rushed to the hospital after the fight to receive IV treatment for his kidneys.