Dawson vs. Diaconu on Pascal-Hopkins II Undercard; Winners to Fight Next:

May 21, 2011 will be an explosive night of boxing at the Bell Centre in Montreal, Quebec, Canada. In the main event, Jean Pascal will attempt to please his hometown crowd against the veteran Bernard Hopkins. In another interesting bout on the undercard, a battle of two solid light heavyweights, Chad Dawson will be taking on Adrian Diaconu, and the winners of the two fights will square off against one another, creating a number of intriguing potential outcomes.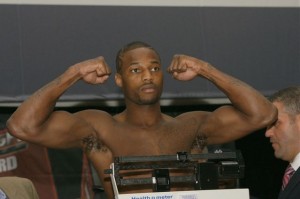 "Bad" Chad Dawson
Hartsville, South Carolina
29-1 (17 KO's)
Height: 6'1"
Reach: 76 ½"
Last 5 Fights: Recently, Dawson has earned some tough wins against some gritty, battle-tested veterans such as Antonio Tarver and Glen Johnson. In his most recent fight against Jean Pascal, he lost a technical decision; this is the only blemish on his professional record and he is definitely looking to avenge it. He will get that chance if Pascal defeats Hopkins, and if Dawson gets past Diaconu.
Adrian "The Shark" Diaconu
Ploiesti, Romania
27-2 (15 KO's)
Height: 5'9"
Reach: 72"
Last 5 Fights: In his last 5 fights, Diaconu has earned some quality wins against the likes of Chris Henry and Omar Sheika. But, it is his decisive two consecutive losses against Jean Pascal that raise questions as to whether or not he is a worthy opponent for Dawson.
The Connection: Both the Hopkins vs. Pascal and Dawson-Diaconu fights are interconnected in many ways. First of all, if Dawson wins this fight against Diaconu, he will face the winner of the Hopkins vs. Pascal fight. Dawson was supposed to fight a rematch against Pascal thanks to a rematch clause, however, the Hopkins-Pascal rematch was creating quite a buzz, and Dawson agreed to step aside essentially for a fight. So it is to that Pascal is fighting Hopkins and Dawson is fighting Diaconu. It should be very interesting to see how this night plays out.
Tale of the Tape: On paper, the only real advantage that Diaconu has is that he will be fighting in front of his home crowd. Although he's Romanian, he has been fighting out of Quebec and the ring at the Bell Centre is like home to him. He has fought his last 4 (and many other) fights there and is quite familiar and comfortable there. However, all other things considered, Dawson has the advantage. With a height advantage of 4 inches, a reach advantage of 4 inches, an age advantage of 3 years and superior overall athleticism, Dawson has all the physical tools he needs to bring this fight. The only question is will he bring his A game?
Impact of Emmanuel Steward: After Dawson's loss to Pascal, he realized that he was only scratching the surface of the top of the light heavyweight division. He needed to break through and become THE dominant force in the division. In adding the legendary Emmanuel Steward as his trainer, he hopes to add an offensive dimension and skill as a knockout artist to his repertoire. Dawson has a tendency to back off and remain defensive in moments where he should attack, most notably against Pascal. Steward hopes to change this habit and he will put his skills to the test against Diaconu.
What to Expect: When looking at this fight, it's easy to not focus on the fight ahead but to focus on what's in store after the fight. If Dawson wins, will it be a rematch against Pascal, or a fight against the veteran Hopkins who isn't necessarily eager to take on Dawson. Despite the big opportunities that lie ahead for Dawson, he should not take Diaconu as merely a stepping stone and must come into this fight focused and not just looking for a win, but a decisive, dominant win. Expect to see a focused Dawson come out of the gates looking very impressive with a slightly more offensive, attacking mentality.
Dawson vs. Diaconu Prediction
Diaconu is a tough fighter with some good wins and impressive knockouts under his belt, but he just does not have the tools needed to give Dawson a run for his money. With all his physical advantages, his new trainer, and his desire to take on the winner of the Hopkins vs. Pascal fight, Dawson will come out very offensive minded and looking to dominate. Diaconu will keep Dawson at bay early, but after the fourth or fifth round, Dawson will find his opening. Dawson by 7th round TKO