As a west coast boxing fan, I've heard many different announcers—some good and some not so good. Here are some of my favorites and some guys who left a little to be desired, as well as the guys in the middle of the pack. Everyone has their own opinions on this, so feel free to chime in with your own personal best and worst boxing commentators or announcers.
Best Boxing Announcers: My Favorite Commentators
Jim Lampley: In a brutal sport, Lampley has brought an elegant style to the table with his articulate delivery and learned analysis. He has a wonderful way with words and the ability to make events sound important or even historic. Lampley has developed into a solid boxing man over the years.
Al Albert: A dry sense of humor and the trademark Albert satin voice made him a favorite of cable-TV boxing nuts in the 80's and 90's. His sarcasm could be biting, as was his on-air ribbing of partner Sean O'Grady, but Albert had a sharp eye for detail and was usually spot-on with his analysis. I miss him.
Sean O'Grady: It was a pleasure watching the former WBA Lightweight Champion develop as a color analyst alongside play-by-play man Albert. At first, he was almost painfully shy, but as he became more comfortable in his role, he began offering some of the best observations in the sport. His humble on-air demeanor and offbeat analysis was a source of pleasure for a great many number of people.
Larry Merchant: I find myself constantly needing to defend him. There have been times where he has been arrogant on the air and disrespectful to fighters, but I'm inclined to overlook that. The man is a wordsmith, with an unparalleled ability to paint a lyrical picture of what we are watching. To this day, he will offer an opinion that leaves you thinking that it couldn't have been said any better. The man is from an era which is unfortunately lost—where a premium was placed on the type of high-level linguistic expression that Merchant continues to flaunt.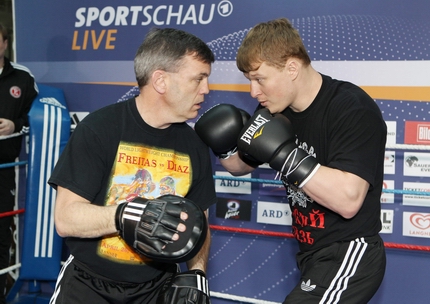 Teddy Atlas: He can be cumbersome at times, beating dead horses and over-milking points. And he is extremely corny. But you can't put a price tag on what he possesses—a genuine pedigree as a true-blue boxing guy. His mastery of the technical and psychological aspects of the sport put him in a unique position to authoritatively comment on things that wouldn't otherwise occur to us.
Emanuel Steward: An absolute savant of the sport. The Detroit guru knows what he's chatting about, with an authoritativeness that is wholly justified and executed with great aplomb. He has the knack of coming up with little irreplaceable tidbits that aid the viewer—whether hardcore or casual. If there were a way to compute a "boxing IQ" Steward would probably put up the biggest number of anyone on this list. I could listen to him all day.
Al Bernstein: For me, being likeable goes a long way. Bernstein just seems like a super nice guy—humble and friendly. And he's a boxing guy through and through, so there is a lot of substance there to accompany his appealing personality. He's been at it for a long time and still has an almost childlike enthusiasm for the sport. His love for boxing is infectious.
Gil Clancy: A lot of homespun charm coupled with a deep boxing pedigree made him a powerful color analyst. It was admirable how he assumed no airs—coming across as a knowledgeable guy who was just sitting in your living room making comments on the fight.
Rich Marotta: As a longtime west coast boxing guy, Marotta knows his stuff, both contemporarily and historically. And he isn't arrogant about it. One of the more likeable broadcasters in boxing big Rich has been an asset to the sport.
Ruben Castillo: I have no idea why he is no longer in the game. The hard-bitten Castillo was as unlucky as they come in boxing—losing 4 title shots, 3 of them to legends. He didn't get the best hand dealt as a broadcaster, working with disinterested Chick Hearn. But he was great, building a charming rapport with Hearn. He was so gentle with the aging Hearn. Just a sweetheart of a guy.
Antonio Tarver: One of the new guys on this list. So far, I like what I see. He has a genuineness about him, is enthusiastic without going over the top, and adds unique insight. He's actually quite articulate, though he could work on his subject-verb agreement a bit. As far as a guy in the beginning stages of an announcing career, he has been fantastic.
Boxing Commentators on the Fence
Max Kellerman: I like him. I find him to be a boxing genius—a rare blend of knowledge and insight. There is hardly a telecast that goes by where he doesn't almost floor me with a poignant remark or astute observation. But as Vito Corleone once said, "You can act like a man!" When seeing and hearing him, you just wish his balls would drop already. He can be so shrill at times. This is boxing—it's a rougher crowd. Get some baritone in your voice and stop acting like an MTV Spring Break correspondent. If he could add one part Clint Eastwood and remove one part Screech from Saved by the Bell, he'd be the perfect storm.
Gus Johnson: I'm not sure about this guy. He's like the dude who comes into a party where you know everyone except him. Seems like a nice enough fella. Has a lot of the same interests. But then again, he doesn't really seem to get it. He is unquestionably a highly proficient professional broadcaster, but the jury is still out a bit in this case. Doesn't seem like a boxing guy and it shows.
Bobby Czyz: He possessed the rare combination of being a fighter and having a scholastic background, which made him a powerful force in the booth. I guess what turned me off slightly was his constant referencing of his boxing career. He literally would not STFU about it. Being a two-division titleholder certainly gave him the right to relate his personal experiences. I'm just not sure his career was awesome enough, however, to make it such a central part of his analysis. Still, I find myself missing Czyz these days.
Least Favorite Boxing Commentators: The Worst of the Bunch
Ray Leonard: A legend inside the ropes, he never seemed too at ease calling fights, did he? He always had that sort of pseudo-articulate manner of speaking anyway, where you could sense he was taking on airs. In the booth, it was over the top, as Leonard struggled to find his voice. He came across as slightly arrogant and it could be painful to listen to him become unnecessarily combative with his broadcast partners, particularly Barry Tompkins.
Chick Hearn: Jerry Buss' house-man was one of the greatest basketball announcers ever. Southern California residents looked at the late Hearn as more than just a play-by-play guy, but almost as part of their family. Still, it could be painful hearing him call boxing matches. Just lending his persona to the telecasts counted for something, but it wasn't enough to cover up his weaknesses. Chickie did apparently no homework, as he botched the name of just about every Latino fighter who fought at the Inglewood Forum—of which there were many. He just never seemed very focused.
Ferdie Pacheco: He was sharply-intelligent, provocative, and never leery about telling the truth, no matter how harsh it might have been. He was just so arrogant that it was hard to like him. Effective broadcasters don't necessarily need to be cuddly uncle-figures, but likability is a factor. In that area, Ferdie came up a little short. At the same time, why do I find myself missing him?
George Foreman: The man could boil down a concept into just a few words. I've heard him sum up the essence of a fight better than anyone. There were just times where he was completely off-the-mark—saying things that left onlookers stunned. You can only hear a guy say "he needs to jab him to the chest" so many times before you start to lose it. He seemed a little biased toward punchers and would sometimes belabor moot points into the ground. And for being such a nice guy, he wasn't always that friendly to his partners in the booth. Actually, he could be a jerk at times.
Roy Jones: The point here is that not everyone can be an announcer. Roy knows what he's talking about, that's for sure. He can see things coming and explain difficult concepts that very few men are able to do. But when you hear him talking, you can't help but sometimes ask "what kind of announcing is this?" Maybe having an unconventional speech pattern is a small price to pay for the insight he is capable of, but it can be a little much at times.
Wally Matthews: He is a boxing guy—that's a plus. He has also been one of the harder-hitting journalists over the years. No one is questioning his integrity. What sort of grates is his excessive pomposity and negativity. He just doesn't seem like a guy with whom you'd want to go on a road trip. Likeability is not the only factor in assessing a broadcaster, but the absence of it can somewhat render all other attributes moot. The guy just comes across as an angry jerk.