Oscar De La Hoya is back in the news today, and it's all about the aftermath of his recent trip to rehab. In a recent interview, De La Hoya admits to using cocaine and depending on alcohol, as well as cheating on his wife. Although, in his own words, he says, "We are obviously not talking Tiger Woods here, but I was unfaithful."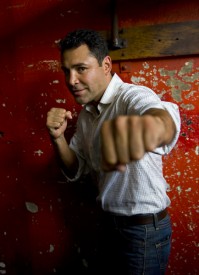 De La Hoya is going to be on TV tonight, interviewed by Piers Morgan on CNN, along with his championship fighter Victor Ortiz, who is preparing for his title fight against Floyd Mayweather, while staying busy with side jobs such as underwear modeling.
The recent Oscar De La Hoya interview that is causing all of the buzz today though came from Univision, and a report was published on TMZ going into some detail about what ODLH had to say.
According to TMZ, De La Hoya said he had considered suicide, he was cheating on his wife, and he was using cocaine recently, while depending more on alcohol over the past few months. Oscar said,
"There were drugs, my drug of choice was cocaine and alcohol. Cocaine was recent. The last 2 years, last 2-and-a-half years and I depended more on the alcohol than the cocaine."
He's been sober for three months, is in AA, and is still undergoing other treatment.
Of course, he's not the only recently retired boxing icon to end up in the news for drug abuse. Joe Calzaghe and Ricky Hatton both have made waves with their cocaine usage, and former middleweight champion Kelly Pavlik has been battling an alcohol problem with several stints to rehab himself.