Buying tickets to the Floyd Mayweather vs. Manny Pacquiao fight is going to be insane. The ticket prices are a world beyond exorbitant, moving into the entirely inaccessible. The crowd will be laced with A-list names and celebrities, because they'll be the only ones who could afford to get in.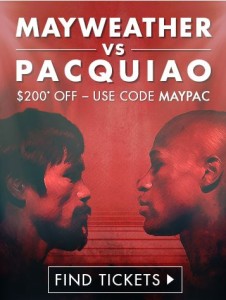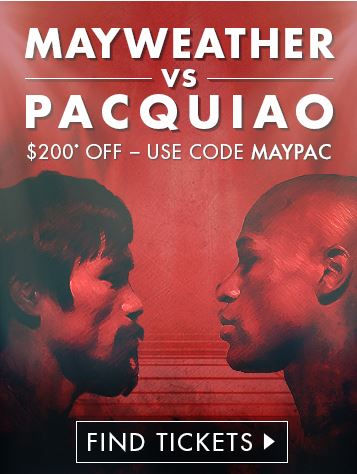 Look for Mayweather vs. Pacquiao tickets and use promo code MAYPAC for $200 off.
Mayweather vs. Pacquiao tickets are going to be priced from $1,500 to $7,500. That's a starting ticket cost of $1,500 per seat in a 16,800 seat arena. Think about that. Obviously, the revenue generation will be huge, at least double the previous record. But they couldn't have put this in a bigger stadium, or had a few moderately affordable tickets in the mix?
Keep in mind, these are the face values of these tickets. Almost no tickets are going to be even available for sale to the general public. That means a $1,500 ticket is going to turn into $5,000 the second they're out there. And ringside will be fetching $15k, $20k, or who knows what.
So much for putting this together because the fans want to to see it, right? But don't worry — you'll still be allowed to shell out $100 for the pay-per-view.
Those two guys will be laughing all the way to the bank after this five-years-too-late fight.