Who Will Pacquiao Fight Next in November?
Manny Pacquiao is returning to the ring on November 10, and according to Bob Arum, there are three potential opponents on the short list. No, Floyd Mayweather isn't one of them. All three of the proposed bouts would be rematches — a second fight against Timothy Bradley after their controversial affair in June, a rematch against Miguel Cotto, whom Pacquiao TKO'd in 12 rounds in November 2009, or a fourth fight in the ongoing saga against Juan Manuel Marquez. So who will Pacquiao fight next, which fight makes the most sense, and why does Top Rank insist on putting Pacquiao in there with the same opponents?
Pacquiao vs. Bradley II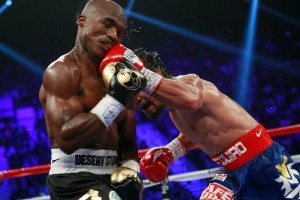 A rematch against Bradley is the least compelling of these three options. Even though Pacquiao's official ledger has an "L" next to Timothy Bradley's name, such a vast majority of fans and observers feel that Pacquiao won that it is taken not just as a contested verdict, but as fact that Pacquiao rightfully won.
Therefore, what's the need to see a rematch? The fight wasn't particularly exciting, and it would be a tough sell to make people sit through the months of buildup and hype just to see what we already know we saw the first time.
Apparently though, Pacquiao does want to wipe his resume clean, and may be inclined to choose Bradley.
Pacquiao vs. Cotto II
The first fight between Manny Pacquiao and Miguel Cotto was a thrilling affair, at least for a time. For the first three or four rounds, the two men were battling it out with wicked exchanges and intense action. Pacquiao took control at that point, and commenced his beatdown of Cotto, finally stopping him in the 12th and final round.
Cotto is coming off another loss, to Mayweather, however he acquitted himself quite well in that fight, and if anything raised his stock with that performance. Previously, he scored his revenge against Antonio "Manos de Plaster" Margarito, and therefore may want a second crack at Pacquiao, too.
But in all honesty, I don't see this fight as making sense for Miguel Cotto. Team Pacquiao would likely force him to come down in weight, something which he does not want to do. He would have to deal with Top Rank again, while he has chosen to remain a promotional free agent. It would also cost him the opportunity to fight in front of his own faithful fans at Madison Square Garden in December.
Cotto is coming off a string of tough, big money fights. He doesn't need to cash out with another fight against Pacquiao. Why not take an interim fight and then hold out for Canelo Alvarez in 2013? Why not fight your own rematch, against an opponent you defeated, in Paulie Malignaggi?
This fight looms as potentially the most exciting of the three, but Pacquiao he has nothing to prove, and nothing to gain, with a win. For Cotto, he's finally at a place where he can write his own script instead of following Bob Arum's, so why wouldn't he?
Pacquiao vs. Marquez IV
There are legitimate, unanswered questions between Manny Pacquiao and Juan Manuel Marquez. Some would argue that all three fights could have gone in Marquez's favor, while others would say he deserves at least one or two wins from the trilogy. Pacquiao's Majority Decision over Marquez last November is questionable, but in my opinion, his 2008 Split Decision win over Marquez was truly the fight in which JMM should have been declared the victor.
Marquez, of course, wants the big money fourth fight, and the opportunity to finally score the legitimate win against his rival. The two men and their clashing styles will seemingly always make for exciting fights, and yes, there is a score to be settled. But it's an old story, and as Pacquiao winds down his career, is one of his last fights best spent in taking on a rival he has already faced on three occasions?
The Verdict
I believe that the Marquez fight has the most appeal for both parties, as well as the fans — not that the desire of fans is anything near important to Bob Arum, however, the fans do buy the Pay-Per-Views, so he counts up their interests by the hundreds of thousands to see whom more of them may pay to see. However, it's not a fight that I'm particularly excited to see.
Why not fight Floyd Mayweather? Why not Robert Guerrero? Why not Devon Alexander, should he defeat Randall Bailey? Why not Danny Garcia?
I'm not saying these are all PPV matchups, but who said every single fight has to be on PPV? Find a way to get it on network television. Put it on HBO and let Pacquiao make $5 or $10 million for one fight instead of $20 or $25.
The point is these are new names, fresh faces. We haven't seen Pacquiao in with these guys once, let alone three times. They aren't old retreads, or fighters past their peak, or guys he already has, or should have, beaten easily. Mayweather stands on his own, of course, but the rest are all young fighters, on winning streaks and coming off big victories. They've all been on HBO and Showtime, and have enough exposure to warrant their inclusion as potential opponents.
But oh yea, they are all promoted by or have ties to Golden Boy. Which means we'll sooner see Pacquiao and Bradley complete a trilogy of fights before we'll ever see Pacquiao face any of them.