The last time "The Punisher" Paul Williams was in the ring, he ended up not even able to count the Boardwalk Hall Arena lights, as he was knocked out cold by the left hook from middleweight king Sergio Martinez, in a fight which turned out to be the 2010 Knockout of the Year, instead of the potential Fight of the Year it was cast to be.
Now Paul Williams will look to pick up the pieces and move on, trying to find his greatness again. On July 9, 2011 at the Boardwalk Hall in Atlantic City, NJ, he will not be facing a slouch or a gimme opponent to get back to his winning ways, he'll be jumping in there with highly touted Cuban junior middleweight name Erislandy Lara.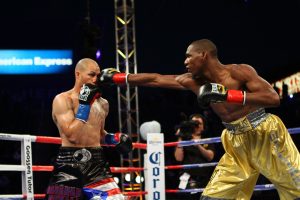 After being knocked out cold in his last fight, can Paul continue along with the style that he possesses right now?
My immediate answer is NO!!  I have said for years that Paul William's boxing style would one day cost him a fight, and it did, twice.  If Paul wants to get back on track, I feel that he simply will have to improve in two relatively easy areas which will propel him instantly back to elite status. He has to be boxing standing straight up and he needs to start utilizing some defense.
For years and years Paul has been bending down and throwing punches non-stop to his opponents, and has mostly gotten away with it because he has been able to break apart the opponents he has faced, he almost always has a huge size or reach advantage and he's met guys with little or no counterpunching skills.
Williams is a great fighter, however every time I watch one of his fights, I cringe because of the way he leans and bends down to his opponents. It's just that no fighters other than Carlos Quintana and Sergio Martinez took advantage of the opportunities that were presented to them by the Punisher.
The 6 foot 2 inch freak might never resemble Thomas "The Hitman" Hearns more than in physique, but I do believe he should box more like Hearns by using his frame to his advantage, and firing away strong punches from a distance.  I feel Paul can win almost any fight if he simply stands up and boxes instead of crouching down into the firing range of his opponents.
Of course, Williams also needs to improve on his defensive game as well.  Right now, he seems to use his offense for defense, but we've seen the disadvantages of that when a fighter can capably unleash their own shots. He should be using more head movement while using those long arms of his to parry incoming punches. If he isn't able to really improve in these areas, then it may even be time for Paul to make a decision to part ways with his trainer George Peterson.
Conclusion
July 9, 2011 will be a great night for boxing. Williams is a former world champion looking to right the ship and journey forward into becoming one of boxing's elite again, and his opponent Erislandy Lara is on the cusp of the big time and a win against the Punisher will certainly propel Lara into the upper tier of the division.
If Williams has not changed his style from the last time he was walloped by Sergio Martinez, then, I am actually giving the upstart Cuban contender Erislandy Lara a huge change in this fight given that he can box well and he possesses the counterpunching skills to take advantage of a bending down and leaning Williams.  Lara can slack off in the later rounds of fights, though, so I do expect Williams' work rate to be key in this fight.  For Williams, maybe this time he can put forward a Fight of the Year performance instead of being on the wrong end of a highlight reel KO.