Ten Greatest Welterweights in Boxing History
All divisions are difficult, but compiling a top-ten for welterweights can be downright painful. The greatest welterweights in history span all eras, which each worked under completely different structures. Comparisons can be difficult considering the different standards that apply. And then even after you come up with the top ten, you cringe when seeing the names of the legends who didn't make the list. You figure they have to be in the top ten. But where can you make room? At whose expense?
As we work our way down to strawweight, this is the first divisional ranking where each member is in the International Boxing Hall of Fame.
1. Sugar Ray Robinson (1940-1965):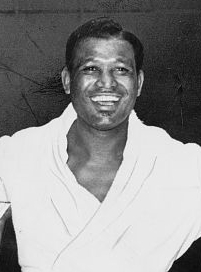 It speaks volumes that in a division so chock-full of hallmark legends, that there is no argument as to the identity of the greatest 147-pounder who ever lived. By the time Robinson left the division, he had cleaned it out en route to an incredible 110-1-2 record–his only defeat coming to middleweight Jake LaMotta. No welterweight ever beat Robinson–an incredible feat during an era of both demanding competition and a structure where taking losses was common.
Soon after turning pro, he began to outgrow the lightweight division as he began upgrading his competition, beating Hall of Famer Sammy Angott (twice), 42-0-2 Marty Servo (twice), Fritzie Zivic (twice), Jake LaMotta (4 times), Henry Armstrong, Tommy Bell (twice, the first time for the title), and Kid Gavilan (twice), among many others. An interruption in the middle of his dominance due to WWII prevented him from winning the belt sooner and doing even more. He was the greatest fighter who ever lived and it was at 147 pounds where he was at his best.
2. Sugar Ray Leonard (1977-1997):
Maybe he didn't rule the division for as long as others on this list. But by beating Wilfred Benitez, Roberto Duran, and Tommy Hearns, he defeated a trio of legends who were a combined 144-1-1 when Leonard faced them. Two of them were considered the greatest fighters in the world at the time Sugar Ray won. In his only loss at this weight, he came within an inch of beating the great Roberto Duran, while deviating from his boxing style and engaging the greatest trench warrior of all-time in a toe-to-toe war. He would make amends in the infamous "no mas" fight later that same year.
Before that, he hammered unbeaten Benitez into a TKO defeat. And after snagging a belt at 154, came back down to come from behind and beat Tommy Hearns in a rousing and ultra-difficult win. The master boxer Leonard was dominated at his own game by the longer Hearns. In a fight with many ebbs and flows, Leonard suddenly assumed the role of slugger and bombed out the best fighter in the world in the 14th round. His reign was brief and he enjoyed the benefits of media hype, but his body of work at 147 stands out as something special. He cleaned out the division when it was at its best at the top and that counts for a whole lot.
Check out our entire collection of the all-time best fighters by weight class, as well as the breakdown of how these lists were made and what factors were included.
3. Henry Armstrong (1931-1945):
"Homicide Hank" can be difficult to rank divisionally, with his successes spanning so many weight classes. And normally when a fighter hops so many divisions, the one at the highest poundage is not where he ranks the highest. But Armstrong is an exception and stands out as one of the most dominant champions ever at 147. One of the smaller welters on this list, sometimes weighing under the lightweight limit, a prime Armstrong was so fierce a force, that he would have been a handful for anyone in this top-ten. Attesting to his greatness as a 147-pound champ is his 18 title defenses. That doesn't include his title-winning triumph–a glorious win over the great Barney Ross.
Some of the names on his list of defenses might look like telephone book filler now, but they were ranking welterweights and Armstrong just ran roughshod over the entire lot. And among his underrated list of welterweight triumphs include Ceferino Garcia, Baby Arizmendi, Pedro Montanez, and reigning Lightweight king Lew Jenkins. Even after dropping the belt to Fritzie Zivic, he continued to defeat ranking men in this division, including a rematch win over Zivic.
4. Thomas Hearns (1977-2006):
This is the ranking where I expect to catch the most flack. Being from Detroit probably doesn't help my cause much, either. Nevertheless, plenty of ammo exists to substantiate this rating. While the head-to-head fantasy component is a faulty compass, is there anyone ranked under Hearns who you think would have stood a chance against the "Motor City Cobra?" Again using the head-to-head component, it's difficult to imagine a more strenuous challenge of divisional kingpin Sugar Ray Robinson in a fantasy match-up. Not to mention that his title-winning triumph over Pipino Cuevas represents the most violent coronation of anyone on this fabled list. The constant replaying of that knockout only serves to undersell Cuevas, who at the time was a dominant champion with a path of broken bones in his wake.
Losing to Leonard is counted against him, but the fact that he was under 2 rounds away from victory in one of the sport's all-time greats' defining victory is no ordinary loss. What he brought to the table that night would have been good enough to beat most on this list. And even though he came up short in his biggest moment, his pre-Leonard status is still something to admire. Prior to winning the belt, Hearns racked up some nice wins, beating future title challenger Bruce Finch, Clyde Gray, Harold Weston, Bruce Curry, Saensak Muangsurin, and Angel Espada. Throw in 4 title fight wins and that's why at the time he fought Leonard, Hearns was 32-0 (30) and considered by some major publications as the top PFP fighter in the world–a status that not everyone on this list can claim.
5. Jose Napoles (1958-1975):
While he built his legacy at welterweight as a long-reigning champion, the smooth Napoles might have actually been a better fighter before he won the title–as a lightweight and junior welterweight. The Cuban-born "Mantequilla" operated in Mexico, where he toiled anonymously for years and languished while waiting for recognition. A pro since 1958, Napoles would have to wait until 1969 to get his shot when he was already nearly 30 years old. It didn't stop him from a dominant 13 defenses over two reigns where only the propensity to cut slowed him down. He defeated Hall of Famer Curtis Cokes for the Welterweight Title by 13th-round stoppage and stopped him again in the rematch. Napoles added a top-ten name to his resume with a 1969 win over a still vital Griffith.
In 1970, after notching a stoppage over tough contender Ernie Lopez, he was stopped on cuts by Billy Backus. In 1971, he avenged the defeat via dominant 8th-round TKO. Later that year, Napoles defended against ultra-classy contender Hedgemon Lewis. Four more defenses followed, before Napoles was stopped by the much bigger Monzon in a middleweight title try. Another four title defenses followed, before Napoles' tender skin once again cost him big–losing his title to John Stracey in his final bout. While Napoles compiled a Hall of Fame resume, it's fun to imagine how much damage he could have done with some quicker recognition of his talents and some tougher skin.
6. Kid Gavilan (1943-1958):
The flashy Cuban was a TV favorite and a dominant force while maintaining a frenetic schedule against the best of his era. The fact that he gave Sugar Ray Robinson his best fights at 147 only tells part of the story. From 1950-1954, he merely lost one non-title fight in 36 outings. On his way up, he first served notice with a win over ex-champ Tommy Bell and officially punched his ticket by being one of very few to push Sugar Ray Robinson, giving the #1 welterweight of all time all he could handle. Two wins over the great Ike Williams avenged a prior defeat, before Gavilan again pushed Robinson in a 1949 title try. Fighting the best around, Gavilan added the names Rocky Castellani and Beau Jack to his resume, but Lester Felton and Billy Graham slowed his momentum as he headed into the 50's.
But late in 1950, Gavilan found his footing. Wins over Graham, Tony Janiro, and Joe Miceli set up an NBA title-winning effort over Johnny Bratton. A defense over Graham preceded him claiming full world title honors with a win over Bobby Dykes. One of Gavilan's best wins was an 11th-round stoppage of 32-0 Gil Turner in his hometown of Philadelphia. He beat Graham again and then exposed the 37-0-2 Chuck Davey by 10th-round knockout. Overcame a tough start to outpoint Hall of Famer Carmen Basilio in a 1953 defense. After another defense against Bratton, a breakneck schedule appeared to rob Gavilan of some of his pep, as he lost the title back to Johnny Saxton in 1954.
7. Joe Walcott (1890-1911):
Standing a scant over 5-feet, the stumpy Walcott beat not only the top welterweights of his era, but ranking middleweights and light heavyweights, as well–usually weighing in the 140's. Barbados Joe's merit can be difficult to pinpoint exactly, but any review of his career gives way to the feeling that he was one of the sport's hallmark fighters. The sport was so different back then, particularly in terms of record-keeping and how champions operated once they won the title. Walcott won the World Welterweight Title with a 5th-round knockout of Rube Ferns in 1901, holding the belt until a DQ loss to Dixie Kid in 1904 relieved him of his laurels. Throw in wins against Mysterious Billy Smith, Don Creedon, heavyweight contender and Hall of Famer Joe Choynski, future Light Heavyweight Champion George Gardner, and draws against Philadelphia Jack O'Brien, Sam Langford, and Joe Gans–and you have quite a unique record for the diminutive welterweight.
8. Emile Griffith (1958-1977):
One of the more talented fighters on this list, Griffith ruled over the division with vast athletic ability and blazing hands. Began his career in 1958 and by 1960, he was besting top talents like Gaspar Ortega, Denny Moyer (winning one of two), big-punching Florentino Fernandez, and 35-0 future Hall of Famer Luis Rodriguez. Emile claimed the belt with a 13th-round knockout of Benny Paret in '61. Defenses followed against Ortega and Yama Bahama, before Paret reclaimed the belt with a split decision later that year. Griffith and Paret engaged in an ill-fated rubber match, which cost the Cuban champion his life. Griffith defended against excellent Ralph Dupas, snagged a belt at 154, and then defended against tough Jorge Fernandez.
Old nemesis Luis Rodriguez took Griffith's belt in '63, but Griffith continued his pattern of winning when he needed to, claiming the title for a 3rd time with a decision over Rodriguez. Five more defenses, including a 3rd win over Rodriguez followed, with Griffith giving up the title in 1966. It is important to note that other than a perfunctory loss early in his career, no welterweight got the last word in with Griffith. In an era as deep and talented as the one Griffith competed in, that's awfully impressive.
9. Barney Ross (1929-1938):
The scary fact is that Ross wasn't even at his best at this weight, but still managed enough triumphs to entrench himself firmly in the top-ten of an illustrious group. A born-fighter and true-blue legend, the Welterweight Title was Ross' 3rd belt after previously winning belts at 135 and 140. Ross won welterweight laurels by defeating legendary Jimmy McLarnin–a fighter who just missed the top ten. He lost his title back to McLarnin in a disputed decision, before winning the rubber match. More big wins mounted–a trio of decisions over Hall of Famer Ceferino Garcia and countless wins over top welterweights of the time, before he ran into Henry Armstrong, losing his title in his final fight. Prior to that, however, Ross lost only once in 56 fights–and that to a Hall of Famer he twice defeated. Not too shabby.
10. Mickey Walker (1919-1935):
How many former Welterweight Champions can you name who beat heavyweight contenders? Walker managed it and all these years later, still stands out as one of boxing's toughest and greatest of champions. The "Toy Bulldog" fought a who's-who of talent from his era, which included a mind-numbing group of greats. At 21, he beat Jack Britton for the World Welterweight Title. The largely forgotten Britton was a great champion and just missed making the top ten. During his reign, he brushed aside the formidable challenges of Pete Latzo, Lightweight Champion Lew Tendler, and scored an unofficial win over Light Heavyweight Champion Mike McTigue. After losing in a Middleweight title try to Harry Greb, Walker defended against Dave Shade and Sailor Friedman, before dropping the belt to Latzo. His days at welterweight were over, but Walker would go on to win the Middleweight crown and defeat a large handful of light heavyweight and heavyweight standouts before he was finished.