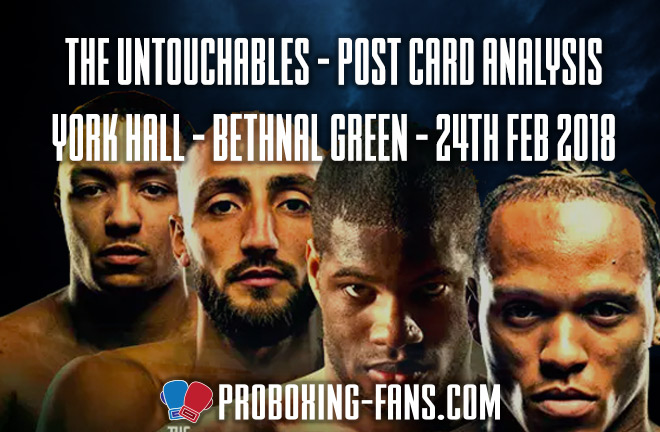 A packed out York Hall in Bethnal Green bought an evening of fights featuring some of British Boxings rising stars. Anthony Yarde headlined the evening put on by Frank Warren promotions. The evening, kicked off with some low profile fights from the under-card.
Umar Sadiq and Hamzah Sheeraz both moved to 2-0 with a four round decision victory over Yailton Neves and Christian Hoskin Gomez respectivly. They were followed by Boy Jones Jr. and Archie 'Sharpshooter' Sharp . Boy Jones Jr. moved to 15-1-1, 8 KO's with a 8 round decision victory over Reynaldo Mora. Sharp moved to 12-0, 7 KO's with a seventh round TKO of Ivan Ruiz Morote.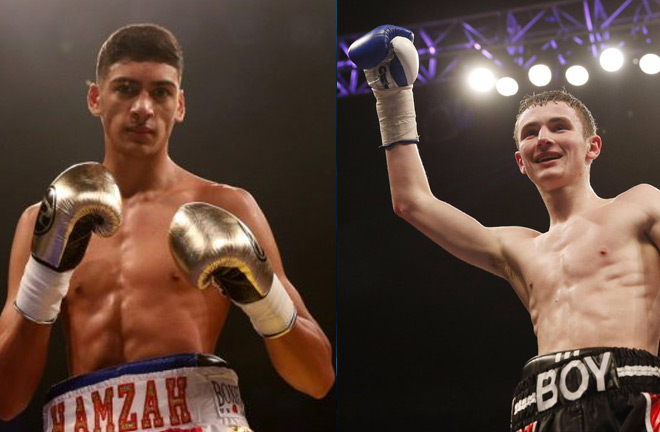 The evening then got started with the first of the 'The Untouchables' coming into the ring. The first fight ending up being arguably the most-entertaining of the night.
An undefeated, Zelfa Barrett, 24 took on an experienced Scotsman in Ronnie Clark, 33. In what ended up being an explosive battle between the two, Clark took the fight to Barrett who probably had the toughest test of his career to date.
The southpaw of Clark dictated the pace of the fight from the first bell – even when he was hit he just smiled and shook his head. Barrett, struggled to gain control of the fight and in the fourth was involved in a scrap with Clark who looked to fair the better of the two from it. In the seventh, an outstanding uppercut dropped Barrett who was hanging on for the rest of the fight and never really staged a recovery.
Brilliant battle 💥💥💥 pic.twitter.com/NNV1xTjCO4

— BoxNation (@boxnationtv) February 24, 2018
A bloody nose by the 9th left Barrett unbeaten record in doubt, by the 11th his gum shield was removed from his mouth as he and Clark exchanged punches with each other. The fight went to decision and the judges scored the fight 114-114, 116-111 and 116-111. Clark and his corner went wild as they hurled him into the air.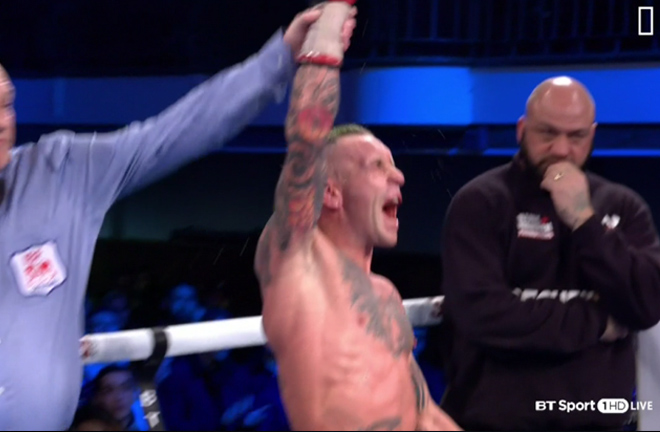 The 116-111 scores from two of the judges seemed a fairly wide – we had the fight a lot closer between the two but a Clark victory was the fair/correct decision.
Next up, was Nathan Gorman. Another unbeaten Brit was taking on Morgan Dessaux in an eight round contest. Gorman couldn't have asked for a better start quickly putting his opponent to the ground within the first round. A trio of left hooks from Goring proved to be to much for his opponent who landed on the floor.
In the second round Gorman carried on taking advantage of his left, forcing his opponent into the corner to take cover as Gorman unleashed a number of punches.

Ricky Hatton trained heavyweight @GormanBoxing delivers another top performance stopping Morgan Dessaux in the 2nd round.

👊 12 Fights
✅ 12 Wins
💥 10 KO's

Another British Heavyweight Contender out there 👀

🎥 @BTSportBoxing pic.twitter.com/v0UimqLWE8

— Team FA (@TeamFA) February 25, 2018
Referee Steve Gray was left with little choice but to call a stop to proceedings in the second round. It was a clinical and professional performance from Gorman who landed another knock out victory to his record. Trained by Ricky Hatton, Gorman will certainly have one eye on the penultimate fighter of the evening Daniel Dubois.
Dubois, took on DL Jones in their Southern Area heavyweight title bout. In the first round, which Dubois took 10-9 Jones found himself tucked up trying to cover himself from the punches Dubois was unloading on him. Dubois found himself having to adapt a little in the second to land his shots cleanly on his opponent. Dubois landed two huge right uppercuts before the bell on Jones who was starting to surprise many having last this far.
7️⃣ fights
7️⃣ wins
7️⃣ knockouts@DynamiteDubois does it again in brutal fashion.

Those uppercuts 😱 pic.twitter.com/hKWPYrUS6C

— Boxing on BT Sport (@BTSportBoxing) February 24, 2018
It wasn't long however, till Jones's night was bough to a close. Dubois, unloaded several more punches on Jones who found himself backed against the rope. The referee had no choice but to bring the fight to an end. Victory of Jones, meant Dubois recorded his seventh consecutive knock-out victory as the attention shifted to the final fight of the evening.
Anthony Yarde was facing a test in a respectable opponent, Tony Averlant from France. Yarde moved to 15-0, 14 KO's after Tony Averlant retires on his stool after the seventh round. It was a professional display from Yarde who came out quick from the first round. He managed to floor Averlant twice, with Yarde's right fist proving to strong for the Frenchman. In the third Yarde caught him with a right hook that resulted in a small nose bleed for Averlant.
SICKENING BODY SHOTS 🤢

The Beast @mranthonyyarde moved to 15-0 (14KOs) last night after Tony Averlant's corner pulled him out at the end of 7 rounds 😈 pic.twitter.com/CJVB9hH8dI

— BoxNation (@boxnationtv) February 25, 2018
A body shot in the sixth saw Averlant fall to the floor. Surprisingly, he recovered but went straight down soon after as Yarde served him with more body shots. Averlant managed to see the seventh round through despite taking further punishment from Yarde. Returning to his corner a beaten man, his corner decided to end the fight, throwing the towel in.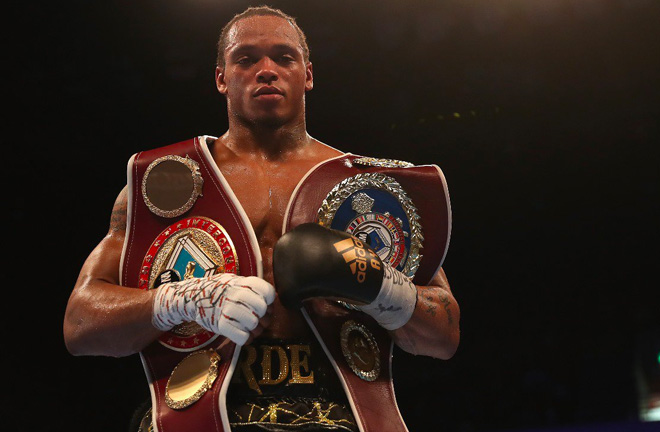 Overall a highly entertaining night from York Hall. Zelfa Barrett and Ronnie Clark, stole the show with their brilliant boxing display that went the distance. Barrett was beaten by the better man but the experience will serve him well. We expect him to come back more hungrier and a better boxer from this. Nathan Gorman, showed he's got the same potential as Daniel Dubois with a professional and convincing display. Dubois, showed he was able to adapt and box his way to victory but is still very much a work in progress before he can be considered for a title shot. Finally, Anthony Yarde, he showed he's ready to climb the ranks and go on to bigger and better things – more belts !
What did you guys make of the performances on Saturday night – leave us a comment below.