Yuriorkis Gamboa fights under the moniker – "El Ciclon de Guantanamo". As well as paying homage to his place of birth, the nickname is an apt description of the Cuban's attack-minded and at times frenzied fighting style. A precocious amateur who won Gold for his country as a flyweight at the 2004 Olympic Games, Gamboa turned over to the professional ranks in 2007 and rapidly began to acquire a following based on intrigue and excitement.
As he fought and collected victories, Gamboa exhibited a refreshing ability to provide entertainment in the ring both in his eye-catching dispatch of opponents proven to be unworthy as well as in his momentarily heart-stopping moments of uncertainty brought about by knockdowns in fights that were otherwise easy for him. He was a promoter's dream – a fighter who could fight, but could also be caught. Uncertainty sells in boxing, and the fight fraternity will always be compelled by a man who can give them their weekend dose of drama.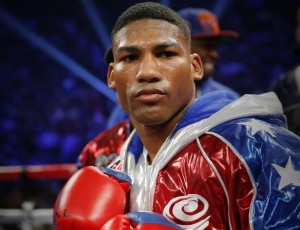 Gamboa grew in stature with an undefeated record and the general perception seemed to be that a star was in the making. Having picked up world titles at featherweight and super featherweight and – guided by Bob Arum's experienced hand – Gamboa was tunneling directly towards a high profile match-up with the Puerto Rican Juan Manuel Lopez, and all seemed well with Gamboa's career trajectory. This is around the time that his road to boxing stardom hit the first of multiple road bumps.
Lopez went on to lose in conclusive fashion to Orlando Salido, a tough Mexican veteran who had previously lost to Gamboa. As a consequence the impetus for a Gamboa-Lopez bout declined. Lopez lost his rematch with Salido in similar fashion to their first fight, and the financial incentive for Gamboa-Lopez was downgraded. Suggestions were that the fight had been "left in the oven too long" by Arum and Top Rank and as a result it had "burned out".
If at that time Top Rank were trying to distinguish any flames, Gamboa had other ideas. One month after Lopez lost his rematch with Salido, Gamboa publicly killed off the much propagated notions of a highly anticipated dust-up with fellow Top Rank puncher Brandon Rios at lightweight.
With a press conference for Gamboa-Rios scheduled, set up and ready to go Gamboa failed to turn up and cited contractual issues as a reason for his actions. Not too long after, it was announced that Gamboa had left Top Rank to join Floyd Mayweather's confusing yet slightly radical joint venture with globally renowned rap star 50 Cent as part of their TMT Promotions stable.
All matters settled you might assume? Wrong. What followed was an internal promotional conflict between the aforementioned Mayweather and 50 Cent, precipitating an extension of Gamboa's already too long hiatus from the ring. The promotional joint venture was discontinued and Gamboa then officially signed to 50 Cent's newly established SMS Promotions. The Cuban maestro – who had outrageously almost been forgotten amidst the background furor – returned to the squared circle last December, fighting and beating Michael Farenas in a typically thrilling up and down contest on the undercard of Marquez and Pacquiao's third rematch.
It was good to see Gamboa back where he belongs, though seconds from his entrance to the ring his return was once again put on a temporary backburner, as his promoter, intentionally or not, did his best to snatch the limelight, ziplining down from the ceiling while rapping as Gamboa walked to the ring.
Six months later and Gamboa is back once again. He has grown in stature and will now compete as a lightweight. In his first fight of 2013, he faces Colombian Darley Perez on this Saturday night's bill in Montreal. The fight will be for the interim WBA World title. Although Perez is relatively unknown, he brings an imposing 28-0 record, with 19 of those victories coming early. Unheard of he may be, but that may only hide his quality, as evidenced recently by the surprise performance of the unheralded Jose Gonzalez against Ricky Burns, also at lightweight.
Gamboa is now 31 years old, going on 32, and time doesn't necessarily bear favorably towards boxers, despite what Bernard Hopkins might tell you. This is of course particularly true for ones in the lower weight classes who depend on speed and athleticism.
"The Cyclone of Guantanamo" has embodied his persona throughout his career; at times ferocious, providing uncertainty but mesmerizing most of those who saw him all at the same time. Like all forces of nature however, the Cyclone has been in danger of petering out lately, and come Saturday nigh,t it will be time for Yuriorkis Gamboa to reawaken the fight fraternity to his abilities and re-energize his stop-start career.