Eddie Hearn says he wants Carl Froch to face either Mikkel Kessler or Andre Ward in the winter before a huge all-British summer clash with George Groves.
Froch exacted revenge on Kessler in a blockbuster night at the O2 Arena on May 25, adding the WBA belt to his IBF strap in a thrilling contest, while he lost a one-sided decision to Ward in the final of the Super Six Tournament several years ago.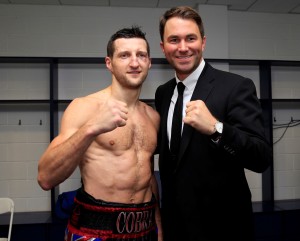 With Froch spending time with his family after partner Rachael had their second child, Natalia, just before the fight, Hearn's attentions are on The Cobra's next moves, and the promoter has two massive dates in mind.
"Now that the dust has settled after a memorable night for Carl Froch and British boxing, it's time to start looking to the future," said Hearn. "Every man and his dog have been calling Carl out, that comes with the territory but commercially, Froch vs. Kessler III is just a huge fight. The first two were stunning nights and everyone knows what they would get from the decider.
"Each one has been brutal so we will give Mikkel and his body time to see if he wants to go again. I have made contact with Ward's promoter and we are ready to begin discussions with them and HBO. For us, the fight would have to happen wherever it would make the most financial sense and that's the UK."
As well as targeting a huge winter night for Froch, Hearn is planning a summer extravaganza for the Nottingham star – and says an all-British unification bout with 'Saint' George Groves would be something special.
"We will look to fight this winter and then lead into a big stadium fight next summer," said Hearn. "I believe by then George will be World Champion which would make this fight one of the biggest the country has ever seen."
—-
The fight with Ward would be more meaningful for Froch and his career, as it's a chance to avenge his other defeat. The third fight with Kessler would definitely still be intriguing, but the last bout showed that he seems to be a clear step ahead of his rival.
Now, how about Ward vs. Froch II, and Kessler vs. Groves on the same card, with the winners facing one another next summer? That would be an event to look forward to for fight fans.