How Much Has Teddy Atlas Improved Upon Timothy Bradley?
Is it me or does Timothy Bradley seem like an underdog despite his champion pedigree? He is to this loaded welterweight division what Evander Holyfield was to the heavyweight division – The Real Deal, and continually overlooked despite his accomplishments.
Similarities between the two can be found in Bradley's indomitable will and resiliency, along with his courage, albeit misguided at times. It all makes for a compelling narrative. Now though, under the tutelage of Teddy Atlas, are we seeing the emergence of a new and improved Desert Storm 2.0?
Last Saturday night, a seemingly rejuvenated Bradley pitched a virtual shutout and secured a rare KO win over a portly Brandon Rios. Truthfully, I expected Bradley to lose focus at some point during the fight and allow a game Rios to lure him into a slugfest. However, this version of Bradley kept his wits and methodically picked Rios apart before dropping him twice with wicked body shots in the 9th prompting referee Tony Weeks to halt the bout at the 2:49 mark of the stanza.
What did this performance mean and just where does Bradley go from here? This win presents more questions than answers in my view. I am not quite convinced that Bradley's warrior tendencies have been entirely exorcised with one camp under Atlas.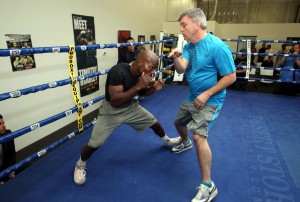 The early results of this maiden pairing appear to be promising, but Atlas is no genie. Muscle memory, new ring tactics, not to mention a different mentality, take time to develop. The performance also deserves an asterisk of sorts because of Rios's poor conditioning. This was not the same "Bam Bam," who savaged Mike Alvarado.
Bradley's latest victory does further solidify his place among the division's elite. The question now is who he fights next — with a bevy of potential foes ranging from Keith Thurman to Kell Brook to Shawn Porter. The problem here with any of those three is that Bradley is highly susceptible to opponent's of similar skill with a significant edge in power.
Personally, I cannot see anything in Bradley's arsenal to deter young lions like Thurman, Porter and Brook so he would do well to avoid all three. But beyond that, what are his options? Let us all hope it's not a third rendition of his saga with Manny Pacquiao.
Bradley's a top 5 fighter at 147 lbs — but we already knew that. Is this really Bradley 2.0? The jury is out on whether Atlas has added anything substantial to Bradley.
Changing trainers this far along in his career was a gutsy move and at 32, there is probably a ceiling on just how much those dividends will actually pay out. Not to mention that Atlas has been known to wear thin on his fighters as time progresses. At least the combination of their personalities will be fun to watch, as should the match-ups in the ring.