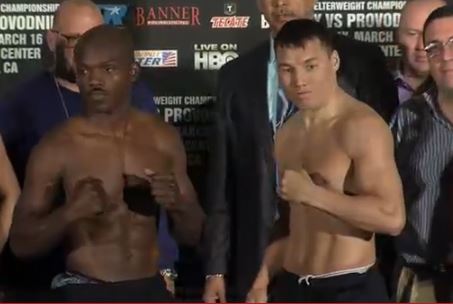 The official Timothy Bradley vs. Ruslan Provodnikov weigh-ins were held this afternoon in advance of their Saturday night bout in Carson, California, to be televised in the main event of an HBO Boxing card. Right here, you'll find the Bradley vs. Provodnikov weigh-in results and photos.
Bradley vs. Provodnikov
Bradley: 146.6 lbs
Provodnikov: 146.6 lbs
Was this a weightlifting show, a bodybuilding competition, or a weigh-in for a professional boxing card? Both of these guys are extremely muscle bound, and of course, Bradley is always ripped and ready. They weighed in at the exact same weight, and each took turns posing for the crowd, clearly proud of their physiques.
Bradley is clearly the better fighter, and he's expected to try to impress and make a statement on Saturday night. But Provodnikov definitely stacks up with him physically at least.
Co Feature: Jessie Vargas vs. Wale Omotoso
Vargas: 146.6 lbs
Omotoso: 146.8 lbs
Check back with us later in the weekend for the Bradley vs. Provodnikov results, post-fight coverage, and more.