Saturday night's HBO-televised Timothy Bradley vs. Ruslan Provodnikov WBO Welterweight title fight turned into something much more than most fans expected. It became a memorable, back-and-forth brawl between two guys with tons of heart and absolutely zero give. Bradley ended up retaining his championship and his undefeated record with a decision win, and while he deserved the nod, the victory didn't come without its price.
View the Bradley vs. Provodnikov fight night photo gallery here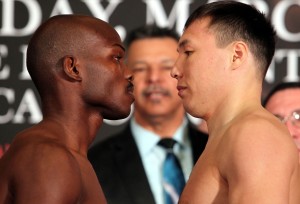 In fact, it was Bradley who was almost stopped at several points in the fight. Provodnikov, coming up from junior welterweight, matched and even exceeded Bradley's well-known muscular physique, and easily eclipsed him in power.
He had him hurt early and often in the first two rounds of the bout, nearly scoring a quick knockout in the process. And before the final bell rang, Provodnikov again almost had Bradley stopped.
Seemingly one more punch in any of these moments could have closed the show, but that final punch never came. Even if it landed, Bradley's chin was too strong, his heart was too big, and he wasn't going to go down.
Bradley was announced as the Unanimous Decision winner with scores of 114-113, 114-113 and 115-112. He improves to 30-0, 12 KOs, with the victory, and Provodnikov falls to 22-2, 15 KOs.
After Bradley had been beaten around in the first several rounds, showing a combination of ring rust and an overly strong desire to get in the ring and hush up his critics, he steadied himself and controlled much of the middle and late portions of the bout.
So in the 12th, with a big lead on the scorecards, the Sergio Martinez vs. Julio Cesar Chavez Jr. bout came to mind, although this bout was far more even, and Provodnikov had been much more of a factor along the way.
Bradley vs. Provodnikov was a very fun fight, and deserves to be in the running for Fight of the Year honors. Provodnikov earned his stripes and will clearly be back in more major matches in the future, because he delivers on entertainment and excitement. Bradley got back into action and perhaps earned some more fans with his ridiculous display of heart and desire, and his no-quit warrior mentality.
We'll see who these guys get matched up with next, and there are certainly plenty of possibilities.