Timothy Bradley is less than a month removed from the biggest win of his career, a unanimous technical decision over Devon Alexander. The WBC and WBO junior welterweight champion, Bradley now sits at 27-0 with 11 knockouts, and is rated as the number 1 fighter in the ProBoxing-Fans.com junior welterweight division rankings, as well as the number 7 fighter in the latest pound for pound rankings.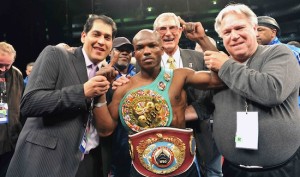 The heavily promoted clash was supposed to launch the winner into superstardom, except it didn't quite pan out that way. Bradley did more work and landed the cleaner, harder shots, but it was a slow, ugly affair, marred by holding and head butts.
Bradley readily admits as much. Giving himself a "C+" for his performance and calling himself his own worst critic, he concedes that, "With the hype of the fight, there was a lot of pressure to put on a great show. There wasn't all of the fireworks that everybody expected."
But he doesn't believe the blame for that should fall on his shoulders. "Devon Alexander didn't come to fight man. I came to fight. He came to hold and slap a little bit.
"He couldn't handle the pressure, so I think he copped out with a lame excuse," Bradley says, while referring to the odd sequence of events that led to the fight's end. After an inadvertent head butt between the two, and already dealing with cuts and swelling, Alexander told the doctor he couldn't see, and the fight went to the scorecards.
Complicating matters was the video replay, which made it clear that the head butt landed on the opposite side of Alexander's face from where he was cut. If the head butt didn't make the cut worse, and Alexander couldn't continue, it should have been a stoppage win for Bradley. Instead, Bradley, who was up on all three judges' scorecards through 10 rounds, got the nod, albeit in anticlimactic fashion.
Nobody wanted the fight to end that way. Not the fans, the promoters, HBO, and least of all, Bradley. "At first I was very disappointed. Like I said, there was a lot of pressure riding on a great performance." He admits that "I could have done a lot more" but he's firm in his stance that, "[Alexander] didn't come to fight, and you can't make someone fight you when every time you get close, they hold you. It makes for a boring fight, and that's the bottom line."
Boring as it was, Bradley says that "I did what I had to do to win" and, according to him, it wasn't much of a challenge either. "It was pretty easy dude. It was not my toughest fight."
Bradley is still just 27 years old, but unlike many other fighters, he's already plotting an early exit strategy.  "I give myself to 30, and I want out of the game," Bradley says, his tone changing from brash to serious in an instant.
"I don't want to stay in this game and let [it] retire me. I've seen a lot of great fighters out there, I don't want to mention any names, but there are a lot of great fighters I looked up to out there who are pretty messed up due to boxing, man, and I don't want to end up like that."
Bradley doesn't believe that his fight with Alexander was tough, but he believes that boxing, and in particular, the way he fights, is taking a toll on him. He says that, "My style is pretty aggressive even though I don't get hit a whole lot… and it's a lot of wear and tear on my body and my brain. I just want to leave and be able to hold my baby and talk to my baby just like I'm talking to you."
While he gives himself some leeway on when he'll hang up the gloves for good, he stands by his word that "my goal is to get out at 30 years old and be fully retired." That leaves just two and a half years to accomplish a great deal, and for Bradley, there's plenty of business still to be taken care of.
In his crosshairs now is a potential July 23rd showdown in Las Vegas against WBA junior welterweight titlist Amir Khan. Bradley says the fight is not yet official, but he expects that both sides "will definitely try to make [it] happen." Khan though still has to make it through an upcoming title defense against Paul McCloskey on April 16th. Then Bradley says "we'll probably start negotiating shortly after that."
Bradley is looking forward to fighting Khan and is confident in the way the fight would play out, saying, "I feel that I'm better than him. I don't think he's ready for me."
He's also looking forward to fighting in Las Vegas for the first time. In a career that has seen him fight largely out of California, but also travel to the U.K. and Canada, Bradley says that finally fighting in Vegas is "what I've been waiting on my whole life baby! I'll put on one heck of a show."
There are other big names looming on the horizon, including the dynamic and hard-hitting Marcos Maidana of Argentina, a crowd and HBO favorite. Bradley says, "I would love to fight Marcos Maidana," and he believes that, "If I had someone like Maidana in front of me, swinging and wailing at me, it would make for an exciting fight."
Maidana is busy right now preparing for an upcoming April 9th clash against Erik Morales. The bout is being billed as an all-action brawl, but Bradley is not alone with his misgivings about the matchup. "They better get a stretcher ready for [Morales]. He doesn't have a chance with Maidana… and I think that's the wrong fight for him."
Other potential opponents for Bradley include pound for pound stalwart Juan Manuel Marquez, junior welterweight star in-the-making Victor Ortiz, and undefeated WBC welterweight titlist Andre Berto. Berto is tentatively scheduled to meet Ortiz in April as the leading half of an HBO doubleheader also featuring the Khan-McCloskey fight.
Bradley says that, "I can fight all of these guys and make one heck of a career." His attitude and willingness to meet any and all challengers is refreshing, particularly amidst the current boxing landscape, where fights like Manny Pacquiao vs. Floyd Mayweather and Wladimir Klitschko vs. David Haye are talked about for years, without ever materializing.
For Bradley, his journey in the boxing ring still doesn't end there. He believes that he is just "a couple of fights away from facing the pound for pound best fighters in the world." He wants to "conquer 140 lbs" and then move up to welterweight and face the biggest names and attractions.
"Pacman or Floyd," Bradley states matter-of-factly, when asked who he most wants to meet in the ring. Unlike many other boxers who seem to show up only for the payday against these two, Bradley wouldn't be going into the ring expecting to lose. "I feel like I can do pretty much anything, the sky is the limit."
With another win on his undefeated record, another name on his resume, two title belts around his waist, and a place atop the deep and talented 140 lbs division, who are we to doubt him? "I don't care what anybody says. I'm beating these guys, and that's pretty much it."