Fight Pick  & Preview – Price vs. Thompson Rematch:
David Price vs. Tony Thompson I instantly became an early contender for 2013's Upset of the Year. Tony Thompson, widely regarded as a past his prime, paper contender, kayoed rising prospect David Price in just two rounds. On July 6, Thompson will return to Price's backyard of Liverpool to do it again. The outcome is not just an answer to the question of "repeat or revenge?", but also a career crossroads for both men.
For Thompson, defeating Price a second time, whether by knockout or no, confirms that the first fight was not just a fluke and puts him on course for a third title shot. For Price, losing to Thompson a second time derails his career before it has even become properly established. Price could recover from such a defeat and go on to a prosperous career, but his road would become much harder as attention focused squarely on fellow Briton Tyson Fury.
Tony Thompson (37-3, 25 KOs)
6'5″ tall, 81 1/2″ reach; southpaw; approx. 260 lbs.; 41 years old
American
Given how he put Price down in the first fight, perhaps the greatest mistake of Tony "The Tiger" Thompson's career was allowing his management to save him for fights with Wladimir Klitschko, and avoid fights with other contenders. Many (including myself) thought Tony must be a paper tiger, but it turns out he is not. Against most opponents, who excepting Klitschko and Price were never better than upper-tier journeymen, Thompson applied his size, reach, southpaw ways and boxing ability to score, apply power, and achieve a heap of TKOs.
David Price (15-1, 13 KOs)
6'8″ tall; 82″ reach; approx. 245 lbs; 29 years old
British
Former British and Commonwealth Heavyweight Champion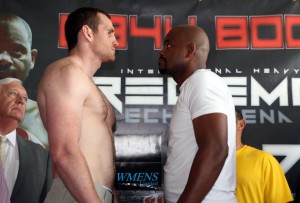 Prior to his upset, knockout defeat at the hands of Tony the Tiger, Price was one of two rising giants in British heavyweight boxing (the other being Tyson Fury). He is a polished amateur with an Olympic bronze to his name. He has good, stand-up boxing skills and a thunderous right hand, but definitely leans more towards the boxer side of being a boxer-puncher. Watching Price clock his past opponents reveals a clinical finisher rather than a warrior, and methodical is definitely this guy's by-word.
Analysis
This is my take on what happened with Thompson vs. Price I: Tony the Tiger turned out to be much better than anyone expected, and his prowess took Price completely by surprise. Relatively inexperienced guys like Price are vulnerable to getting walloped in the early rounds of a fight if they are thrown in too deep, too early, and that is what happened here.
Instead of being the gatekeeper everyone thought he was, Thompson turned out to be a bona fide lower-tier contender. The question now becomes one of whether Price is real world class material, or is he another Audley Harrison?
I'm going with the former: Price is destined to become a solid contender. Forewarned is forearmed, so I expect Price to come out more cautious this time. Lennox Lewis has been helping out with Price's training, and with a confidence boost like that, I'm also sure Price will get past the TKO jitters and focus on the job at hand. That will make a fight of it, but even so, a Price win is not a foregone conclusion.
Price has youth, speed, and stamina on his side. Against that, it must be said that there aren't too many 6'5″ world class southpaws out here for Price to spar with in preparation for a clash with Thompson (Price crushed the hapless Audley Harrison in one round, so that hardly counts as anti-leftie experience). However, Price does have a truly awesome straight right, and that is the weapon one needs to tilt with a southpaw.
Price vs. Thompson Rematch Prediction
Time is Price's ally, and he ought to approach Thompson more tentatively this time around. For his part, Thompson likes ending fights early, so I expect him to try and pounce. The result should be a few rounds that are all Tony the Tiger, as Price weathers him out and finds his way into establishing his footwork, his straight right, and getting back into the fight.
If Price can make it out of the early rounds, Thompson is in trouble. Price will start scoring with that big right hand, thereby making a night of it, and the last time Thompson had a long night was his TKO11 loss to Wladimir Klitschko in 2008, and he wasn't looking good towards the end. The last time the Tiger heard the final bell was his 10-rounder with Timur Ibragimov in 2007!
Thompson is ripe for taking out into deep water and getting drowned. All Price has to do is make it into the later rounds, and he'll be able to pick up the pace and take he lead again, likely putting Thompson down once or twice for good measure. Add to that Price's hometown advantage and…
Prediction: David Price UD12 Tony Thompson