The Ten Greatest Flyweight Boxers in History
In the last of the original eight weight classes reviewed, we turn to the flyweight division. No divisions are easy to rank, but flyweight is one of the toughest. Within this one weight class lies all the conundrums that face those trying to rank all-time greats. You first have to classify fighters spanning over 100 years, where the structure of the sport changed drastically. In addition, one is forced to split hairs over what is more important–title reigns, quality of opposition, and comparing resumes that contain many different forms of what you would call "greatness." No easy task.
Here are the ten best to ever do it at flyweight in the history of boxing.
1. Jimmy Wilde (1911-1923)
Simply put, Wilde is one of the more fabled fighters in boxing history. A tiny man who won the Flyweight Title at 97 pounds, Wilde consistently leveled bigger men with power that ranks him amongst the hardest hitters of all-time. At one point, he was 91-0-1 and few opponents emerged from the experience with their senses intact.
"The Mighty Atom" of Wales almost always gave away size, but what his opponents gave away was far more crucial, as no one could match power with Wilde in his incredible prime. Giving away almost 15 pounds, he even managed a pair of wins over bantamweight legend Joe Lynch. At about 100 pounds, Wilde was not only too much for flyweights, but for anyone on the planet at 120 pounds or under. He not only defeated the best flyweights of his time, but he simply crushed them. And if there's one quality that is timeless–it is punching power. In that category, Wilde might very well be the pound-for-pound king of all time.
Check out our entire collection of the all-time best fighters by weight class, as well as the breakdown of how these lists were made and what factors were included.
2. Pancho Villa (1919-1925)
For a fighter who only fought for 6 years, Villa achieved ring immortality that made him one of the top flyweights of all-time. To go so far to say he's the best ever isn't really such an outrageous claim. Most of his big wins were at flyweight poundage or hovering just above it by a pound or two. Though he is given tremendous credit for his knockout of Wilde, Villa had already established his championship credentials by that point–with wins over Abe Goldstein and Johnny Buff. While Wilde was inactive for two years and past his best, Villa gets big points for beating him by 7th-round knockout.
In 1922, he came to America and took a while to find his footing after losses to Goldstein and Frankie Genaro. Later in 1922, he hit a good patch of success, winning the American Flyweight crown over Buff and settling the score with Goldstein. In 1923, he beat the great Wilde, starting an incredible run of success. NWS wins over bantamweight standouts like Kid WIlliams and Bud Taylor punctuate his prowess during this period. At 23, he passed away from an infection stemming from an ulcerated tooth. Despite projections of what could have been, Villa accomplished a whole lot.
3. Frankie Genaro (1920-1934)
One of the overlooked ring greats, Genaro compiled a resume at flyweight that still inspires awe 80 years later. Just a few years into his prolific career, he scored a newspaper decision and two regular wins over Pancho Villa–the third win being for the American Flyweight Title. From 1923-1925, he was almost impossible to beat, losing just one of 36 fights. During that time, he even beat all-time great bantamweight talent like Bud Taylor, Memphis Pal Moore, and Kid Williams.
After 1926, Genaro would be inconsistent. Past his best, he would still manage to win the NBA Flyweight Title, lose it to Emile Pladner by first-round knockout in 1929, and then regaining it a month later. Speedy and scientific, Genaro's guile would allow him to retain his belt through 8 more defenses before finally losing it in 1931. In one of his last fights, in 1933, he beat future Featherweight Champion Joey Archibald. He didn't always win, but against the best era at 112 and when it really mattered, Genaro usually came out on top. And getting such a clear edge over the number-two guy on this list, Pancho Villa, also counts for a lot.
4. Pascual Perez (1952-1964)
The diminutive Perez (4'11") was one of the best champions in the history of the 112 pound class, reigning from 1954-1960. He won gold at the 1948 Olympics, but would not turn pro until 1952. After a non-title draw with excellent Japanese champion Yoshio Shirai in 1954, he got a shot at Shirai's belt, winning a unanimous decision. Alternating between defenses and non-title bouts, Perez was unbeatable, going 51-0-1 in his first 52 fights.
In his first defense, he knocked out Shirai in five, before adding defenses against tough contenders like Leo Espinoza, Oscar Suarez, Dai Dower, and many others. His first loss was a non-title defeat to tough Japanese contender Sadao Yaoita in 1959. Perez would avenge that loss later in the year with an emphatic 3rd-round knockout. Two 1960 losses to Thai Pone Kingpetch brought an end to his championship run.
5. Fidel LaBarba (1924-1933)
LaBarba was a fighter who would be ranked higher if his work outside of 112 was taken into meaningful consideration. A short list of the best fighters LaBarba beat suggests clear-cut greatness. A gold medallist from the 1924 Olympics, the L.A.-based LaBarba was never put down in 94 fights. With a record of 6-2-2 in his first ten, he had drawn and lost twice to future welterweight king Jimmy McLarnin. He was 19 when he beat the great Frankie Genaro for the American Flyweight Title in 1925 and retired in 1927 to pursue college.
During that period, LaBarba was one of the finest fighting machines ever seen at 112 pounds. Also counting against him in the rankings is that after the age of 21, he was no longer able to make the flyweight limit–making his window at 112 rather short. Nevertheless, he beat some of the best of a demanding era. When it was all said and done, LaBarba had beaten champions like Genaro, Memphis Pal Moore, Bud Taylor, Kid Chocolate, and Petey Sarron.
6. Miguel Canto (1969-1982)
A true master in the ring, the artful Canto compiled one of the fuller reigns in the history of the division, as he controlled the second half of the 1970's. Called "El Maestro" for his scientific approach, Canto only had 15 knockouts in a 74-fight career. He relied on guile, smarts, and fine skills to forge a long reign and a spot in the Hall of Fame. Standing barely over 5-feet, Canto was 1-2 after his first three fights in 1969 before finally hitting his stride several years later.
In his first title fight in 1973, he lost a majority decision in Venezuela to Betulio Gonzalez for the WBC belt. The following year, he defeated Gonzalez' conqueror Shoji Oguma to claim the belt, kicking off a long run of world title success. In his first defense, he beat Gonzalez to even the score. While some of his challengers might seem obscure in retrospect, Canto beat the best of Asia, South America, and Mexico during his reign, including another win over Gonzalez and two more triumphs over Oguma. Following a decision over tough future titleholder Antonio Avelar, Canto hit the skids. losing his belt to unbeaten Korean Chan-Hee Park in 1979. The rematch led to a draw, and though Canto had lost a few steps, he still managed to split a pair of bouts with future champ Gabriel Bernal before calling it a day in 1982.
7. Benny Lynch (1931-1938)
The great Scot's resume suggests a lack of consistency, but his prime stands out to make him one of the greats in flyweight history. In 1935, he beat the tough Jackie Brown in short order for the NBA and British titles. In a 1937 unification with the great Filipino Small Montana, Lynch won over 15 rounds to become full-fledged champion. Later that year, he stopped 42-0 Peter Kane in 13 rounds. Overweight, he forfeited his title following a knockout of Jackie Jurich. Two fights later, it was all over.
Lynch didn't fight all the best guys during his era. But from 1933-1936, he was unbeaten in a run of over 40 fights. He was a refined fighter whose fights were some of the best in flyweight history. Films of Lynch that exists show a steadfast technician with a touch of flair–an obviously very gifted fighter.
8. Pongsaklek Wonjongkam (1994-Present)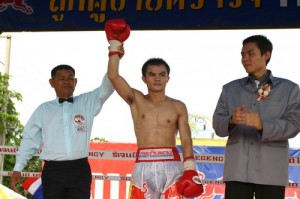 There may have been some flyweights who would strike you as being better fighters than Pongsaklek, but how many can say they were better champions? Sure, he held only the WBC title, but the modern structure of the sport is not his fault. While his list of triumphs does not read like a who's-who of flyweight standouts, the lack of quality in his reign has generally been overstated. In fact, many of his challengers were former or future champions. Still, there are really a variety of ways to evaluate Pongsaklek's career.
His record is filled with a lot of stiffs, but a 24-2-2 record in a title-fight resume that stretches back over a decade is what speaks loudest. Pongsaklek is 35 at this writing, and though still a clever tactician with better-than-average power, he has seen better days. Even if he fails to add anything significant to his resume, he has established himself as a highly-decorated flyweight. His reign kicked off in March of 2001 with a first-round knockout of unbeaten champion Malcolm Tunacao. In 2001-2002, came knockouts of future champions Luis Lazarte and Daisuke Naito. The Naito knockout came in 34 seconds, a division record.
In 2003, he beat tough 23-0 contender Hussein Hussein. In 2005, he bested Naito again before adding a win over another future titlist in Gilberto Keb-Baas. In 2007, he surprisingly lost his belt to Naito, ending a 56-fight winning streak. A draw with Naito the following year left the Thai on the outside looking in. A few nice wins set Pongsaklek up for a shot at Naito's conqueror–the unbeaten and controversial Koki Kameda. Pongsaklek won an upset decision to reclaim the belt. Four good defenses, including a clear decision over talented Edgar Sosa, who had lost only once in the past 8 years, followed before he lost his strap to Sonny Boy Jaro in a major upset in 2012.
9. Sot Chitalada (1983-1992)
At his best, Chitalada was very good. And even after he slipped from his peak, he still had enough to hold off the best at 112. His exit from the sport was unfortunate, as he suffered a pair of defeats to Muangchai Kittikasem. Up until that point, however, he beat every man he faced. In just his 5th fight, he lost to one of the greatest ever at 108 pounds–the Hall of Famer Jung-Koo Chang. Two wins later in October 1984, Chitalada beat experienced WBC Flyweight Champion Gabriel Bernal. In his first defense, he knocked out tough Charlie Magri, before struggling to a draw in a rematch with Bernal.
A decision over ex-champ Freddie Castillo followed, before settling the score with Bernal–this time by lopsided decision. A few more defenses led to a surprising loss to undefeated Korean Yong-Kang Kim in 1988, but Chitalada regained the belt the following year. Though past his best and struggling mightily with weight, he notched very good defenses with easy wins over future titleholder Carlos Salazar and the talented longtime number-one ranked Shrimpy Clarke. In his last defense in 1990, he defeated Jung-Koo Chang by controversial decision to even the score from their 1984 bout.
10. Mark Johnson (1990-2006)
If a better flyweight existed over the past quarter-century, I haven't seen him. Johnson may not have beaten top guys. There are those ranked below him who may have compiled more meaningful title runs. And while it's wrong to rank a guy historically based solely on naked-eye evaluations, Johnson has just enough on his resume to crack the top-ten.
Johnson was from D.C. and did a lot of his fighting in California. So he was sequestered from the flyweight action in Asia and elsewhere. In his 2nd fight in 1990, he lost a 4-round decision in Ireland and it would be 11 years, until 2001, when he again tasted defeat. From 1993-95, he held the lightly-regarded WBB title while registering defenses against second-rate contenders. In 1996, he crushed Francisco Tejedor in 1:35 for the vacant IBF belt. He registered 7 defenses of that title, including a one-round blast-out over talented American contender Arthur Johnson. "Too Sharp" never lost in the flyweight division and is now in the Hall of Fame.