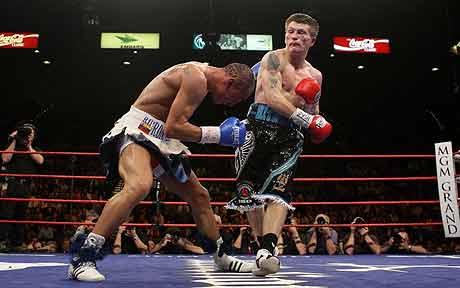 Ten Greatest Junior Welterweights in Boxing History
While a "tweener" division, the 140-pound class is one of the older junior classes and one that has perhaps enjoyed more great fighters and fights than any other of the divisions not in the "original 8." Nevertheless, it has been a division that has seen rocky times since its creation in the 1920's. By the 1930's. some of the best fighters in the world were staking their claim at 140. But by the 40's, the division had fallen into disarray.
In the 1960's, the framework was being laid for what would eventually give way to one of the sport's hottest divisions, and by the 1970's, junior welterweight began to pick up more steam, with top fighters coming into the fray. In the 1980's, super-fights were being contested at this weight, and the junior welterweights ceased being a mere stopover for growing lightweights, with many superstar fighters making 140 their home.
That doesn't make compiling a top ten an easy endeavor. You'll notice that virtually every notable division-hopping legend at some point fought at 140. That presents the conundrum of picking between short bursts of greatness, as opposed to more robust bodies of work possessed by those whose star might not have shined so brightly. Here are the top ten junior welterweights who ever lived.
1. Julio Cesar Chavez (1980-2005):
After winning titles at 130 and 135, Chavez settled in at 140–compiling a sterling resume and achieving a status that no other 140-pounder can claim. It was at junior welter where Chavez not only became the consensus #1 fighter in the world, but the boxing superstar of his generation. His ability to snatch victory from the jaws of defeat in a unification fight with unbeaten Gold Medalist and titlist Meldrick Taylor was the stuff of legend. It was a microcosm of Chavez' career in a way. His work didn't always jump out at you, but he was impervious to the punishment his opponent issued and at the end of the day, his foes ended up looking like the victims of baseball bat beatings.
He was steadfast and poker-faced, ripping shots to the body to set up the kill. At 140, Chavez won 18 world title fights, beating 8 world champions and 6 unbeaten fighters along the way. He won the belt over a peaking champion on a roll in Roger Mayweather in a very good fight–won by Chavez by 10th-round TKO. He didn't end his career very gracefully, but before losing his belt to Frankie Randall, he was 89-0-1. The Taylor fight brought him to another level and wins over 40-1 Hector Camacho and countless other big names cements his position as the greatest 140-pounder ever.
2. Aaron Pryor (1976-1990):
A tireless, aggressive, and hard-hitting champion, Pryor never lost at the weight and just might have been the greatest ever in this division if he were able to keep his personal life in order for another few years. But while the prevailing aftertaste on Pryor is one of "unfulfilled promise," he still managed a list of accomplishments that rival that of any 140-pounder. And when it counted most, Pryor didn't merely outpoint or edge his adversaries–he tore their hearts out. He climbed off the canvas and overwhelmed #3 all-time Antonio Cervantes to win the title in 1980.
And when he beat Alexis Arguello, many considered the Nicaraguan to be the P4P #1 guy in the sport. Talk about black bottles and weight all you want–Pryor won because he was simply better. And when the counterpoint to that argument is the great Arguello, that counts for a lot. Pryor's 14th- round knockout was the fight of the decade of the 80's and did a lot to legitimize this division. The indefatigable Pryor won 11 title bouts at 140.
Check out our entire collection of the all-time best fighters by weight class, as well as the breakdown of how these lists were made and what factors were included.
3. Antonio Cervantes (1964-1983):
An argument certainly exists for Cervantes as being the greatest 140-pound champion of all-time. He basically ruled for the entire decade of the 70's. "Kid Pambele" turned pro in 1964 and by 1971, was swapping punches with one of the all-time great junior welterweights–Nicolino Locche. Cervantes was soundly outpointed, but came back the following year to knock out Locche's conqueror Alfonso Frazer for the WBA belt. Revenge against Locche came in 1973 via 10th-round TKO, Locche's 4th loss in 127 fights. More defenses mounted, including a wide decision over 45-2 Esteban DeJesus.
After 10 defenses, Cervantes was shocked by 17-year old Wilfred Benitez in 1976. He reclaimed the vacant belt the following year and got back to the business of defending his belt. A half-dozen more defenses took him to 1980, where an aging Cervantes dropped Aaron Pryor before being stopped himself in the 4th round.
4. Kostya Tszyu (1992-2005):
One of the greatest amateurs in history, Tszyu didn't waste time in the paid ranks, taking on world-class opponents right out of the gate. Other than a bizarre TKO loss to Vince Phillips and a loss in his final fight, Tszyu was the hallmark 140-pounder of the post-Chavez era. The first fighter in the age of rampant alphabet titles to become undisputed champion at 140, Tszyu beat Juan LaPorte, Sammy Fuentes, Livingstone Bramble, and Hector Lopez–before winning the title. He emphatically snatched the belt with a 6th-round stoppage of IBF champion Jake Rodriguez.
Defenses came against aging Roger Mayweather and 4 others, before the Phillips setback. It's unfortunate that Tszyu never had a chance to avenge that defeat. But he came back stronger, adding some smoothness and refinement to his aggressive and hard-punching style. Stoppage wins over 52-3 Rafael Ruelas, 28-1 Diosbelys Hurtado, and 43-1-1 Miguel Angel Gonzalez restored some of his luster, before Tszyu really kicked it into gear. A 6th-round TKO of aging Julio Cesar Chavez led to a big title unification win over Sharmba Mitchell and a whitewash of tough Oktay Urkal.
In a bout that consolidated all the belts, Tszyu faced Zab Judah. Many fancied the unbeaten Judah's prospects, but Tszyu exited the ring as undisputed champion after a smashing 2nd-round TKO. A trio of defenses followed, before the 35-year old Tszyu was knocked off his throne by Ricky Hatton. From 1995-2004, he won 15 world title fights at 140.
5. Barney Ross (1929-1938):
A forerunner in the sense that he was one of the first true greats to lend his name to the furtherance of this division. At the same time, Ross' exit from the weight class also signaled a long swoon for 140. Ross' legacy at 140 can be hard to gauge, with some of his biggest wins being both for the Lightweight and Junior Welterweight Titles. But with a pair of wins for the 140-pound title against Tony Canzoneri, a man many rank among the ten greatest fighters who ever lived, it's really hard to not take those kinds of wins seriously. Throw in wins against Sammy Fuller, Billy Petrolle, Frankie Klick, and Henry Woods, and Ross racked up quite an impressive pedigree at 140. The first fighter to simultaneously hold titles in 3 different weight classes, Ross defended the 140-pound crown 10 times and never lost at the weight.
6. Nicolino Locche (1958-1976):
"Intocable," meaning "untouchable" was a hyperbolic nickname, but not by much. Watching a prime Locche effortlessly avoid punches was a sight to behold. And he didn't do it against nobodies. A draw against all-time great Carlos Ortiz in 1966 showed he meant business. Against #3 all-time 140-pounder Antonio Cervantes in 1971, Locche won all 15 rounds, making Cervantes look foolish as he laid in the pocket, effortlessly avoiding nearly all of Kid Pambele's blows. Before losing his belt to Alfonso Frazer, he had only a pair of losses over a 122-bout career. He first won the title over Takeshi "Paul" Fuji, a man who just missed making this list.
A trio of easy wins over tough fighters followed, with Locche having his way against Carlos Hernandez, Joao Henrique, and Adolph Pruitt, before the hallmark win over Cervantes. Locche is one of boxing history's most unique fighters.
7. Ricky Hatton (1997-2009):
The recent memories of him coming up short in graphic defeats to Floyd Mayweather and Manny Pacquiao have blinded some from all he accomplished at 140. He defeated the "man" to become the "man" and lost at 140 only in his career swan-song. Beating Kostya Tszyu as an underdog was one of the best wins ever at this weight class. He didn't merely beat a champion, but stopped the man who had a stranglehold on the division.
Another big win came in a body-shot knockout of Jose Luis Castillo. In both the Castillo and Tszyu fights, Hatton unfairly is docked points because of those fighters' lack of subsequent success, even though both men, particularly Tszyu, were still presumably in their primes. Hatton treaded water endlessly before making his bones, making countless defenses of his WBU title–usually against European no-hopers or heavily-depreciated big-name Americans. During that time, some of his better wins came against Vince Phillips, Ben Tackie, and Ray Oliveira.
His 2005 TKO win over Kostya Tszyu established Hatton as king at 140. He defended against Carlos Maussa, snagged a belt at 147, and then scored a pair of nice 140-pound wins–widely outscoring Juan Urango and flattening Castillo, before running into Mayweather. But before losing to Pacquiao, Hatton still snuck in a win over Juan Lazcano and in his final shining moment in the ring–stopped Paulie Malignaggi in 11 rounds.
8. Jackie "Kid" Berg (1924-1945):
The British-born Berg was the first notable fighter to earn championship laurels at 140. A beating of legendary Tony Canzoneri set up a title shot at 140, where Berg won the tile with a stoppage of reigning champion Mushy Callahan. His first defense came against tough Joe Glick. After 6 defenses, Berg ran into old nemesis Canzoneri, who took his title with a 3rd-round knockout. Berg came up snake-eyes in the rubber match with Canzoneri, but he was a good champion with some huge wins and the clear choice as O.G. of the junior welterweight class.
9. Meldrick Taylor (1984-2002):
One of those fighters whose legacy requires a close and discerning look. On one hand, he lost the biggest fight he ever had in this division. Then again, he came 2 seconds from beating the number-one guy in this weight class. With a different referee, he probably beats a dead-prime Chavez–and that's not to imply that Richard Steele messed up. Personally, I have never witnessed a fighter with faster hands than Taylor. And while he shouldn't be rewarded for losing the Chavez fight, he still produced an under-appreciated body of work in this class.
His title-winning effort is highly underrated–as he stopped 38-1-1 Buddy McGirt, the only time anyone knocked out McGirt until he was well past his best. Prior to winning the belt, Taylor beat Robin Blake, Harold Brazier, Primo Ramos, and Cubanito Perez. After beating McGirt, he was dominant in a pair of defenses over John Meekins and Courtney Hooper, before coming up painfully short against Chavez.
10. (TIE) Wilfred Benitez (1973-1990) and Duilio Loi (1948-1962):
Benitez: Accomplished the most improbable feat on this list, beating Antonio Cervantes for the WBA title at a mere 17 years old. And this was not a shot Cervantes, as he would go on to register another 6 world title wins after Benitez beat him. Benitez was beyond his years. Most super-young fighters are known for their energy, power, speed, etc. While Benitez had those traits, what allowed him to get to the top was a radar-like defense. The young Puerto Rican champion had ring wisdom beyond his years. Benitez defended his belt against 25-2-1 Emiliano Villa and 35-1-1 Tony Petronelli by 3rd-round knockout. After a 15th-round stoppage of Ray Guerrero, Benitez outgrew the division.
Loi: How do you deny a fighter who lost only one of his first 110 fights and who beat the great Carlos Ortiz in 2 out of 3 fights? You can't. Loi didn't pack much power and wasn't terribly fast, but he was smart, crafty, and worked hard. His first title try was a split decision loss to Ortiz, but less than 3 months later, Loi got revenge, outscoring Ortiz narrowly. A unanimous decision in the rubber match gave Loi the edge over his Hall of Fame rival. A draw with Hall of Famer Eddie Perkins set up a rematch, won by Perkins in 1962. Perkins won the decision despite being down twice. But Loi closed well, beating Perkins in the rubber match as retiring as champion.