The British media has been making a field day out of Dereck Chisora's thuggish character, which is no surprise, since "Del Boy" has given them so much ammunition.
Nevermind that his assault on David Haye at the post-fight press conference for Saturday's Klitschko vs. Chisora bout and his treatment of the Klitschko brothers were classless and ill-advised (by attacking Haye, Chisora played directly into Haye's self-promoting hands). Del Boy already has a criminal record for assault. People in the know already thought of Chisora as a thug; smacking Vitali, spitting at Wladimir, and the fracas at the press conference only enlightened the masses.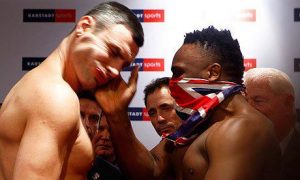 That background only makes the results of Klitschko vs. Chisora more surprising. I've been around boxing gyms for decades now, and if there is two things that investment has taught me, it is that boxing is a sport that makes its initiates pay for indiscipline and thug-life characters are rarely disciplined enough to prosper for the long haul.
Witness Mike Tyson, who became wayward almost as soon as he no longer had a minder he respected sitting on him anymore. I was therefore unsurprised when the much-touted prospect Dereck Chisora stumbled with Tyson Fury and dropped a close-run loss to Robert Helenius. Even though many thought he won the latter fight, the bouts with Fury and Helenius indicated a future for Chisora as an underachieving fringe contender.
Make no mistake, Vitali Klitschko whipped Chisora on Saturday. What made the bout so noteworthy — and boosted Chisora's standing in the process — is that he hung in there and never gave up on trying to win, even though Klitschko put massive hurt on him. No man has tried that since Klitschko was beaten by Lennox Lewis almost nine years ago!
That the determination and pressure tactics worked to some extent is displayed in the fact that Vitali, widely regarded as the more aggressive of the two brothers, refused to up the ante and try to knock Chisora out. Compare this to the last opponent who went the distance with Dr. Ironfist, Shannon Briggs. "Shannon the Cannon" pretty much gave up trying to win after the middle of the fight, and Klitschko moved into that vacuum to dominate the last five rounds, rounds worthy of 10-8 scores for Klitschko despite the lack of knockdowns.
Chisora gave him no such vacuum to expand into. One can only imagine what the even more cautious little brother Wladimir would have done in the face of such relentless, determined aggression.
Chisora has, in effect, proven a point made for years by many observers of the sport, but denied by those fans who are enthralled by the sheer size of the Klitschko brothers. Both brothers are undeniably good fighters, but that is not why they dominate the division. They rule it because the division is weak, perhaps even weaker than it was during the bad old days of Don King and the Lost Generation of Heavyweights.
Reviewing Vitali Klitschko's record for the last nine years yields a mixture of guys who were too small for Klitschko (Adamek), past their best (Briggs), underachievers (Sanders, Chris Arreola, Kirk Johnson) or were never that good in the first place (Danny Williams).
Dereck Chisora is the first guy either Klitschko has fought in years that broke this mold, and in so doing he produced the best Klitschko fights anyone has seen in almost a decade. It makes one wonder what the division might look like if only some of the existing fighters in it had more discipline in the gym, more backbone in the ring and/or more size.