The Ten Greatest Light Heavyweights in Boxing History
For many reasons, ranking light heavyweights is a tricky endeavor. Many of the greatest to ever do it at this weight were never officially champion. The issue of racism rears its head in this weight class, with many of the division's top practitioners from the first half of the century being denied their rightful place.
Many old-time greats fought in many divisions and it can be difficult to isolate their prime into one division. Without many of them having won titles at 175, it's not always clear. Almost half of this top-ten is occupied by fighters who were never officially champions at this weight. In other words, coming up with a list takes a little more work in this division than some others.
Here are the ten greatest light heavyweights who ever lived.
1. Archie Moore (1935-1963):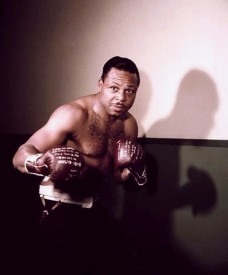 Sure, it's become en vogue to call Ezzard Charles the greatest light heavyweight of all time. While I won't argue with that, I will offer that there isn't a more accomplished light heavyweight than the great "Old Mongoose." As a late bloomer, Moore's prime is difficult to evaluate, but the feeling here is that his 3 losses to Ezzard Charles occurred before Moore had really hit his prime. The Moore that Charles beat was the same guy who would go on to lose to guys like Leonard Morrow, Henry Hall, Lloyd Gibson, and Clinton Bacon. Moore was good, but not the fighter he would later become.
At the end of the day, a nearly-decade long reign and a dozen or so wins over top-25 all-time light heavyweights is impossible to ignore. Long denied a title shot, Moore finally won the belt over Hall of Famer Joey Maxim at 36 and still managed to reign for almost a decade. The career K.O. king was also one of the quickest thinkers in the ring. Moore holds wins over Hall of Famers Lloyd Marshall, Jimmy Bivins, Holman Williams, Harold Johnson, Joey Maxim, Bobo Olson and a slew of tough contenders at 175.
2. Ezzard Charles (1940-1959):
If there is one fighter you could magically transform into, there aren't many better choices than a light heavyweight Ezzard Charles. The "Cincinnati Cobra" never got a title shot at 175, but still has a good case for being the greatest light heavyweight of all time. Costing him the top spot is that he only spent 6 years in the weight class, while Moore's accomplishments span nearly 20 years in this division. Nevertheless, going 3-for-3 against Moore speaks loudly, though Archie was not yet in his prime.
Charles also scored a trio of wins over Joey Maxim and beat Lloyd Marshall, Jimmy Bivins, and Gus Lesnevich, among others. From 1944-1948, he fought the most brutal lineup in division history, with only a robbery loss to Elmer Ray spoiling a perfect record over nearly 30 fights. It was during that span where Charles showed the total package of the likes that have seldom been seen in the history of the prize ring.
Check out our entire collection of the all-time best fighters by weight class, as well as the breakdown of how these lists were made and what factors were included.
3. Sam Langford (1902-1926):
Langford is a difficult fighter to rank for several reasons. Any footage on him is pretty sketchy. He fought in so many divisions against men of such divergent sizes that it is difficult to pinpoint his exact place. He never won a title during a time when black fighters were mostly frozen out of world title consideration. He also competed during a time of rampant "newspaper" decisions, some of which were not fought at full speed. Still, it's difficult to pour over boxing history and not emerge with the belief that Langford was one of the very best to ever lace 'em up and you have to put him somewhere. Turned pro in 1902 and by 1903, he was beating the likes of legendary Joe Gans, who had fought almost 150 bouts. Fought a draw with another legend in Joe Walcott and beat legendary fighters like Jack Blackburn, Dixie Kid, Jim Flynn, Stanley Ketchell, Philadelphia Jack O'Brien, Sam McVea, Harry Wills, Kid Norfolk, and countless others in a career that is impossible to quantify here.
4. Gene Tunney (1915-1928):
While it's wrong to go outside of the division for analysis, you would tend to figure that a man who twice dominated heavyweight legend Jack Dempsey was a helluva light heavyweight–and you'd be right. He only lost once in an 86-bout career in as forgivable a setback as there is: a decision loss to super-legend Harry Greb. He would avenge that loss 4 times. Beat countless contenders, including wins over Hall of Fame light heavyweights Tommy Loughran and Georges Carpentier. A thoughtful pugilist, Tunney was one of the best pure boxers of all time.
5. Bob Foster (1961-1978):
You could make a case for Foster being ranked lower. But tipping the scale in Foster's favor is the fact that he didn't merely beat his challengers, he wiped them off the face of the earth. The spidery and immense-hitting Foster got off to a somewhat-slow start, fighting against heavyweights, something he was never good at. But once he settled into his groove, he was as formidable a force ever seen at this weight. Knocked out Hall of Famer Dick Tiger in 4 brutal rounds to win the world title in 1968. He would retire as champion in 1974, after winning 14 title bouts. While the era he dominated is not considered one of the best, it is his long string of dominance that effectively prevented anyone from being able to thrive during that period. Foster was one of the purest punchers to ever fight.
6. Michael Spinks (1977-1988):
The hard punching, awkward, and deceivingly-tough Spinks only lost his final bout, in a distinguished career that saw him achieve more than most guys on this list, including becoming the first reigning light heavyweight champion to successfully annex heavyweight honors. It was his work at light heavyweight, however, that puts him in rarified air. Spinks cleaned up on the tail end of a glorious light heavyweight era, scoring wins over Murray Sutherland, Yaqui Lopez, and Marvin Johnson, before winning his first belt over talented Eddie Mustafa Muhammad. Made defenses over talented contenders like Vonzell Johnson, Mustafa Wassaja, Jerry Celestine, Johnny Davis, Oscar Rivadaneyra, Eddie Davis, and others. Scored a key unification win over Dwight Muhammad Qawi just a short time after his wife died, as he entered the ring in tears. His right-hand, known as the Spinks Jinx, was one of the most powerful weapons ever wielded at 175.
7. Billy Conn (1934-1948):
Again, it's wrong to venture outside the division for evidence, but it's hard to not let the fact that a 169-pound Conn almost beat a peak Joe Louis resonate in one's analysis. The cunning, tough, cat-quick, and hard-edged "Pittsburgh Kid" came up the hard way, earning his chops against the best in the business, before settling into a long period of brilliance, beating light heavyweight Hall of Famers Fred Apostoli and Gus Lesnevich. Also beat top contenders, former champions, and Hall of Famers like Fritzie Zivic, Vince Dundee, Teddy Yarosz, Young Corbett III, Solly Krieger, and countless more players at 175.
8. Tommy Loughran (1919-1937):
"The Phantom of Philly" turned pro and was soon swapping punches with one of the more glorious eras at and around 175. In 1922, the skillful and savvy boxing whiz began serving notice with a news win over Mike McTigue and a draw against Gene Tunney. In 1923, he scored a news win over Jeff Smith, fought a draw with Jimmy Delaney, and scored a win over the immortal Harry Greb. Still, he lost to some of these men and hadn't found his footing yet. By 1926, no one could touch him. He easily beat former champ Georges Carpentier, Jimmy Delaney, and Young Stribling, before finally taking the belt over old rival McTigue. Defended against all comers, including holding back the challenges of Jimmy Slattery and the great Mickey Walker. Final defense came against future heavyweight king Jim Braddock.
9. Jimmy Bivins (1940-1955):
Bivins was a key part of that 1940's light heavyweight explosion, where the best black fighters didn't get their proper designation. Bivins defeated Hall of Famer Charley Burley in his first year as a pro. In his 2nd year, defeated Hall of Famer Teddy Yarosz. Beat reigning champion Gus Lesnevich in 1942, but the title was not on the line and finished the year with a win over future champion Joey Maxim and 3 wins over heavyweight contenders. In 1943, scored a decision over Ezzard Charles and rose from the canvas to stop Lloyd Marshall. In 1945, Bivins was in the midst of a long winning streak when he stopped Archie Moore in 6 rounds. At this point, Bivins was no longer making 175 pounds and went on to struggle–winning some and losing some for the next decade or so. But at his best, Bivins stood out, with 7 wins over light heavyweights who are in the Hall of Fame.
10. Roy Jones, Jr. (1989-present):
The ultimate test of the naked-eye observation vs. resume conundrum. Would Jones have beaten some guys ranked above him? Probably. But he suffers in the area of opposition. On one hand, he reigned as a light heavyweight titleholder from 1996-2004, much of that time considered the best fighter in the world. And he did beat some good fighters during that stretch, including a title-winning effort against Mike McCallum, a sizzling rematch knockout of Montell Griffin, a bodyshot K.O. over Virgil Hill, and wins over good fighters like Lou Del Valle, Reggie Johnson, Eric Harding, Julio Cesar Gonzalez, and a close one over Antonio Tarver. A long line of fights against no-hopers and his inability to make a fight with Dariusz Michalczewski, long the obvious #2 guy, was not befitting for a man of his talent and ends up costing him higher placement in this illustrious group.
Jones was great, but watching him now sponge defeat after defeat against the type of opponents he should have been fighting in his prime only brings to light the unambitious route he took at 175 when he was at his best. Lesson to young fighters: When you wrap yourself up in the security blanket of sanctioning body politics, it could come at the expense of your legacy. Still, let's face it, if this top ten could magically transform into a fantasy tournament, Jones would be one of the betting favorites.