Last August I made the modest proposal that the relevancy of boxing's "alphabet soups" — the world sanctioning organizations that issue rankings and titles — be ranked on an objective basis, and that no more an objective basis existed than on the stature of an organization's champions. The WBA and WBC became major organizations largely due to getting there first, but the IBF and WBO rose in stature entirely on the basis of the men who wore their belts and the battles those belts were carried into. With the start of a new year, it is time to revisit this idea.
The ranking rules I established in August 2011 are as follows:
1) Ideally, only a weight class's leading champion, based on a broad consensus in the boxing community, is suitable for inclusion as a championship standard bearer. If a division has no such clear ruler-by-consensus, then the clear contenders for the throne count instead. I will mark such fighters with an asterisk.
2) A fighter must have defended said title at least once to count as a standard bearer for a sanctioning body, since the point of this exercise is to determine who attracts and retains the best. There are many instances of a boxer winning a belt in a unification bout only to be stripped or to vacate one or more titles shortly thereafter, and I don't think having a real champion win a belt only to lose it or dump it shortly thereafter adds much to a sanctioning body's credit.
3) Only the core world championship of a sanctioning body counts in this exercise. Interim titles, diamond titles, championships in recess, and all the other ridiculous dilutions of boxing's world championships do not count.
4) Unified champions count for all organizations in question, assuming all the other guidelines above have been met.
The Results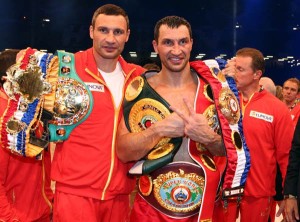 IBF, Total of Top Champions – 3: Wladimir Klitschko; Abner Mares; Nikosinathi Joyi

WBA, Total of Top Champions – 5: W. Klitschko; Andre Ward; Miguel Cotto*; Chris John; Takashi Uchiyama

WBC, Total of Top Champions – 6: Bernard Hopkins; Andre Ward; Floyd Mayweather*; Toshiaki Nishioka; Nonito Donaire; Pongsaklek Wonnongkam

WBO, Total of Top Champions – 4: W. Klitschko; Marco Huck; Manny Pacquiao*; Timothy Bradley
The WBC surged from dead last to 1st place. The IBF and WBA held a stable overall count of top champions, but in the IBF's count that resulted in sinking from 3rd place to last place. The WBO's count dropped from seven top champs to a mere four, placing them in 3rd.
Compiling the list this time around reminded me of everything that has changed in boxing's world title picture since August, such as the successive defeats of Britain's best in the forms of Carl Froch, Amir Khan and David Haye. It also filled me with disgust at the continuing folly of the WBA in making a habit of having as many as three men all claiming to be "WBA Champion" at the same time.
Yet despite its demeaning antics, thus far the WBA is the most stable and durable of the sanctioning bodies, having held onto a 2nd place position in both ranking rounds. As volatile as the other organizations are, the WBA is (so far anyway) attracting and retaining worthy champions. Of course, that may be easy when you potentially declare the top 3-5 guys in a division as having some claim to a "champion" status within your organization.