The Ten Greatest Strawweight Boxers in History
The 105-pound weight class has been much maligned–especially by western fans. Upon its creation in 1987, it was mocked. Even the name strawweight itself was enough to get a laugh. Spellcheck won't even accept the word "strawweight." To top that off, the sanctioning bodies can't even arrive at a consensus on what to call the division. It's been alternately known as strawweight, minimumweight, and mini flyweight.
For most people, even 108 pounds (junior flyweight) was a stretch. Many questioned the need for a 105-pound weight class. Amidst all the naysayers and negativity, however, the 105-pound weight class hasn't actually been that bad. It ranks alongside some other junior classes in terms of excitement in recent years. It's just that so precious few 105-pounders have managed to become known outside the regions where they perform. Here are the ten best 105-pounders ever:
1. Ricardo Lopez (1985-2001)
There aren't any weight classes that come to mind that a fighter owned as much as Lopez dominated this division. "Finito" is number-one and there is no argument. It's as definitive a ranking as you could hope to find on an all-time list. For all we know, he was the best fighter of his generation. The brilliant Mexico City native ended his career at 51-0-1 (38 KOs), featuring a decade long run as champion and 22 strawweight title fight victories.
Lopez combined every positive attribute you will ever hear about–ring smarts, technique, power-punching, speed, footwork, and toughness–just to name a few. He beat distinguished Hideyuki Ohashi to win the belt in 1990 and was barely touched for years. He beat all the top 105-pounders of his time and even added the scalp of top-ten jr. fly Saman Sorjaturong, who he crushed in the second round in 1993. No one came close and 100 years from now, his name will still be on the top of this list. Bet on it.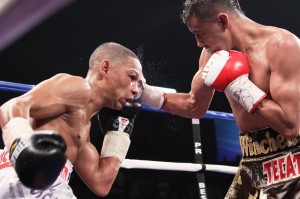 2. Ivan Calderon (2001-2012)
The light-hitting, but ultra-skilled Calderon was the first 105-ponder since Lopez to be a dominant and clear number-one guy at this weight. Though he would later meet his match at 108 pounds, he was hard to touch at this weight. He never lost a fight in his prime and rarely even struggled. "Iron Boy" made 11 defenses after winning the WBO belt in 2003.
The 5-foot tall Calderon put together a nice reign, featuring wins over championship-level talent like Alex Sanchez, Roberto Leyva, Noel Tunacao, Daniel Reyes, and Ronald Barrera. The fast-footed southpaw made a nice title run at 108, but by the time he returned to 105 in 2011-12, he was in his late-30's and past his best. It will be interesting to see if Calderon ever gets the call from Canastota.
3. Rosendo Alvarez (1992-Present)
Sure, he could have been better. But forcing Ricardo Lopez to dig as deep as he possibly could into his bag of tricks counts for a lot. The hard-hitting, tenacious, and skilled Nicaraguan twice gave the top fighter on this list absolute fits, accounting for the only blemish on the great Mexican's record.
Being gallant and not beating Lopez is far from the only thing he accomplished. Alvarez lifted the title from the man right below him on this list–in the 35-0 Chana Porpaoin's home country of Thailand, to boot. He blasted 27-1 future champion Kermin Guardia in three rounds in his first defense. He then beat tough Eric Chavez, before taking out the unbeaten pair of Takeshi Shiohama and Songkram Porpaoin. His 8-round technical draw with Lopez would be his final fight at 105. He showed up overweight in their second fight–a split decision loss.
Check out our entire collection of the all-time best fighters by weight class, as well as the breakdown of how these lists were made and what factors were included.
4. Chana Porpaoin (1988-2006)
The slick-boxing Thai came pretty close to greatness. In his pro debut, he beat fellow top-tenner Fahlan Sakkheerin. Won the title from Hideyuki Ohashi in 1993, a man who just missed this list. He peeled off 8 defenses, including a pair of wins over hard-hitting Carlos Murillo and defenses against quality fodder like Ronnie Magramo and Rafael Torres. Lost his title in a split nod to Rosendo Alvarez in 1995. But he wasn't finished. Fast forward to 2001, when the 35-year old Porpaoin lifted the WBO strap from Keitaro Hoshino. He lost in his first defense and even at almost 40, he fought to a draw in a world title fight. He was never stopped and in the few losses he did have in a demanding career–the decisions were razor-thin.
5. Ratanapol Sor Vorapin (1990-2009)
Ratanapol was a southpaw puncher who scored 48 knockouts in 59 wins, including a reign as IBF Champion from 1992-1997. Won belt from tough Filipino Manny Melchor. In his second defense, he knocked out another top Filipino in the feared Ala Villamor, who was 24-0-1 (22 KOs) at the time. Continuing his domination of the Philippines, he bested Ronnie Magramo in 1994. There may be a lack of overall quality to his roster of opponents, but he did record 21 world title fight victories. Lost title to Petelo in 1997, before getting a long-overdue opportunity to fight Ricardo Lopez, who stopped him in 3 rounds in 2000.
6. Zolani Petelo (1993-2005)
The angular South African would later lose to Lopez in a 108-pound title bout, but before that–he racked up impressive credentials at 105. A slick boxer with the ability to crack, Petelo won the belt from long-standing and distinguished titlist Ratanapol Sor Vorapin with a dominant 4th-round knockout in Thailand. Petelo made 5 quality defenses, before moving up to 108 to challenge the top dog on this list–Ricardo Lopez. He lost by 8th-round knockout.
7. Yutaka Niida (1996-2008)
The well-organized Japanese parlayed solid boxing skills into a productive reign. Niida got on a roll, eventually earning a shot at 45-1-1 WBA champion Chana Porpaoin. The Japanese won a unanimous decision, but would lose by split decision to the capable Noel Arambulet in his first defense. Undaunted, Niida got a rematch with the man ho took his belt, this time winning by unanimous decision. Niida then ran off seven defenses, with a slew of quality wins along the way. His seven defenses came against fighters with a combined record of 130-12-6. He lost to rising star Roman Gonzalez in 2008 to end his reign and career at age 29.
8. Oleydong Sithsamerchai (2002-Present)
While not having a big-name, his accomplishments as a 105-pound world champion stand out as an impressive body of work. Oleydong was a highly-skilled counter-puncher who would also let his hands go freely in the right spots. The still-active Thai won the belt at 22, beating distinguished champion Eagle Kyowa in 2007 for the WBC belt. He would reign until 2011. Along the way, Oleydong made quality defenses against Pornsawan Porpramook, veteran Muhammad Rachman, and Juan Palacios, among others. In 2011, he ran into rising Japanese star Kazuto Ioka, who relieved Oleydong of his belt via 5th-round stoppage.
9. Fahlan Sakkreein (1988-2005)
The 4th and final Thai to make this top-ten, Sakkheerin lost his pro debut to the number-four guy on this list in Chana Porpaoin. He would only lose once more in the next 13 years. In 1990, the southpaw won the belt from a good fighter in the 27-1-3 Eric Chavez and then made defenses against 25-1-1 Pretty Boy Lucas, 17-0 Andy Tabanas, and 13-0-2 Felix Naranjo, Fahlan lost the belt in a shocker to Manny Melchor in 1992, before fighting at 108-112 for the rest of his career. Still, in 2005, a full 13 years after he lost the title, he reappeared at 105, fighting a technical draw with IBF champion Muhammad Rachman. Sakkreein was a skilled, durable, and entertaining performer.
10. Jose Antonio Aguirre (1995-2011)
Aguirre left a bad taste in the mouth of fans with repeated losses at 108 and 112 pounds, but before that–he was a dominant titleholder who reigned as WBC champion from 2000-2004. The Mexican won the title in Thailand with a decision over Wandee Singwancha before reeling off seven defenses. At 30-1-1, he dropped the title to excellent Eagle Kyowa in Japan in 2004, before moving up to 108 and 112, finishing at 35-10-1.