In this week's 3 punch combo, I will first state why Manny Pacquiao needs a tune up bout prior to heading back in the ring with Juan Manuel Marquez. Next, I will analyze why the recently announced bout between Timothy Bradley and Ruslan Provodnikov is a poor match-up of styles, and really a surprising fight for HBO to approve.
Finally, I will state why Gennady Golovkin deserves even more respect from the boxing community as he proves his status as a true throwback-style fighter.
Pacquiao's Future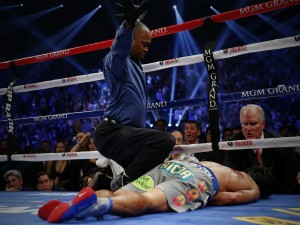 Manny Pacquiao is rumored to be heading toward a 5th fight this fall with Juan Manuel Marquez. Many fans and observers have been wondering if Pacquiao vs. Marquez 5 is the right move, and personally, I believe Pacquiao needs to go in a different direction at this time.
The last time he was in the ring, as we all know, Pacquiao suffered a devastating one punch knockout loss to Marquez. It was the kind of knockout loss that could potentially be very damaging and ruin a fighter's career.
Frankly, we do not yet know the lasting impacts yet of that punch — and neither does Pacquiao. If he wants to fight again, he would be very wise to first find out exactly where he is at right now.
In my opinion, Pacquiao needs a tune up bout. It should be against someone who is not considered to be that much of a threat. Preferably, the opponent would not be much of a puncher either.
By taking such a fight, Pacquiao accomplishes several important things.
First, he can get back on the winning track. He has technically lost two fights in a row. If he takes an easy tune up fight, then he can get back in the win column and regain his confidence. And just as important, he can begin to get over the mental stigma of the vicious knockout he suffered.
Secondly, if he struggles, then he may know it's time to leave the sport. It would be better to find out this way then against a skilled fighter who could do some serious damage.
So what opponents would be appropriate to consider for this tune up bout? The list is probably not going to be well received, but I will give a couple names.
Lanardo Tyner and DeMarcus Corley are two opponents I would consider for Pacquiao. Both are durable, not the biggest punchers and have seen their better days. In theory, Pacquiao should be able to handle both with relative ease.
I understand that this may not be the move that most fight fans desire for Pacquiao. But sometimes knockout losses, such as the one he suffered, can have a permanent impact on a fighter. Before Pacquiao considers another big fight, he must first know what kind of fight he has left.
Bradley vs. Providnikov
Timothy Bradley will face Ruslan Providnikov on March 16th. This will mark the first time Bradley has been in the ring since his controversial win over Manny Pacquiao last June. I am actually a bit surprised HBO approved Providnikov as the opponent. Stylistically, Providnikov sets up well for Bradley. Though this may be good for Bradley, it may not be too desirable for the fans.
Bradley matches up well with opponents who are aggressive. Essentially, he uses their aggression against them.
Bradley is fast and quick on his feet. He uses his movement and jab as his opponent comes forward to keep the fight at a distance. Bradley also utilizes his speed to create angles to quickly get off combinations while staying out of harm's way.
Provodnikov is an aggressive fighter who will bring the fight to Bradley. In order to be successful fighting his style against Bradley, Provodnikov will need to cut off the ring. Unfortunately, he has shown an inability in the past to cut off the ring against quicker fighters. The only chance Provodnikov may have in this bout is catch Bradley with one big well-timed shot.
However, though Provodnikov is a decent puncher, he is coming up in weight. Will his punches have the same impact at 147 that they did at 140? The answer is probably not. So even if he catches Bradley clean, he may not be able to hurt him.
Unfortunately, I foresee a very lopsided bout with Bradley boxing circles around Provodnikov for 12 rounds. The old saying in boxing that styles make fights will prove to be true on this night.
Golovkin Deserves Respect for Staying Busy
This past week, Gennady Golovkin announced he would be defending his portion on the Middleweight title against Nobuhiro Ishida on March 30th.
Many boxing fans were quick to jump all over Golovkin about choosing to fight Ishida. In my opinion, though, Golovkin is on the correct path. In fact, fans should be respecting him even more for taking this bout.
Reportedly, Golovkin was offered a June date by HBO. Nowadays, many fighters in his situation would simply wait for that June fight. Golovkin, instead, is choosing to stay busy.
We have to be realistic about Golovkin's situation. He wants to fight but HBO is not putting him on until later in the year. The money is simply not there for him to fight a more elite fighter. If he wants to stay active, then a fighter the level of Ishida is realistically the only option.
In the past, boxers stayed sharp by constantly staying active. If a big fight was not presented, then they took whatever was available. Many experts feel that the days when fighters did this consistently was when the sport was at its best. As fans, we want to see the best fighters out there more active. So why is there all the commotion about Golovkin fighting Ishida?
Golovkin is simply further proving that he is indeed a classic throwback fighter, and that's one of the best compliments that a modern-day fighter can receive.