Ten Greatest Junior Lightweights in Boxing History
Situated between featherweight and lightweight, it might surprise some that junior lightweight is the oldest division outside of the original 8 weight classes. Johnny Dundee first captured world title honors at this weight back in 1921. After a less-than-two decade run, the division fell into a state of disrepair, not emerging again until the 60's.
But since then, 130 has been a hotspot for boxing talent. A look at this top ten reveals that many greats have made 130 their home. Some have stayed here to make a career, while others have used it more as a pit stop. It can make ranking the fighters difficult, considering that only bouts contested at the weight are factored into these rankings.
Since the late-70's, junior lightweight has gone from sizzling to mundane many times. As of this writing, the division is in one of its lulls. But if history shows us anything, it's to not sleep on 130. Time and again, this division has risen from the darkness to be a shining gem in the sport. Here are the best to ever do it at junior lightweight.
1. Floyd Mayweather (1996-present):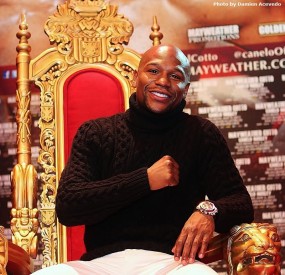 He has certainly accomplished a lot since his days at 130, but many feel this is when Floyd was at his most entertaining and where he faced his toughest opponents. There is no telling how good this era of junior lightweights could have been if it weren't for Mayweather cleaning out the division. After a scant two years as a pro, he stopped Genaro Hernandez to win the WBC belt. It would be Hernandez' only loss at 130 in over 40 fights. His 2nd-round stoppage over Angel Manfredy in his first defense was awfully impressive.
Mayweather brushed aside Carlos Rios, Justin Juuko, Carlos Gerena, and Goyo Vargas with ease in routine defenses. In his signature win, he eviscerated 33-0 Diego Corrales en route to a 10th-round stoppage that was utterly dominant. Also whipped "El Famoso" Carlos Hernandez via decision before stopping 35-1 Jesus Chavez. With a pair of truly big wins and a slew of victories over an underrated roster of contenders and future champions, Floyd's resume at 130 was spotless. He was never even seriously challenged against a standout group of fighters.
2. Alexis Arguello (1968-1995):
After a nice run at 126, Arguello was even better at 130, where he may very well have been in his prime. "El Flaco Explosivo" snagged the WBC belt in a brutal 13th-round knockout over supremely gutsy champion Alfredo Escalera in 1978, repeating the win in 1979–also in 13 rounds. Closed out '79 with impressive stoppages of Bazooka Limon and Bobby Chacon. Turned around a close fight with 46-0 Ruben Castillo, stopping him in the 11th in 1980. In the same year, Arguello capped off a spectacular run at 130 with a knockout over future champ Rolando Navarrete.
3. Azumah Nelson (1979-2008):
With 15 world title bouts at 130, Nelson was one of the division's shining lights for a decade. After a nice run at featherweight, Nelson was perhaps fortunate to get the nod against Azabache Martinez in his 130-pound debut in 1988, winning the WBC belt. Nelson started racking up defenses, before stopping Martinez in a 1989 rematch. After 4 defenses, failed in a title try with lightweight champ Pernell Whitaker. Undeterred, Nelson returned to 130. A decision over Juan LaPorte led to a controversial draw against Jeff Fenech that the Australian Hall of Famer appeared to win.
Nelson was an underdog in the rematch, held in Fenech's homeland. In perhaps his finest performance, he dominated the unbeaten Fenech en route to a punishing 8-round knockout. Nelson engaged in an extended give-and-take rivalry with Jesse James Leija, going 1-2-1 in 4 fights. But he also beat Gabriel Ruelas twice during his closing years. In fact, most felt he was finished after losing to Leija in 1994, but in '95 and '96, Nelson knocked out both men, giving himself the image as the ageless wonder. At 38, he was edged out by Genaro Hernandez by split decision, putting an end to his winning ways.
Check out our entire collection of the all-time best fighters by weight class, as well as the breakdown of how these lists were made and what factors were included.
4. Manny Pacquiao (1996-present):
Not bad for a guy with only 8 fights in the division and who lost his first 130-pound fight. After losing to Erik Morales in his 130-pound debut, Pacquiao went on a ferocious run that helped launch him into the mega-superstar status he enjoys to this day. He stopped Morales in 10 in the rematch, beat tough Oscar Larios, and then won the rubber match with Morales via smashing 3rd-round knockout. Knocked out 33-0-2 Jorge Solis, before widely outscoring another Mexican legend in Marco Antonio Barrera. In his final bout at 130, he consolidated his reputation as the Mexican assassin, narrowly outscoring Juan Manuel Marquez via split decision, before setting his sights on higher divisions.
5. Flash Elorde (1951-1971):
In large part, the Filipino legend is responsible for bringing the 130-pound class back into the good graces of the boxing public. Rose to the top at 130 in 1960 with dominant wins over Harold Gomes, wining the title in 7 lopsided rounds and knocking out Gomes in the first round in his initial defense. Elorde scored 10 defenses through the 60's. Elorde was twice stopped in tries for the 135-pound belt against Carlos Ortiz, but Flash did manage a non-title win over Ismael Laguna along the way. Didn't lose his title until 1967 and the excitement he produced helped legitimize the weight class.
6. Brian Mitchell (1981-1995):
One of those fighters who wasn't great in any one area, but was solid in all categories. Mitchell is a tough guy to rank. Being a white South African at the height of Apartheid, Mitchell suffered due to political elements out of his control–fighting many of his defenses on the road and unable to lure quality challengers to his homeland. That forced him to fight a lot of second-raters for the bulk of his reign–through no fault of his own. At the end of the day, however, he was unbeaten in 14 world title bouts at 130 and consolidated his claim as the top guy in the division with an on-the-road decision over fellow titlist Tony Lopez. Lost only once in 49 fights–that coming all the way back in 1982 against an opponent he went on to beat 3 times.
7. Genaro Hernandez (1984-1998):
The late Hernandez was the consummate gentleman. If anything comes close to his quality as a person, it was his brilliance as a fighter. He only lost in this division in his final fight, that coming against the number-one all-time junior lightweight. Almost 6-feet tall, Hernandez was deceivingly rugged and not afraid to mix it up in close fighters. Anyone who saw him beat Azumah Nelson remembers how Hernandez could have easily taken the easy way out, but chose to continue fighting. Hit in the neck by a punch after the bell, Hernandez was well ahead on the cards and told if he could not continue, he would win via DQ. Hernandez soldiered on, winning a 12-round decision. Hernandez won 13 world title fights and was one of the best 130-pounders ever.
8. Julio Cesar Chavez (1980-2005):
The run of Chavez at 130 is easy to both overrate and underrate. On one hand, his greatest triumphs were still ahead of him and he had a few close calls in decisions over Juan LaPorte and Rocky Lockridge. Then again, he was 55-0 by the time he moved up to lightweight, with some big wins over what might have been the best-ever era at 130. JC annexed the vacant WBC belt with a knockout over Azabache Martinez, scoring his first defense in a dominant knockout of Ruben Castillo. In 1985, he stretched big-punching Roger Mayweather in two rounds. The defenses mounted, leading to close nods over Rocky Lockridge and Juan LaPorte–two fights I scored for Chavez. After two more defenses, Chavez moved up, where much more glory was in store.
9. Kid Chocolate (1927-1938):
The silky Chocolate stands out as the cream of the crop among early entries in the 130-pound sweepstakes. The immensely-skilled Cuban Hall of Famer beat another member of the HOF when he beat Benny Bass for the belt. Chocolate split his efforts defending the title and competing at lightweight, where he gave all-time-great Tony Canzoneri a heated title challenge in 1931. Some of the names he beat in defense of his belt might not stand out now, but Lew Feldman and Fidel LaBarba certainly qualify as high quality wins.
10. Ben Villaflor (1966-1976):
Another Hall of Famer who helped aid the 130-pound resurgence in the 70's, capitalizing on the momentum created by countryman Flash Elorde. Villaflor is amazingly the third Filipino on this list. He started his career in the Philippines, before setting up shop in Hawaii, where he won the WBA belt with a 1970 decision over Alfredo Marcano. His first defense was a draw and he dropped the belt in his 2nd defense to excellent Japanese Kuniaki Shibata by 15-round unanimous decision. His second reign saw Villaflor find his bearings, as he blasted Shibata out in the first round of the rematch to regain the belt. He defended against some good fighters like Yasutsune Uehara and drew against Sammy Serrano, before losing the belt against Serrano in 1976.