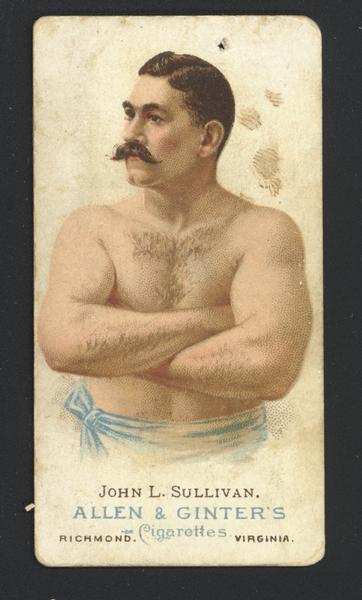 The Ten Greatest Irish-American Boxers in History
There have been some great Irish-American fighters in boxing's rich history. In the past 50-60 years, there have become steadily less Irish-American representatives in the sport. Boxing in America has always been a meter of how well different groups fare in a socioeconomic sense.
For the first half of the 20th century, Italians, Jews and Irish were not given equal access to the American Dream, hence the fact that droves of members from those groups found pro boxing to be an acceptable occupation. People generally only fight when they have to.
Here are some of the greatest Irish-American fighters of all-time, beginning with the earliest.
John Sullivan (1879-1892)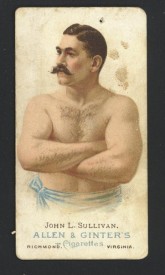 History hasn't been terribly kind to Sullivan. When top heavyweight champs from the past are discussed, Sullivan's name doesn't come up very often. But he was the first champion of the modern era and a double-tough guy who dominated his era. Before he shockingly lost to Corbett, Sullivan had gone unbeaten in 39 fights with 32 knockouts. The "Boston Strong Boy" was also inactive for nearly 5 years before meeting Corbett.
Jim Corbett (1886-1893)
Another heavyweight champion from the past who has been neglected by historians. Looking at him now, he looks kinda goofy and his 11-4-3 record is something you'd expect to see from a clubfighter, not a revolutionary heavyweight champ. Still, it was Corbett who was the forerunner to the jabbing and moving style that later became the calling card of some of the greatest fighters of all-time.
He was really the first prominent heavyweight to use the stick-and-move style. Knocking out the 38-0-1 Sullivan etched his name forever in the record books and he was a more important fighter than his record or his placement among champions would indicate.
Bob Fitzsimmons (1885-1914)
It can be difficult to pin Fitzsimmons down to one country. He is Irish by blood, but lived in New Zealand, Australia, and England, while fighting most of his big fights in America. So calling him Irish-American might be a stretch. He won the Heavyweight Title with a fierce knockout over Corbett and also reigned as champ at light heavyweight and middleweight.
Despite weighing in the 160's, there were few men on the planet who could match the power of "Ruby" Bob. Over a century after he was in his prime, his name is still a part of any discussion involving the topic of the hardest hitters in the sport's history.
"Philadelphia" Jack O'Brien (1896-1912)
O'Brien turned pro in 1896 and by the turn of the century, had become one of the top boxers on the rise. A light heavyweight, O'Brien beat the best of his division, in addition to holding his own against a tough era of heavyweights. He won the light heavyweight title by knocking out one of the best in Bob Fitzsimmons in 1905 and fought heavyweight king Tommy Burns to a draw the following year. The cunning and tough O'Brien also fought ring greats Joe Walcott, Peter Maher, Marvin Hart, Tommy Ryan, Kid McCoy, Stanley Ketchell, and Jack Johnson–having more than his share of success.
Terry McGovern (1897-1908)
"Terrible" Terry was a fearsome fighter, with 44 knockouts in 59 wins. He won the bantamweight crown with a first-round knockout, before claiming the featherweight title with a 3rd-round stoppage. Along the way, he developed a reputation as one of the toughest and hardest-hitting little men in the sport. He beat the great George Dixon and even stopped Lightweight legend Joe Gans in the second round. McGovern is one of the gems of early 20th century boxing history.
Jack Dempsey (1914-1927)
A revolutionary fighter who helped usher in the Golden Age of sports with his swarming and ferocious-punching style. Almost a century later, his beatdown of heavyweight champ Jess Willard remains one of the more graphic victories in the history of the sport. Some might say that his merit as a fighter was outweighed by his incredible superstar status, but that's not fair considering Dempsey was perhaps the biggest celebrity in America during his heyday. Dempsey had cleaned out much of the division before he even annexed the belt from Willard. He is one of the greatest heavyweight champs of all-time.
Gene Tunney (1915-1928)
Fighting in an era where fighters sometimes had uneven records, Tunney finished at 65-1-1 (48 KOs). His only loss came to immortal Harry Greb, a man he would go on to beat three times. The light heavyweight marvel compiled a lot of top-quality wins, against Greb, Jimmy Delaney, Battling Levinsky, and Georges Carpentier, before setting his sights on the biggest title in sports–against Heavyweight Champion Jack Dempsey. Two conclusive wins later, Tunney had galvanized his legacy as one of the very few top fighters from his era.
Tommy Loughran (1919-1937)
Loughran fought a NWS draw against Tunney in 1922. That was young in Loughran's career, as we would go on to become one of the greatest light heavyweights of all-time. The "Phantom of Philly" has a list of victims befitting a true ring great, including triumphs over Mike McTigue, Harry Greb, Georges Carpentier, Young Stribling, Jimmy Slattery, and Mickey Walker. Loughran also holds wins over three heavyweight champions in Jim Braddock, Max Baer, and Jack Sharkey.
Mickey Walker (1919-1935)
The tenacious Walker compiled an amazing record, winning titles at welterweight and middleweight. The "Toy Bulldog" defeated the wizardly Jack Britton for the welterweight title and before he was finished, he added wins over Dave Shade, Petey Latzo, Lew Tendler, Mike McTigue, Tiger Flowers, Paul Berlenbach, and Maxie Rosenbloom.
To illustrate what a beast the insistent Walker was in the ring, the former welterweight champ fought Jack Sharkey to a draw 2 fights before Sharkey would win the heavyweight crown and also beat hulking Spanish heavyweight contender Paulino Uzcudun in 1932. He beat top welterweights and heavyweights and everyone in between. One of the all-time greats from boxing's golden era.
Billy Conn (1934-1948)
The "Pittsburgh Kid" was one of the toughest light heavyweights of all-time and almost unseated a prime Joe Louis while weighing in at a scant 169 pounds. Conn was a pure boxer–speedy, dogged, and extraordinarily tough. After 15 fights, he was 8-7 as he rose through the ranks–from lightweight to light heavyweight. As he bulked up, his career picked up steam.
By the end of 1937, he had beaten welterweight and middleweight stars like Fritzie Zivic, Vince Dundee, Teddy Yarosz, Young Corbett III, and Solly Krieger. In 1939, he lifted the title from Melio Bettina and then twice beat light heavyweight great Gus Lesnevich. He began flirting with the heavyweight division and beat contenders Bob Pastor and Lee Savold. His 1941 fight with Joe Louis is forever etched in heavyweight lore. Conn outboxed Louis for most of 12 rounds, before getting too bold and digging in his heels for a knockout. He was the one who ended up getting knocked out.
After coming back and beating Tony Zale, Conn took off 1942-1944 due to WWII and was never the same. Nevertheless, he was one of the greatest light heavyweights who ever lived and an all-time great.